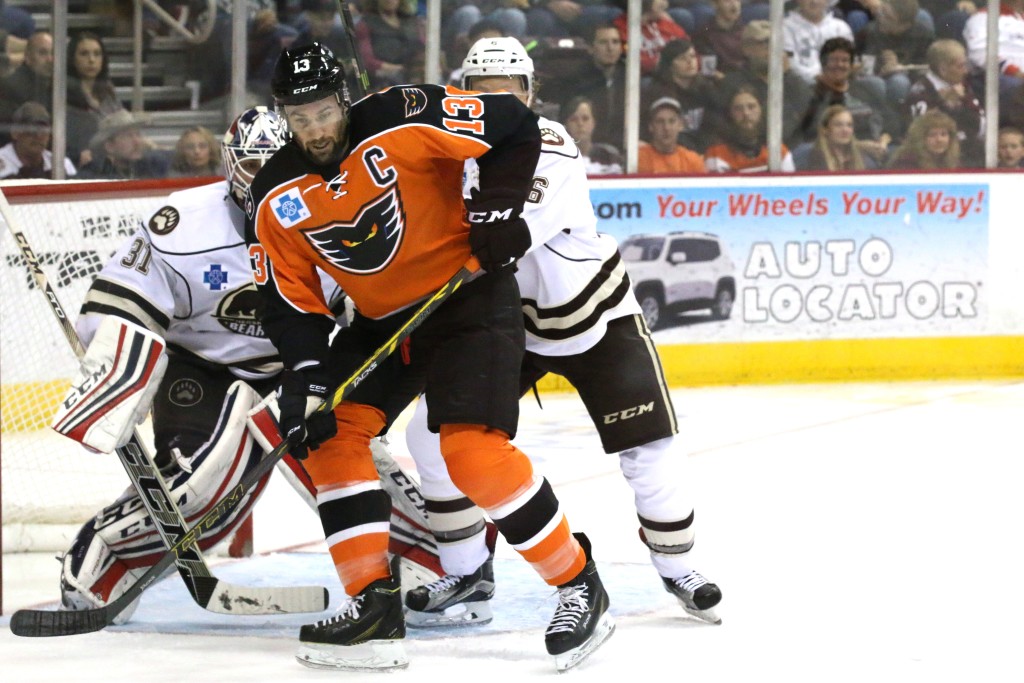 The captain is back! Colin McDonald has returned to the Phantoms after his first stint with the Philadelphia Flyers.    -photo by Amanda Statland
After a 4-8 record through the first 12 games of the 2015-16 season, the Lehigh Valley Phantoms have gone 7-4-1 in their last 12 games behind strong play in net by goaltender Anthony Stolarz and improved penalty killing on special teams.
Stolarz, in his second season of professional hockey, has played well all season – allowing three goals or less in each of his 16 appearances this season. It wasn't until an injury to veteran Jason LaBarbera in the early part of November that Stolarz began to earn more ice time.
It has paid dividends for both the player and the team as Stolarz has a 9-5-1 record on the season while his goals-against average (1.84) and save percentage (.938) each rank third best in the entire American Hockey League (AHL).
The Phantoms' penalty kill had been the team's Achilles heel in the early part of the season, at one point ranking dead last in the league with a success rate of an abysmal 67.6%. Now ranked 23rd of the 30 teams in the AHL at 81.1%, the improved penalty kill has been a focal point of success their last 12 games, killing penalties with an impressive 89.4% success rate and a streak of 16 consecutive penalties killed off stretching over their last four games.
Entering this week's games, the Phantoms are in fourth place in the Atlantic Division – a position that if held at the end of the regular season would be good enough for a spot in the postseason for the first time as an AHL franchise in Allentown.
While injuries continue to mount for the Philadelphia Flyers' AHL affiliate – a total of 17 different players have already visited the injured list on the season – the return of forwards Nick Cousins and Colin McDonald from the NHL on Sunday and the expected return of rookie forwards Cole Bardreau and Michael Parks in the near future give the Phantoms a chance to continue to build upon their recent success. The Phantoms will look to keep things going with a season-high five-game home stand beginning this Wednesday against Hershey.
Cousins, McDonald Back From Philadelphia
The Phantoms received their leading scorer and their team captain back from the Flyers on Sunday when forwards Nick Cousins and Colin McDonald were re-assigned by the parent club. Both players play a different role and are at different stages of their career, but for both it was a chance to prove themselves capable at the NHL level.
"It was nice to get out there and see where I'm at with those guys," Cousins said of his four-game stint with the Flyers last week. "Now I'm back down here, so I have to continue working to get better and work as a team down here to get these guys in the playoffs."
Cousins went pointless in his first four NHL games this season with the Flyers before being re-assigned back to Lehigh Valley in time to play in Sunday's game, but the third year pro still received encouraging words from the NHL club.
"They didn't really say much [Sunday morning]," Cousins said about the feedback he received from the Flyers' staff and general manager Ron Hextall. "I just talked to [Hextall] Sunday morning. He was pleased with how I played and is happy with what he saw. He said thanks for the hard work, keep going and keep working hard. He wants me to be the best player down here, so I have to try to do that."
In his ninth season of pro hockey, Colin McDonald knows the ups and downs of the sport and has spent time between the AHL and NHL over the past few seasons. McDonald has 145 NHL games on his resume, and at 31 years old knows what it takes to compete in hockey's highest level.
"Any chance you can get to play in the NHL, [you take it]," McDonald said of getting his first NHL call up this season. "I'm still working to get back there. I really think I can play at that level and I think I proved that just in my short stint there. I understand my role."
The timing for the Flyers to need a forward from the AHL club came at an opportune time for McDonald, who had just recently returned from a lengthy injury absence that forced him to miss six weeks. After three games back from injury, he made the jump up to the NHL.
"For it to happen right after I came back, it was really good for me," McDonald said, adding, "It was a tough 6 weeks sitting out. For them to give me that opportunity, I was really happy and felt really fortunate that they were able to do that."
McDonald's window to stick in the NHL full-time again, like he did with the New York Islanders in the 2013-14 season, is closing. That doesn't mean the Phantoms' captain is thinking anything other than the notion that he still has the ability to play a bottom-six role in the NHL and be effective.
"I understand exactly where I'm at, what I'm up against with contracts and numbers and everything that goes into that. I understand the business side of it," McDonald said of his current situation. "From what I understand, I think it was really positive. I know I played well and exactly the way I need to at that level. Hopefully I get another chance here soon."