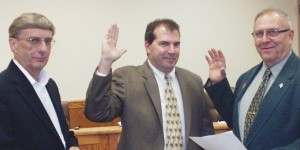 By BILL HALBFOERSTER
The Home News
Northampton Borough Council approved two resolutions on pension plans Thursday night, but the one for non-uniformed employees drew a long debate first before finally being okayed by a 7-1 vote.
Councilman Robert McHale noted that the borough doesn't yet have a ratified contract with the non-uniformed employees. Borough Manager Gene Zarayko argued that they can't change the medical plan for them. Councilman Ed Pany joined McHale in questions for Zarayko, some of which didn't satisfy them. It was Pany who made the "sacrificial no."
That resolution set the borough's contribution rate of 9.58% or $113,512 to the non-uniformed pension plan, that came as the result of passing a medical plan at the last meeting in August.
The resolution setting the contribution rate that the police department employees make to the police pension fund for fiscal year 2013 sailed throughout without argument, although Councilman Anthony Lopsonzski, a veteran of the police force for some 30 years, cited the piddling amount of social security he gets. He said the road crew is allowed social security, but the police are not and they fund their own 8% toward a pension, feeling they don't balance out.
  Pristash Welcomed
Anthony Pristash was welcomed by his new fellow members as he took his seat for the first time on Council. He replaced Sherry Neff-Maikits, who moved recently to Coplay Borough. Pristash said he welcomes the opportunity to serve the borough in working with Council. He is also president of the Northampton Area Chamber of Commerce. Lopsonzski quipped that there are now three Anthonys on one side of the Council desk with him, his son, and Pristash.  He also noted that Mrs. Maikits while on Council had lots of energy and many good ideas.
With Mrs. Maikits off Council, there was a need to elect a vice president. McHale won that position on Thursday, edging fellow Councilman Robert Coleman, who later commented, with tongue in cheek, that he was "totally heartbroken" that he lost.
Farmers Market
Carol Simcoe brought with her a number of papers that showed what a good time Northampton residents had when they celebrated their centennial in 2002. It was then that she told Council of pursuing a grant for a farmers market, something that consultant Victor Rodite brought to them last month.
She suggested a market with a small band shell, and little stores adjoining it, along with benches for people to sit as they listen to music. She said volunteers could sell their wares, and having a market could attract afternoon foot traffic to the borough. "Hopefully, something could be going on all the time," Mrs. Simcoe said.
Two Persons Speak
A Newport Ave. resident cited a problem with out-of-towners congregating at the nearby park, many having alcoholic beverages. Council President John Yurish said police do patrol the area. Permits are required to use the pavilion.
A Walnutport woman asked permission for a Penn State fraternity to raise funds. Council told her that it could only be done on Held Dr. at the Redner's store. Council will allow it on Saturday and Sunday, Sept. 29-30, from 7 a.m. to 5 p.m., rain or shine, but nowhere else.
 Other Matters
• A handicapped parking space was okayed for Fred Nederostek at 463 E. 9th St.
• Permission was given for Good Shepherd Catholic School to use the baseball/football field at Canal St. Park for a "Race for Education" fundraiser on Oct. 5.
• Trick or Treat was set for Wednesday, Oct. 31 from 6 to 9 p.m., and residents are asked to turn on their porch lights for the Halloween youngsters.
• A new three-year contract was signed with PPL Energy Plus that will include street lights. The savings will amount to $60,000 a year. The Northampton Athletic Assoc., with assistance from PPL, has installed two additional poles for lighting at the Canal St. Park football practice field. They also replaced a deteriorated pole at the basketball field.
• The $27,500 that is coming from Northampton County gaming funds will be used for an emergency generator at the community center.
• It was announced that the recreation center will have their annual 5K race on Saturday, Oct. 6, at 9:30 a.m., on Lerchenmiller Drive as a fundraiser.
• Used car batteries were sold to a company for recycling, and the borough received $362.20 for its general fund.
• McHale reported that the police department issued 38 traffic citations in August, 3 non-traffic, 113 parking fines, 5 arrests, and investigated 147 other incidents.
• Anyone with a medical background is welcome to make application for the vacancy on the Board of Health. McHale asked what would happen if a health officer isn't appointed. Since the proposed Lehigh & Northampton Counties Health Board has been rejected, it may become a state responsibility.
• On Sept. 13, according to Zarayko, Allen Township Manager Ilene Eckhart hand-delivered a check for $93,311.89 for sewage usage in the first two quarters of the year. There are still a few issues that remain on the sewer service agreement.
• Councilman Keith Piescienski reported that Scout Ryon Heydt completed an Eagle Scout project near Hokendauqua Creek that included two park benches, a kiosk, and planting of five trees north of the Water Authority building to control erosion. . . .A group of volunteers from Trout Unlimited cleaned up trash along the creek. . .Public Works has completed paving Franklin St. and Hudson Court, and will do 19th St. from Laubach Ave., to Hokendauqua Ave.
Council Remarks
Councilman Pany was congratulated by Coleman for all he has done. A recent newspaper article was written about him and his work with the Atlas Cement Memorial Museum, and the fact that a Chinese delegation that visited the museum invited Pany to come to China for a visit, all expenses paid.
McHale asked for inclusion of a dog park in the 2013 budget.
Piescienski asked that lights at the fire station be changed to photo cell.
Zarayko reported that a hazardous waste recycling day will be on Oct. 6 at Northampton Community College.
Because the Halloween parade will be on Thursday, Oct. 18, Council will  meet on Wednesday, Oct. 17 at 7:30 p.m.