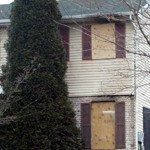 By BILL HALBFOERSTER
The Home News
A fire in a Lehigh Township home caused heavy damage on Thursday afternoon, Jan. 10. Two dogs died in the blaze at 498 Mulberry Drive, Walnutport.
Eight fire companies were needed to fight the fire, which began sometime after 3 p.m. Lehigh Township Fire Chief Rick Hildebrand said their company was called at 3:12 p.m. The fire was declared under control by 6 p.m., but with a number of flare-ups, the firefighter weren't able to leave the scene until 12:30 a.m. Friday.
The home is reportedly owned by Joel Klotz, and according to the Greater Lehigh Valley American Red Cross, four adults were given aid.
Chief Hildebrand said the fire was so intense that the first and second floors collapsed, so that in reality the fire was from attic to the basement of the home.
The cause was undetermined as of Friday, but was under investigation by Lehigh Township Fire Marshal Roger Spadt.
Lehigh Township Vol. Fire Co. responded with 22 firefighters, and with the other companies, a total of 58 were involved in fighting the blaze. They also included Slatington, Diamond Fire Co. of Walnutport, Laury's Station, Allen Township, Northampton, East Allen Township, and Nancy Run of Bethlehem Township, which filled air cylinders for the firefighters. Water was not a problem with a pond across the street accessible for fire trucks to fill up.
There were no injuries to either the home's occupants or the firefighters who responded.