Pennsylvanians Reminded to Follow Firewood Quarantine Orders
Federal, State Quarantines Restrict Movement of Hardwood Firewood
Pennsylvanians can help safeguard the state's trees from devastating insects and diseases by not moving firewood more than 50 miles from its origin.
A federal quarantine prohibits firewood from Pennsylvania hardwood from entering some other states because of the Emerald Ash Borer. A state quarantine restricts the movement of wood products out of Bucks County because of Thousand Cankers Disease.
"Firewood may seem harmless, but it hides pests that are hazardous to trees and the industries that depend on them," Agriculture Secretary George Greig said.
"Do your part to slow the spread of harmful invasive insects and diseases by using only locally harvested firewood and burning all firewood near the area where it was cut down or purchased. Never transport unused firewood," Greig said.
Even using wood as a transport aid for bracing tires, grills, buckets and tarps on the back of a pickup truck or trailer can spread pests, Greig said. A piece of wood, 18 inches long by four inches wide, can house more than 10,000 Walnut Twig Beetles.
"The spread of pests like the Emerald Ash Borer has been accelerated because of the movement of hardwood firewood," Greig said. "The majority of infestations have been found along the state's interstates."
Emerald Ash Borer beetles can kill an ash tree within three years of the initial infestation. Native to Asia, adults are dark green, one-half inch in length and one-eighth inch wide, and fly only from early May until September.
Larvae spend the rest of the year beneath the bark of ash trees. When they emerge as adults, they leave D-shaped holes in the bark about one-eighth inch wide. The beetle has been found in 31 counties in Pennsylvania.
Thousand Cankers Disease attacks walnut trees when fungus-carrying Walnut Twig Beetles tunnel beneath the bark and form cankers that starve the tree of nutrients. An infected tree dies within 10 years. The disease was discovered in Bucks County in 2011.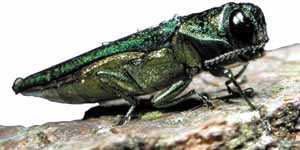 There is no known practical control for these pests other than destroying infested trees.
People who think they may have found pests like the Emerald Ash Borer or Walnut Twig Beetle in a new area should call the department's toll-free automated pest hotline at 1-866-253-7189.
For more information about the quarantines, visit www.agriculture.state.pa.us or call 717-772-5205.