By Danielle Tepper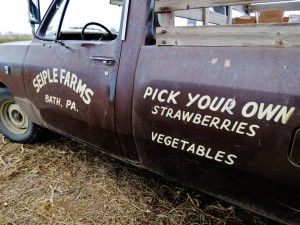 Each autumn, families flock to local pumpkin patches to indulge in some quality time with each other in the timeless tradition that is picking out the biggest, smoothest, roundest (and cleanest!) jack-o'-lanterns to-be. The folks at Seiple Farms in Bath understand that this family time is precious as they themselves are a family business, right down to the very roots of their family tree.
The farm was established in 1889 and is currently run by Daniel Seiple and his daughter, Andrea Delong. They've been hard at work since they opened for pumpkin picking just over a week ago, September 28.
Seiple Farms moved to Bath when Stone Quarry bought their property in Whitehall in 1889. "The family was forced out," said Seiple. Seiple is fourth generation and Delong is fifth. Seiple himself is actually unsure of who specifically started it all those years ago.
"It's too far back," he said. "I would like to go back sometime and map it out. I have the original deed somewhere."
The relocation turned out to be a blessing in disguise for the famliy as the business was able to grow and flourish at its new home in Bath. The main farm consists of over 200 acres.
"Back then, we had chickens for harvesting eggs and around 65 acres of potatoes," said Seiple. "The last year we had them was 1987."
They grew sweet corn in the fields, along with a cornucopia of other crops.
"You name it, we grew it," said Seiple. "Cantelope, watermelon, tomatoes, broccoli, cauliflower, eggplant, lima beans, string beans."
Seiple's brother David was the one who came up with the idea for a pick-your-own operation. They started doing strawberries in 1981, which used to take up 10 acres and has dropped off to only two or three now.
"Pumpkins took over," said Seiple. "That's why we don't have potatoes anymore, we couldn't do both at the same time."
Pumpkins began in 1982. The pumpkin patch started as a quarter of an acre and has now grown to encompass 29 acres of the property. David died in 1985, just a few years after sparking what would become the farm's most lucrative component.
"We're living on his legacy," joked Delong.
It took some time to get the pumpkin rolling. Seiple said it really wasn't that popular when it first began. "That's like any business first starting out. It spread by word of mouth."
The advertised on billboards one year and in the Clipper another year. They offered school tours. They provided coupons. Attendance finally started to shoot up and it ballooned into the chaos experienced every weekend during the fall today.
Seiple said the pumpkins help keep the farm afloat. "Pick-your-own has paid the bills for the last 20 years."
It takes months for them to ready the farm, especially when it comes to decorating, but it's decked out in all its autumn splendor when they finally open for pumpkin season. People descend on the patch in droves to peruse the rows of orange, find their way out of the corn maze, and escape the haunted barn unscathed.
How many people exactly?
"We don't keep track each year, there's no way [we could]," said Seiple. He instead calculates the amount of money collected versus the pounds sold, so he knows what varieties to plant for the following year.
On busy weekends, they base their approximate count on their parking lot, which holds 900 cars at a time.
"We really should count one day," said Delong. "Not me," replied Seiple.
Based on their parking lot's capacity and the assumption that each one brings four people, Seiple estimates that the busy weekends attract approximately 6,000 people. October is the busiest month of the whole year for pick-your-own.
"We are seeing an increase each year, which is nice, but it really depends on the weather because we depend on our weekends for the public to come out," said Delong. "If it's a rainy day, we lose that much money."
"And we never gain it back," added Seiple.
The pumpkin patch isn't the only feature for fall weekends, however, so there's plenty to draw people in for a fun afternoon.
The corn maze is now in its sixth year. The haunted barn began in 1984, along with the concessions and carnival rides, which have been around at least 20 years at their best guess.
"The pumpkin patch is as old as I am, so that's why we can't remember anything," laughed Delong.
A hard-working team of approximately 25 people keeps the farm running smoothly on these busy weekends, which includes a few family members and friends, plus seasonal employees. Each separate attraction has its own workers.
It's a hive of activity, but the Seiple family loves seeing the fruits (or rather, gourds) of their labors.
"We're happy when everything's running smoothly," said Delong. "I like the whole family atmosphere, because it's a family-run farm and I now have a family of my own. Just seeing their joy when they're picking a pumpkin and trying to carry it out of the field, it's kind of funny."
"And when the father carries the big one on his shoulder," added Seiple. "I actually like to see people taking pictures of their kids sitting on everything. That's the part I like."
Admission to Seiple is free and includes a hayride out to the patch where fresh apple cider (hot or cold) from Schantz Orchards awaits. Schants is locally based in Orefield and their cider is pressed on location.
"I think it's the best cider I've ever tried," said Delong.
In addition to everything else, they also have farm animals in the barn, pony rides, and independent vendors.
"I don't know what else we could add, farm-wise," said Delong. This year they added Fridays to their schedule to hopefully cut down some of the wait time for the hayrides.
In the blink of an eye, the busy season will be over and Seiple Farms will start preparing to harvest their field corn and soy beans during November.
Friday, November 29 marks the start of Christmas tree season. They began planting them in 2005 and this will be the third year selling them. And in June, it starts all over again with pick-your-own strawberries.
According to the Seiple Farms website, "Seiple Farms has been a family owned farm since 1889 with hopes to keep the family farming for many generations to come." And they invite generations of families to come enjoy themselves year after year.
Visit Seiple Farms at 5761 NorBath Blvd. in Bath Fridays-Sundays (hours vary) throughout the season. For more information, go to www.seiplefarms.com or call their hotline at 610-837-6282.