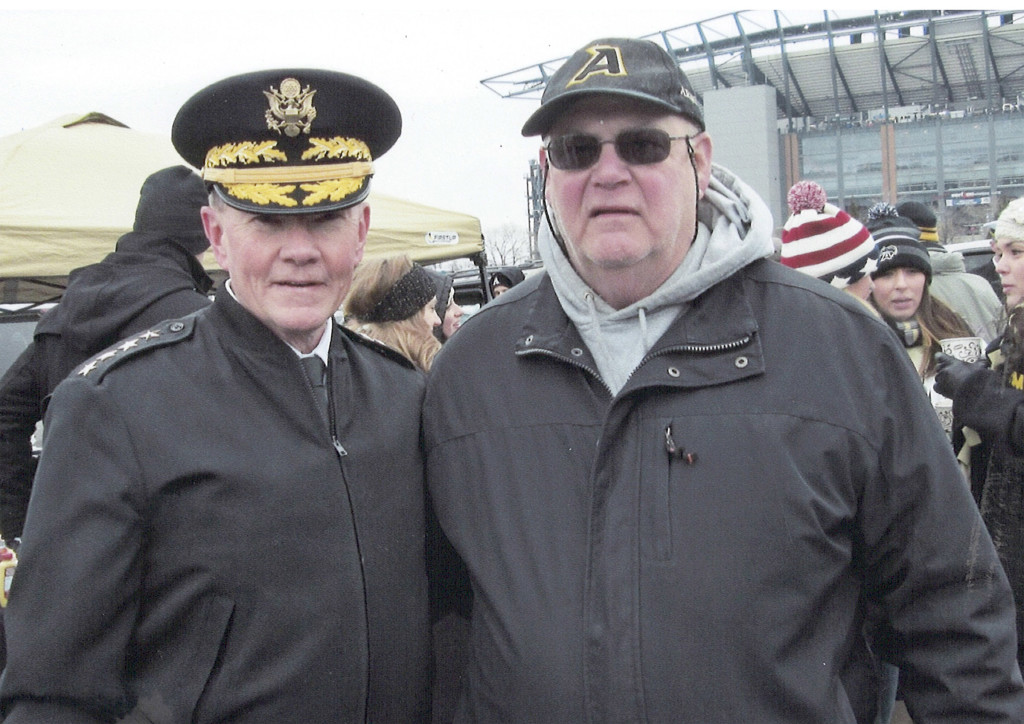 Army General Martin Dempsey (left) stands with Bob Sipple (right), adjutant of the Bath Legion post, at Lincoln Financial Field after the recent Army-Navy football game in Philadelphia. (Submitted photo.)
By BILL HALBFOERSTER
The Home News
Bob Sipple, adjutant for Eckley E. Patch Post #470 in Bath, made his first trip to the Army-Navy football game at Lincoln Financial Field in Philadelphia recently.  He was accompanied by some of his buddies who had served in the armed forces, like "Chick" Liberto, Jr. and Paul Haldaman, and also one who is a West Point graduate.
While the huge Army contingent of West Point cadets standing in the cold of the packed stadium was again disappointed after losing their 12th consecutive game to the Navy midshipmen, Bob was one of many who had an unexpected pleasure after the game.
He met Army General Martin E. Dempsey of the Joint Chiefs of Staff and Military Advisor to the President and Secretary of Defense, and had a brief chat with him. One of Bob's fellow Legionnaires, Haldaman, took the picture shown here as they gathered next to the Linc.  General Dempsey noticed that Paul had an "N" on his hat, since he had served in the U.S. Navy and was rooting for his branch of the service. He told Paul jokingly,"You have the wrong hat on."
Bob's hat had an "A" on it, for he had served three years in the U.S. Army, 1968 to 1971, one year in the States, one in Germany and one in Vietnam, coming out with the rank of E-5.
Since then, Bob (more commonly known as "Sip") has been an adjutant at the post on Race Street for 40 years, and says, "Nobody else wants the job." He also spends plenty of time behind the bar, serving drinks to his fellow Legionnaires, and handing them their membership cards.
So these days "Sip" also enjoys showing the picture of him standing next to a four-star general.