By DANIELLE TEPPER
Special to the Home News
To the untrained ear, the sound of breaking glass means trouble. To Erica Biery of Northampton, however, it sounds like art waiting to be created. Biery's basement workshop is a colorful playground of glittering sheets of glass: Uncut pieces sit stacked on shelves, tables are laden with dishes emblazoned with snowmen and flowers, and bright chunks of it wait by the bowlful.
Biery graduated from Penn State University in 2002 with a degree in psychology. While she had enjoyed her high school art classes, she didn't believe she could make a career out of her creativity.
"When you're 18 or 19, how do you know what you want to do?" she said. She, like many, was still a little lost after graduating college. "I was like, 'well, what am I going to do with my life?'"
A local staffing agency placed her at Warner Stained Glass in Allentown. She started staying nights and weekends to play around. "For some people, it was just a job, but I thought, 'this is pretty neat, I think I could do this,'" she said. Within her first year of working there, Warner started sending her around the country to take (and teach) classes about glass. "When I started doing shows, I realized the potential in it. So I learned everything I could."
She broke off and started her own business a couple years later: "Glass by Erica" is soon entering its eighth year. She does annual displays like Christkindlemarkt and Musikfest locally, as well as a few select shows in other states.
What she does is known as 'warm glass,' which she said is a fairly new medium. "You have cold glass, which is stained glass and glass-blowing, which is hot glass. But this is kind of a mix between the two," she explained.
The process is simple, but long. The glass starts cold. It is cut and placed to take the shape of a design. It is set by firing in a kiln. After the first firing, the newly fused piece is set on top of a ceramic mold and 'slumped' in a second firing to take the form of dishes of all shapes and sizes.
"Glass bends at 1,200 degrees and fuses at 14-1,500," Biery explained. "The whole process takes about 16 hours. A lot of people tell me they've tried it themselves and it doesn't work. That's because you really have to have the specialized kiln. If glass heats or cools too quickly, it'll crack."
With the remodeling and utilization of her basement workshop, Biery was able to start teaching classes for both adults and children right out of her home. She is always amused when adults are intimidated by it.
"I think they think it's harder than it really is to cut. And I always tell them, if kids can do it, anybody can," she laughed.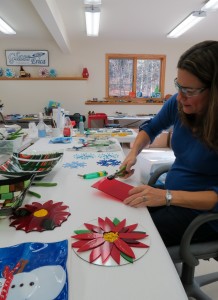 Cutting a piece of glass is almost as simple as cutting paper with scissors. Using a carbide wheel glass cutter, simply push and roll across the glass to create a light score. Then clamp with a pair of running pliers and the glass snaps cleanly down the score.
"You should never have to force it. Also, glass wants to break in a straight line, but you can do it on a slight curve," Biery explained, demonstrating on a red poinsettia leaf.
The third most commonly used in her small array of tools is the mosaic pliers, which Biery demonstrates by deftly breaking a small sheet into chunks.
All this breaking glass and one would think Biery would be nervous about accidents happening under her roof, but she says she's been lucky so far. "Getting cut by a tiny piece of glass actually hurts less than a paper cut," she said. "Half the time when I cut myself, I don't even notice."
Biery's most popular item is her bottle cheese boards. "They're like my bread and butter," she said. "They're so popular that they allow me to do other things."
Biery has quite the collection of bottles hanging out in her kiln room. "People come here and sometimes think I have a drinking problem," Biery (who is currently six months pregnant) laughed. "I used to contribute; now I have to have other people pick up my slack."
Painted bottles work the best because they keep their 'artwork,' so to speak. "I used to joke that I only drank out of painted bottles to help the business," said Biery. Those with labels have the labels removed and fastened to the back after firing.
That same technique is applied when creating one-of-a-kind mementoes: Wedding invitations and photos have been placed on the back of wine bottles with special meaning to couples, such as the bottle they shared at their wedding or first date. The bottles are fired and fixed with little rubber feet, making a unique cheese board keepsake. "It doesn't get any more customized than that," said Biery.
While the cheese boards may be her most popular item, they are not her favorite. Her favorites are actually hidden all around her home. "I love my backsplash," she said, proudly showing off her bathroom. Her glass sink (five layers deep) was painstakingly designed and her soap dish took six months to make.
"I'm starting to get into more architectural things. You can never have too much glass in your house, at least for me," she said.
Biery also creates sparking jewelry and Christmas ornaments, which makes the holiday season a particularly busy time for her. "People can come in for a class and make their gifts themselves or they can order something and I'll make it for them," she explained. So far, she has never gotten so busy that she's considered expanding.
"When it's just you, you're only as big as what you can do. When you own your own business, you work all the time. Even when you're not working, you're thinking about work. You can't just work nine-to-five and go home and not think about it. Especially because it's here," she said, gesturing around her basement.
Biery says she's gotten requests for a retail storefront, but hesitates to make that leap.
"Right now, I love what I'm doing. I have enough to survive and save. That may change when I have my baby! I'm taking a year off, if I can," said Biery. "This keeps me busy. It's a wide variety, it's hands-on, and I have a short attention span—it keeps me on my toes!"
Biery may not have expected glass to play such a large role in her life, but that doesn't mean she would change a thing. "I always tell my students, if you work hard at something and you have a passion for it and you really want to do it, you can make a living out of it."
To view pricing information for Glass by Erica classes, visit www.glassbyerica.com. Become a Facebook fan at www.facebook.com/GlassByErica.