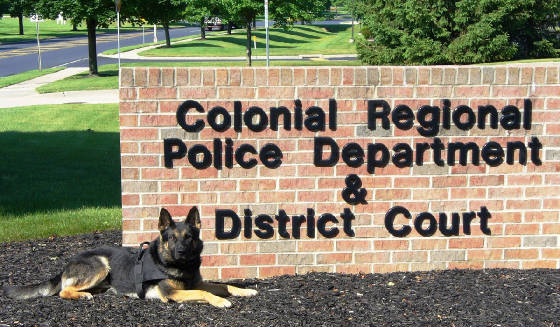 By BILL HALBFOERSTER
The Home News
Lower Nazareth Township Board of Supervisors chairman Eric Nagle recently voted "no" to the Colonial Regional Police Department budget for 2014. This past Wednesday, he asked the board if they would ratify his vote as the township faces a significant increase in the fee that is charged to them. Although the vote was split, they did just that.
In 2013, Lower Nazareth's share of the CRPD budget was $1,114,519, and now for 2014 it will be $1,222,451, a 4% increase.
Nagle said he figured that the cost per Lower Nazareth resident will come out to $210.49.  His estimate per resident for Bath and Hanover Township, who are also a part of CRPD, is $160.  Bath's share of the $3,397,882 police budget is $404,198.19, while Hanover's is $1,642,732.94. Both Bath and Hanover Township had approved the budget.
Supervisors Vice President James Pennington said they've already had to cut their own services to meet the police budget. It is a question of whether they should continue to be a part of the regional police department or not, but he commented, "It is what it is, and we stay," realizing that the department needs more police for the coverage that is required. CRPD has been looking at hiring a 25th officer.
Nagle said, "It has nothing to do with the quality of their service. It's top notch."
Solicitor Gary Asteak noted that Nagle's no vote and of his fellow supervisors could effectively mean a withdrawal of membership. If they did it in January, it would require a unanimous vote to reverse the decision.
Nagle said the township is growing, and this is no reflection on the quality of the police service. Pennington said the share of the budget is based on population, real estate value, and number of incidents.
An off-duty CRPD officer attended the meeting and said that Lower Nazareth does have a great deal of incidents.
The board, in another vote, authorized Township Manager Timm Tenges to make an analysis, and to determine if there is an alternative to CRPD.
Twsp. Budget
After other business was discussed and action taken, the Supervisors voted on the 2014 township budget. Tenges reported that the property tax will be 4.15 mills, and the board approved the general fund budget amounting to $3,608,400, which is up by 1.01%. The township had a better year than anticipated and there are unencumbered funds. It was decided to put them into a capital account and a fixed stability (rainy day) fund.