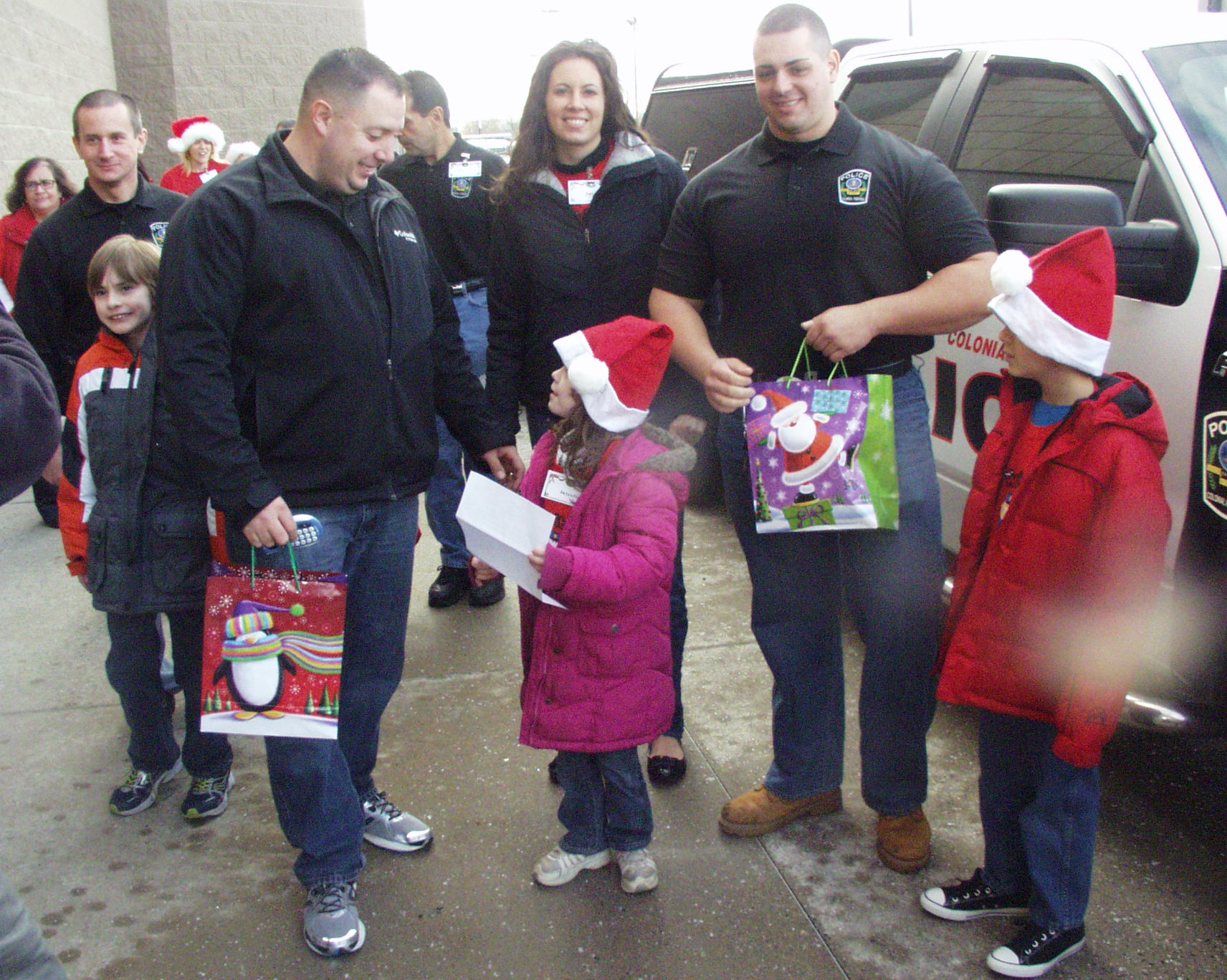 Officers and youngsters got together for pictures taken by their parents as they arrived at Walmart. Below, Officer Justin Schipping and Dillon picking out pairs of socks for Dillon's sister. Photos by Bill Halbfoerster. 
By BILL HALBFOERSTER
Nine families will have a happier Christmas, thanks to officers of the Colonial Regional Police Department.
For the eighth year in a row, the police had their Shop With A Cop program on Saturday morning.
First the boys and girls enjoyed breakfast together with the police at Chic-Fil-A in Lower Nazareth Township. Then, with their sirens blaring, the nine cruiser cars came into the Walmart parking lot, and pulled up in front of the store for the shopping spree, where the youngsters and police officers could go through the aisles of the department store and select items from their shopping list.
We came upon Officer Justin Schippang and Dillon as they stopped in one aisle with the shopping cart. Dillon wanted socks for his sister. That's the way it was. The children wanted to get a gift for their siblings before they headed over to the toy department. We heard another youngster say she was looking for slippers.
Lee McGuigan, administrative assistant for CRPD, tagged along with Justin and Dillon for a bit. She said, "Shop with a Cop gives kids an opportunity to connect with the officers. They see they're human beings just like them."
In all, there were 10 police officers and 19 volunteers who helped out on Saturday to make Christmas a lot better for these youngsters. The Walmart employees wrapped the gifts after they had all been selected. Then, after almost two hours of filling their shopping carts, the officers and kids piled back into the police cars and headed over to Red Robin for lunch.
Ms. McGuigan said other stores provide gift cards, too, so the youngsters have more for Christmas. It's a program the officers all enjoy, too, as they had smiles on their faces just like all the boys ands girls – a time of giving and sharing.