Photos and story by Danielle S. Tepper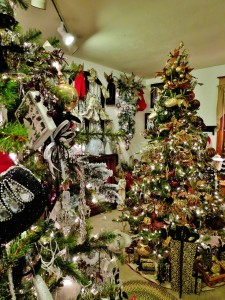 There's a sign outside the door of 462 Bushkill Center Rd. in Nazareth that reads, "Enter as Strangers, Leave as Friends." This is the business philosophy that Karen Sampson has employed during her seven years as owner of the quaint Missing Piece gift shop.
"I always knew when I was a little girl, one day I'm going to have a store and it's going to be called Missing Piece," said Sampson. "I always wanted to call it Missing Piece because we women are always missing something."
The building that now features lines of boutique-style merchandise downstairs and country charm upstairs was built in 1934. It began as Beers' Grocery Store before becoming Country Interiors, owned by Sally and George Paybins, from 1976 to 2006.
"This place has a lot of history and a lot of love," said Sampson.
Sampson, of Emmaus, has a background in retail gift shops, first working for Crayola for 16 years, then Lehigh Valley Hospital. The first time she visited Country Interiors, she felt like she had been there before.
"The store I wanted to have someday was going to have wooden floors with two bow windows and wood beams in the ceilings," she explained. "So when I walked into this place, I knew I had just walked in to where I was going to be—and here I am!"
Three years after that first visit, Sampson returned with her husband, Rick, and found that the place was for sale. "We bought the store on a handshake, which is unheard of," said Sampson. "The four of us just connected. Sally's and my life seem to go parallel. I'd never met her before coming here, now she's one of my best friends. She just has a heart of gold."
Sampson started out following Paybins' footsteps, but began branching out when she acquired Vera Bradley. Now she carries Chamilia, Kameleon, Story, Wind & Fire, and Alex and Ani (soon to be discontinued). Sampson is also proud to announce her latest line, Brighton.
"I can't even think of everything that we do; it's just fun. I think we draw people in by being different," explained Sampson. "Missing Piece does not follow anyone; we want to lead. I strive to get different items. I don't want what someone else has."
Christmas is her busiest time of year, which is typical of many retail outlets. However, Missing Piece stands in sharp contrast with local malls; exploring the upstairs rooms is like wandering through Santa's workshop.
"I'm the only one who decorates," said Sampson. "Not all in one shot, but it takes about a month to get it ready."
The shop is full of Christmas trees laden with ornaments and lights twinkle from every corner. Year after year, there is an upside-down Christmas tree just inside the door with a train making its way around the top.
"It's a pain, but it's my favorite," Sampson said. "I'm always up there changing batteries or fixing it. One year we had an electric one and it went too fast and flew off the track!"
Sampson said she and her husband primarily focus on giving back to the community in whatever way they can. Something they've done since the beginning is offer little cups of Teddy Grahams to kids who get dragged in by their parents. "The kids don't mind coming back again and it gives them something to do with their hands," Sampson explained.
"It's all about getting to know people. My customers mean more to me than companies," said Sampson. "You don't see this everywhere. The mall isn't personal; half those people don't even want to be there and that's not what we're about. We want that good old-fashioned feel. We do say 'Merry Christmas,' that's just the way it is."
The community has shown its support of the shop through The Morning Call's Readers' Choice Awards—Missing Piece was voted 2013's Best Gift Shop of the Lehigh Valley.
"I didn't even try for it and I have that now until the day I close these doors," said Sampson, smiling. "We had a big party."
"You know, Ma and Pa shops are what made this country," she continued. "It's a struggle every day. Sometimes we have people come in and say they drive by every day and have just never noticed us, but we also have a lot of faithful, loyal customers."
Sampson's daughter, son-in-law, and granddaughter occasionally help out at the store. "My 11-year-old granddaughter works the register and answers the phone," she said. "She tells me she wants to own it one day and I hope she does. It would be cool to pass it through the generations."
For now, Sampson is continuing to enjoy her hard work and dedication to the little shop. "I still get excited about products. When you lose that, then you know you're done with retail," she said. "I'm still the same. I'm still excited. I am very, very fortunate. Very grateful. I believe positivity brings positivity back."