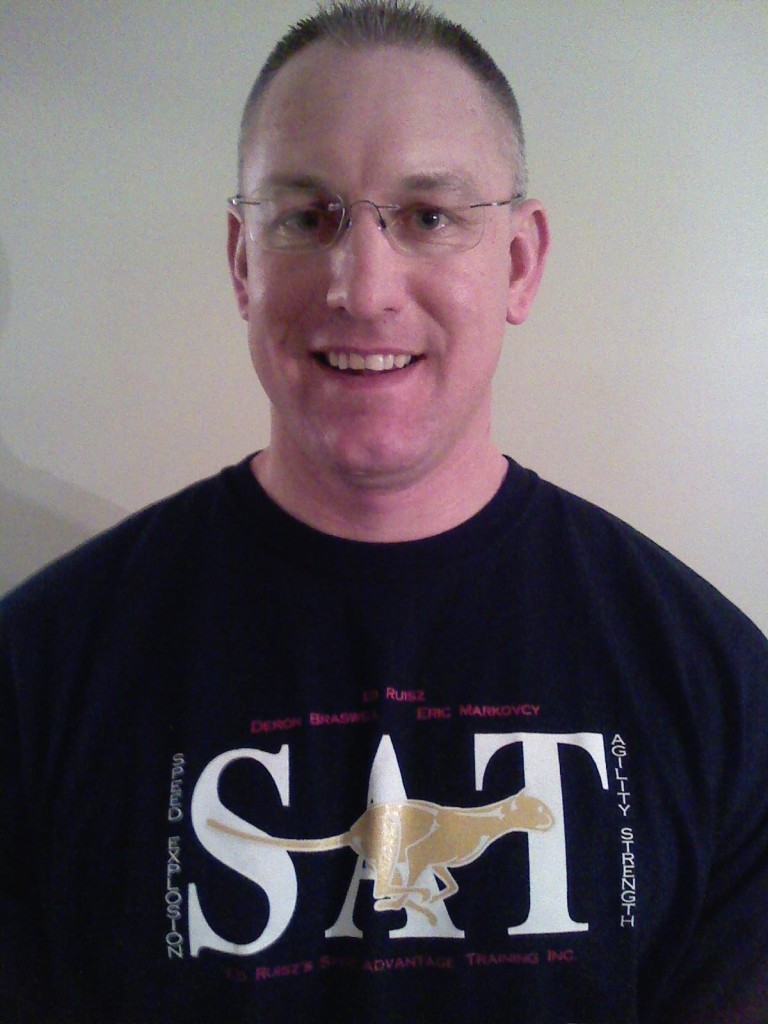 By TYLER TRUMBAUER
Special to The Home News
Every year Jason Kremus makes the trip to the PIAA Track & Field Championship Meet. He attends as a coach, a trainer or simply a spectator, but he doesn't miss it.
25 years ago, Kremus took the journey to Shippensburg University as a competitor and left a state record holder.
A 1989 Northampton Area High School graduate, Kremus, was a two-sport student-athlete during his time as a Konkrete Kid as he also showcased his talent on the gridiron. However, it is Kremus's accomplishments on the track that makes him one of the newest inductees into the Pennsylvania High School Track and Field Hall of Fame.
The current Upper Macungie Township resident was a master hurdler during his high school track career. He won one bronze and one silver medal at the 1988 state meet, which was his junior year. He topped it all the next year as he won a silver medal in 110m hurdles and took gold in the 300m hurdles on his way to setting a new Pennsylvania record for that event at 36.94 seconds. Kremus also broke the District 11 AAA meet record for the 100m dash as well.
"It is a little surreal to look back and think that I accomplished all of those things," Kremus said in a phone interview. "My mindset back then was to just keep progressing year after year. Freshman year I placed third at districts and my goal for the next year was to win it and improve my times. It was like one thing took care of the next. Improving my times meant that my place would improve as well and they did."
Kremus will be joining the over 170 members of the Hall of Fame, which was established in 1995, as everyone enshrined has made an impact on the sport in the Keystone state as a participant, a coach or a contributor. He joins Janelle Thomas, a 1996 Liberty High graduate, as the only two athletes from the Lehigh Valley in the Hall.
Despite his stellar track talents, it was Kremus's pigskin skills that earned him a scholarship to the University of Maryland, where he started out running both track and playing football, but ultimately had to make a choice between the two.
"It was difficult [to be a two-sport athlete], in the college ranks," he said. "Now your time constraints are a little bit different. Football became way more demanding than high school. It became more of a job than anything…they were paying your way for school so they were expecting a lot from you. I could have done both sports, but it was my choice to focus more on football. Doing one sport was hard enough."
Kremus will officially be entered into the Hall of Fame during the induction ceremony that will take place on Saturday, March 1, during the Indoor Track & Field State Championship Meet at Penn State University.
Now he has been eligible for 18 years, as an athlete is eligible five years after graduation, before he was selected. However, he wasn't too worried about if he would ever get chosen.
"My accolades were something to consider," he said of getting selected. "I don't want to say that I thought I definitely would get in. We are talking about the best in the entire state of Pennsylvania. Now I'm considered one of those elite. I always thought my accolades were good enough to be in though."
Kremus currently serves as the Director of the Northampton Recreation Center and is also an Assistant Track & Field Coach at Parkland. Before that he was a volunteer assistant coach and then the head coach of Track & Field at Northampton from 1995-2005. He also served as an assistant and then head coach at William Allen High School for their Track & Field program.
Kremus competed in and had a lot of success in the hurdles during his illustrious track career at Northampton. Out in State College in March, he will surpass his final hurdle and cement his legacy as a Pennsylvania Track & Field Hall of Famer.