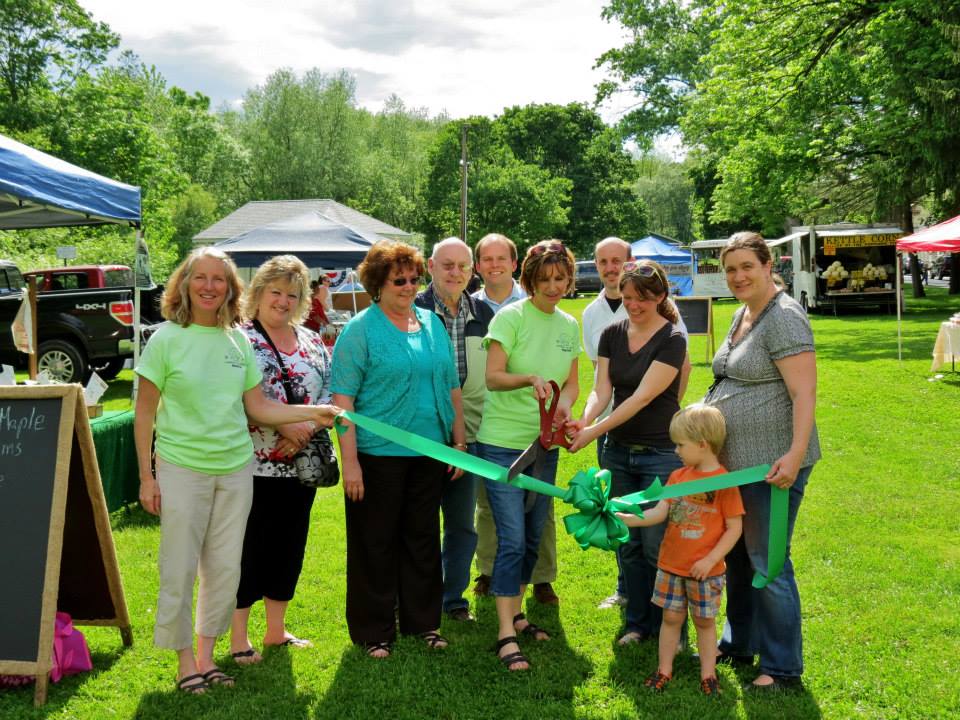 The Bath Farmers Market officially opened for 2014 with a ceremonial ribbon cutting in Keystone Park. From left to right: Carol Bear Heckman, Bath Borough Councilwoman and BFM Committee Member; Mayor Fiorella Mirabito; PA State Representative Marcia Hahn; Robert Fields, Bath Boro Council President; Tom Petrucci, Bath Borough Manager; Mary Kositz, ESSA Bank & Trust and BFM Committee Member; Michael Reph, Bath Borough Councilman; Allison Czapp, BFM Market Manager; Ritchie Carmen and Tracy Berger-Carmen, BFM Committee Member.
By DANIELLE S. TEPPER
Special to the Home News
The Bath Farmers Market kicked off its seventh season Friday, May 23 after a late start due to rain the week prior. Perhaps because of the postponement or high spirits for the long weekend ahead, the number of local residents who turned up to enjoy the sunshine and fresh goods surprised committee members. 
"In past years, we've never seen this many. Opening weekend has been lukewarm, at best," said Mary Kositz, BFM committee member. "I think people are just chomping at the bit. People are finally expecting us and anticipating it."
The market began in 2008 and has run successfully every summer since. From May through the end of September, market goers can expect Keystone Park to be a place where they can discover local products made by their neighbors every Friday from 3 to 7 p.m.
Some vendors, such as Twin Maple Farms and Graver Farmstead, have been around since the market's inception. Others, such as The Pie Shop and The Popcorn Pit, started a couple years back. Some are brand new this year.
Take Sugar So Sweet, for example: "I've been doing cupcakes for four years total, but I've been doing it under my name since August of 2012," explained Karri Eryn, owner and baker of the cupcake and sweets cart.
"I grew up in Northampton and my mother always complains about how she never gets to see me, so I was like, 'well, maybe I'll just do this market so at least you get to see me on Fridays,'" she laughed.
Eryn offered samples of her fresh baked cupcakes directly from her cart; flavors available on her website range from Peanut Buddy and Blueberry Lemon to Choco Chip Mint and Buttery Pecan.
The other 2014 newbie, Bramble Ridge Honey Farm, got involved as a way to expand their customer base. Frank Licata used to help his neighbor with his bees when he was growing up. "The man was in his 80s," said his wife, Diane. "Frank would go over and learn from this older gentleman. He's been doing bees himself now for at least ten years." Bramble Ridge offers honey soaps, lotions, and beeswax balms, in addition to all natural honey.
Most of the vendors are set by the time the season starts, but if someone were to decide that they want to be involved halfway through the summer, "We're open to that," Kositz said.
Allison Czapp is in her first year as market manager and said that they would like to see some crafters join up. "We're also talking to another orchardist who might bring some cherries and pears. We're trying to get the fruit in," she said. "And we'd really like to be able to have more take-away food options; more options for people to come and sit at the park and bring the kids to the playground, listen to music, and just hang out on a Friday."
They're headed in the right direction with the addition of the Taza Truck, which sells Egyptian specialty foods. While absent on the day of the opening, the committee is "pretty excited" about their involvement this year.
The inclusion of more food to enjoy on the spot seemed to be everyone's suggestion when the committee took a survey last year to acquire feedback.
"People want to see more fruits and veggies and they want more items that they can enjoy while they're here. Also more breads and cheeses, but it's hard to get dairy vendors. They sell to more specialty stores or to restaurants," Kositz explained.
"If we could get a cheese place … oh, that would be dangerous." Czapp laughed. Czapp is the outreach coordinator for Buy Fresh Buy Local, making her a perfect fit for the market. "I love local foods; I'm a local food and farmer advocate," she said. "I like to be involved in actually doing stuff and this allows me to do that and to see the impact the farmers have on the community—and to support local agriculture."
She continued, "You know, it's fun to see, when we put out on Facebook, 'what are you looking forward to at the market this year' and people identify these little specialty things like Leigh's dandelion jelly. I'd never even heard of dandelion jelly before! It's nice to be a destination where people know they can get some specialty items."
The schedule and full list of vendors is available at www.bathfarmersmarket.org. The market can also be found on Facebook.
Bath Farmer's Market open for seventh summer by Slidely Photo Gallery