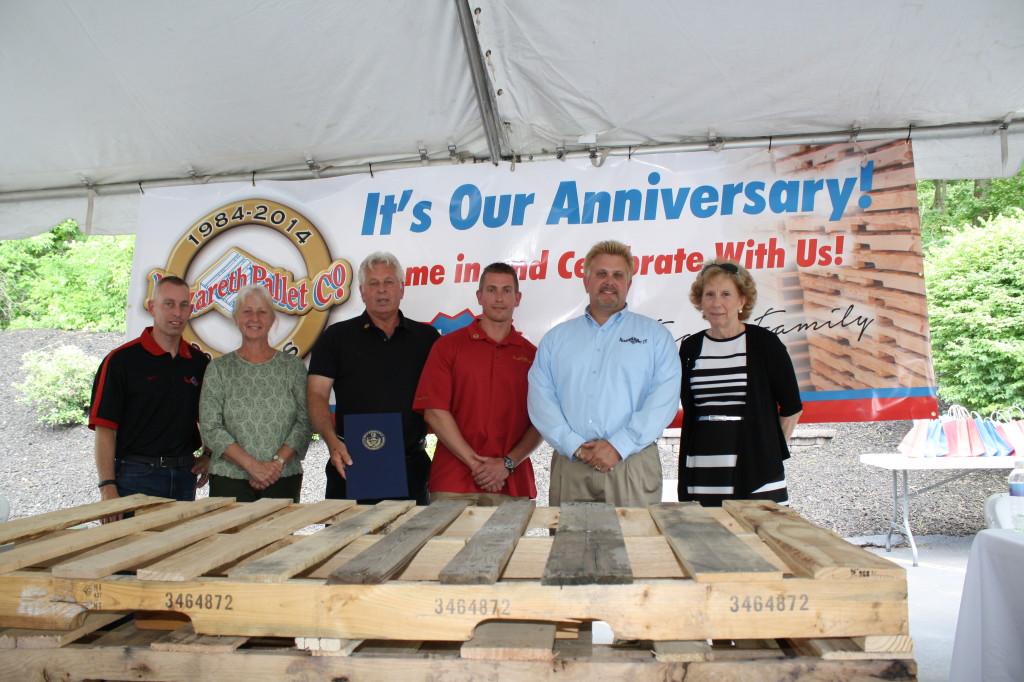 Nazareth Pallet Company is celebrating 30 years in business. In May of 1984, Dorris and George Frack Sr. of Nazareth founded the company. From their humble beginnings with 27 employees, the company has since outgrown the smaller facility. Nazareth Pallet is now located in the borough of Northampton and has 135 employees. The focus of operations at Nazareth Pallet is on recycling and remanufacturing pallets for use as new pallets and mulch. They are members of the National Wooden Pallet & Container Association as well as the National Federation of Independent Business and the Greater Lehigh Valley Chamber of Commerce.
An anniversary recognition picnic and luncheon was held Friday, May 30 at the facility for the entire staff of Nazareth Pallet to enjoy. Owners George Jr., Brian and Jason Frack were joined by their parents, local dignitaries, company executives, and staff to celebrate the momentous occasion. George Jr. recognized the employees' hard work and dedication as one of the contributing factors to the success of the company. "Work hard, pay bills, earn a living, and supporting our families is what its all about." He said as he looked on to a crowd of over 100. He also noted that the employees have a "strong company spirit" that helps them continue to prosper and grow.
Northampton Mayor Thomas Reenock kicked off the celebration by presenting a citation and declaring May 30 as "Nazareth Pallet Day." He recognized the company's longevity, their importance to the economic vitality of the borough, and the many ways in which they practice good environmental stewardship through their business practices. Nazareth Pallet not only recycles used pallets by making new ones and by making mulch, they also use the old pallets for flooring and most recently, supplying electricity.
State Representative Julie Harhart also presented a citation to Nazareth Pallet Co., recognizing them as a vital part of Pennsylvania's economy: "You [small businesses] are the main business throughout PA; you are our backbone."
Nazareth Pallet is located at 800 Held Drive in Northampton and sits on 18 acres. The company offers tours of the plant by appointment by calling 610-262-9799. You can also visit them online at www.nazpallet.com.