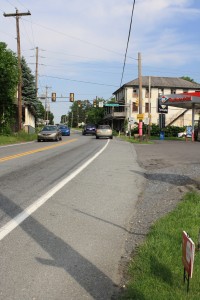 Left, intersection in Cherryville to get lane improvements. Photo by Alice Wanamaker.
By JOE KORBA
The intersection of Blue Mountain Drive and Route 248 in Cherryville was one of the topics covered at the Lehigh Township Supervisor's Meeting on June 10. Jim Milot, of Hanover Engineering Associates Inc., told the board about the planning meeting the night prior that included discussion of the project involving Turkey Hill at the intersection. The developer's current plans do not include a left turning lane going eastbound on Route 248.
"We would like to facilitate turning lanes in all directions," Mr. Milot said. "It's more efficient and cost effective to do everything at once."
Mr. Milot also discussed the potential cost of building a fourth lane at the intersection, saying that it would be "in excess of $100,000, but not more than $175,000 or $200,000." He said that we "don't need to build the Mercedes, we just need a safe, functional turning lane."
Darryl Snover, Chairmen of the Board of Supervisors, thinks that PennDOT may have intentionally stayed away from the project.
"I think the state avoids the Cherryville intersection because of right-of-way issues," Mr. Snover said.
The right-of-way problems eventually led to a discourse about eminent domain, the compulsory purchase of private property for public usage. Although very tentative, councilman Keith Hantz wanted to clarify.
"Eminent domain is when the township wants to take land, just so I'm clear," he said.
Ultimately, the supervisors seemed to be in agreement that action needed to be taken by the township to have the fourth eastbound lane put in.
"I don't want the township debating options to hold up Turkey Hill's project," Mr. Hantz said.
Supervisor Cynthia Miller concurred with the idea of having a fourth lane built.
"We want to make sure the intersection is done to the extent that we need it," she said.
Another agenda item was the potential hiring of a new police officer and public works employee. The public works issue was quickly resolved as the current workers are okay with the current amount of employees, but the police officer hiring proved to be more contentious.
Lehigh Township Police Chief Scott Fogel told the supervisors about the problems faced by police short staffing.
"To look at it though the funnel of budgeting is a mistake. It's a handicap to only have one officer on from 3 a.m. Until 11 a.m.," Chief Fogel said. "Backup can be ten to 12 minutes away, boxers don't even go that long," he continued.
Group homes are, seemingly, causing a rise in 911 calls.
"One of the biggest concerns is the tremendous increase in calls to group homes. We do 60 to 80 calls a year," Chief Fogel said. "You can't just walk into a disturbance at a group home with one person."
Mr. Snover explained what it would take to hire another officer.
"There is no way we can add another officer without increasing taxes," he said.
After the idea of hiring a part time police officer was almost universally shot down, Ms. Miller proposed the idea of a capital improvement plan. "We can't keep feeding the fire with more money. Let's move forward with a capital improvement plan," she said.
The capital improvement plan will be explored by borough manager, Alice Rehrig along with Ms. Miller. It is scheduled to be on the agenda in August. Ms. Miller stated her opposition to hiring before the plan is complete.
"I cannot [hire] in good conscience. I don't want to put the burden on the taxpayer," she said.
NOTE: A Capital Improvement Program (CIP) is a roadmap that provides direction and guidance for a municipality to carefully plan and manage its capital and infrastructure assets. It is a short range plan, usually four to ten years that allows for the systemic evaluation of all potential projects. A CIP presents the opportunity to stabilize debt and consolidate projects to reduce borrowing costs.