(NAPSI)-All across the country, family restaurants and neighborhood diners are getting ready for their close-up. That's because a recipe contest is shining the spotlight on their signature dishes-the very dishes that make their own communities proud.
The "Neighborhood to Nation" Recipe Contest celebrates these one-of-a-kind dishes and the local, independent restaurants that are truly the heart of the neighborhood. The contest, from General Mills Foodservice, gives them the opportunity to put their local flavor in the national spotlight and the potential to earn cash prizes as well as funds for a local charity.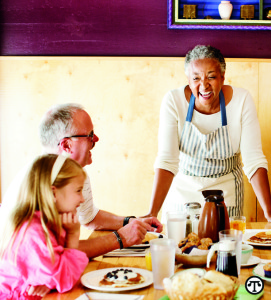 "Everyone has a favorite local restaurant they visit for the good food as well as the way the owner or staff makes them feel welcome and part of the family," said Grace Gilbertson, senior marketing manager for General Mills Foodservice. "Recognizing the strong connection these neighborhood restaurants have in their communities, we want to reward them with a chance to win some money for themselves and their business as well as the potential to give back to their community."
While the contest is only open to independent family dining or "neighborhood" restaurants and their staff, consumers can encourage their favorite diner to enter.
The competition is intended to inspire culinary creativity, giving foodservice operators, chefs and line cooks at independent family dining or "neighborhood" restaurants an opportunity to experiment with high-quality products from General Mills as well as exclusive access to trend information, insights and ideas to help them differentiate their menus and delight their diners.
How To Participate
From Aug. 1 through Sept. 30, 2014, restaurants may submit their favorite original breakfast, entrée or dessert recipes (or create a new special) using at least one ingredient from General Mills' list of eligible products. Three recipe winners will be selected, from which two will each be awarded a $10,000 first prize, and one will earn the Grand Prize Package: $40,000 cash and a $10,000 donation to a local charity.
Contest Criteria
Entries will be judged based on taste, appearance, creativity and foodservice viability. The top 15 finalists and recipes will be announced in February. Three Recipe Category Winners will travel to General Mills' headquarters in March for a day of celebration and culinary inspiration as well as the announcement of the official Grand Prize winner.
The recipe contest entry period ends Sept. 30, 2014. Official rules are available online at www.NeighborhoodtoNation.com.
For more information, call 1-800-215-6120 or visit www.NeighborhoodtoNation.com.
There's a recipe contest that celebrates the one-of-a-kind dishes that the best neighborhood and family dining restaurants have to offer.