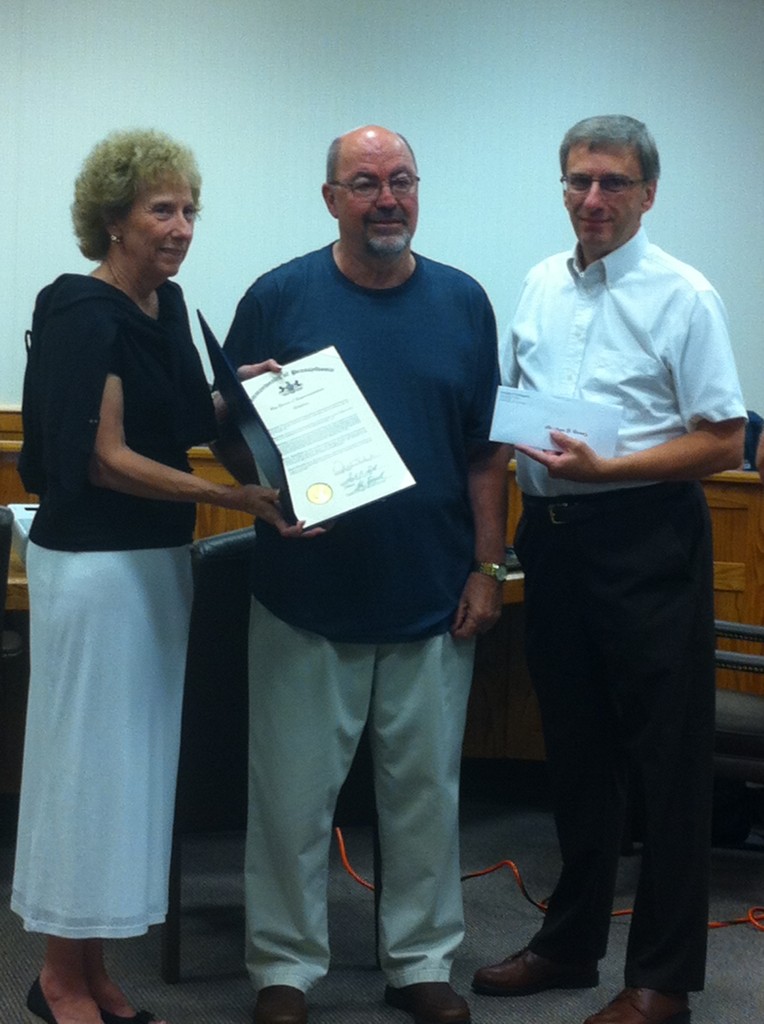 State Rep. Julie Harhart, Steve Gerny, Council President John Yurish
By JANA BOSKEY
Special to the The Home News
At the August 21 council meeting, the superintendent of the Northampton School District, Joseph Kovalchik, presented a slideshow displaying the progress of the new middle school currently under construction.
There are two phases to the middle school project; the first began in April 2013 with the beginning of construction. Over the course of a year, the workers have already made leaps and bounds, with almost the entirety of the base structure completed. They have started putting up the bricks that will decorate the outside of the school. The new middle school will have an "amazing" media room, modern science labs, and classrooms measuring 850 square feet that total 272,000 square feet in three stories.
Along with showing the construction progress, Kovalchik went so far as to explain the history of the land with the help of Councilman Ed Pany, who also serves as curator of the Atlas Cement Museum. Pany has recently taken a tour of the new building. The original occupant of the land where the new middle school is being built was the Atlas Portland Cement Company. Atlas Portland was one of the preeminent cement producers of its day, contributing to the Panama Canal, Empire State Building, and the Hoover Dam. Pany, whose father was a longtime employee of the company, pointed to areas on the map explaining their historical significance.
The construction of the new middle school appears to be on schedule. Kovalchik is confident that it will be ready for the 2015–2016 school year, after which the old middle school will be demolished.
The council also honored Steve Gerny, who has been employed by the Northampton borough for 44 years and has recently announced his retirement. Gerny is also a veteran, having served in the United States Army from 1966 until 1969, achieving the rank of Sergeant. "It's been a pleasure to work with you," Council President John Yurish told Gerny before he was presented with a proclamation from State Representative Julie Harhart.