By State Rep. Julie Harhart (R-Lehigh/Northampton)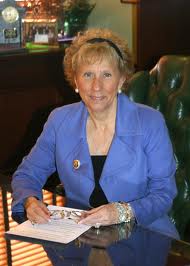 The education of our youth remains a top priority of the Pennsylvania Legislature, which is why in the 2014-15 state budget we appropriated more money for schools than ever before. In fact, $10.5 billion in state funds is dedicated to K-12 education, and special education funding sees an increase of $20 million over last year. Also included is $200 million in funding for the Ready to Learn Block Grant Program, which gives school districts more flexibility to invest the money where they see the greatest need.
However, ensuring a top-notch education is still challenging with schools facing so many mandates that take attention away from a student's basic education necessities.
School districts across the Commonwealth are subject to numerous requirements that can demand a significant amount of money and time, which could be better put to use focusing on how best to support student achievement.
In order to help address the many mandates placed upon schools, House Bill 135 was introduced and passed out of the House Education Committee this session. The bill would restore the Mandate Waiver Program for school districts, which was in place between 2000 and 2010. The proposed Mandate Waiver Program would provide school districts with the flexibility to waive some costly mandates and use taxpayer money more effectively to educate students. Furthermore, the program would allow school districts to waive outdated mandates which often function as impediments to meeting the needs of today's students and implementing new initiatives.
Another initiative to reduce a burdensome mandate on schools is House Bill 1734, which would amend the Public School Code to limit the current interscholastic athletics disclosure requirements imposed on public schools. As of 2012, all school districts, vocational-technical schools and charter schools that provide interscholastic athletic opportunities for secondary school students have had to provide detailed reports on such things as the number of participants on each team, broken down by gender and ethnicity; the contributions of booster clubs, alumni and other non-school sources; the expenditures for travel, uniforms, equipment and facilities; and the number of coaches and athletic trainers for each team and their compensation. However, many school districts have noted this type of reporting is time consuming and burdensome.
House Bill 1734 would limit the reporting requirements to only the immediately preceding year, eliminate the requirement to report on contributions from the booster clubs, alumni and others; and make some other minor changes that will help alleviate some of the burden of this reporting mandate.  Most importantly, under this bill the final report from schools would be due Oct. 15, 2015. Our public schools have been asked to reduce spending and improve administrative efficiencies.  I believe the General Assembly can help public schools in this regard by reducing reporting requirements that do not directly pertain to the education of children.
Another bill to address school mandates is House Bill 324, which would allow school districts the flexibility to bid out either separate parts of a construction project (i.e. HVAC, plumbing, electrical, etc.) or get quotes for the whole project at once. This will enable school districts to find the most efficient and economically viable contract options when planning school construction projects. Currently, schools are only allowed to bid individual portions of a school construction contract.
School construction costs account for a large portion of many school district budgets. With growing student populations and new technologies demanding updated facilities, new construction is always underway within numerous school districts each year. In order to further help districts meet the high costs of construction without raising school property taxes, the state has a program in place known as PlanCon, which provides opportunities for districts to be reimbursed by the state for certain agreed-to construction projects.
Unfortunately, the set of forms and procedures used to apply for Commonwealth reimbursement is long and burdensome, and the amount of funding set aside for reimbursement has not kept pace with the list of projects eligible for reimbursement.
To help address immediate needs for funding, the 2014-15 state budget includes an additional $10 million for PlanCon projects, increasing the total appropriation to $306.2 million, a 3.4 percent increase in funding over last year.
In addition, in early June the state House, with my support, passed House Bill 2124 to modernize the PlanCon program and ensure it is financially sustainable. The bill includes streamlining the application process; encouraging the rehabilitation of old facilities; enabling faster reimbursement through a one-time lump sum reimbursement of up 75 percent of the reimbursement; and creating a publicly accessible website which provides information regarding school construction and reconstruction projects and charter lease reimbursements.
House Bill 2124 is currently awaiting action in the state Senate.