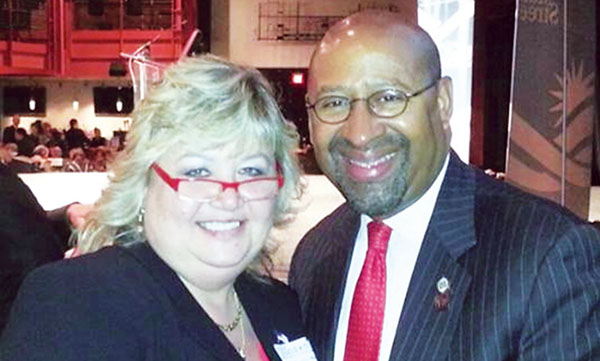 Bath Mayor Fiorella Reginelli-Mirabito and Philadelphia Mayor Michael Nutter. Contributed photo.
The ninth annual Greater Lehigh Valley Chamber of Commerce Mayors' and Municipal Officers' Reception was held Tuesday night, Nov. 11, at Steel Stacks in Bethlehem. 16 mayors were on hand and the Chamber honored Bath's Mayor Fiorella Reginelli-Mirabito as its Mayor of the Year.
She received the award based on good government practices, leadership, and support of the business community. The first-time mayor thankfully accepted the award with tears of emotion. A breast cancer survivor, she organized a month-long series of fundraisers in October designed to "Turn Bath Pink" to benefit the American Cancer Society in their effort for cancer research. Mayor Mirabito, with her husband Emanuel "Manny" Mirabito, have owned and operated My Place Pizza restaurant in Bath for more than 25 years.
The reception also included a taping of an upcoming "Business Matters" show, which aired Monday evening on WFMZ-TV Channel 69. The show featured a 25-minute question and answer session between the audience of some 250 people and Philadelphia Mayor Michael Nutter and Allentown Mayor Ed Pawlowski on topics such as education funding, good jobs, and the need to lobby lawmakers in Harrisburg for reforms, notably in pension and education funding, along with balanced budgets.
Nutter, in his second term as mayor in the City of Brotherly Love, said Philadelphia is rebounding economically. He also commented, "Mayors matter. The things we do affect people's lives every day."