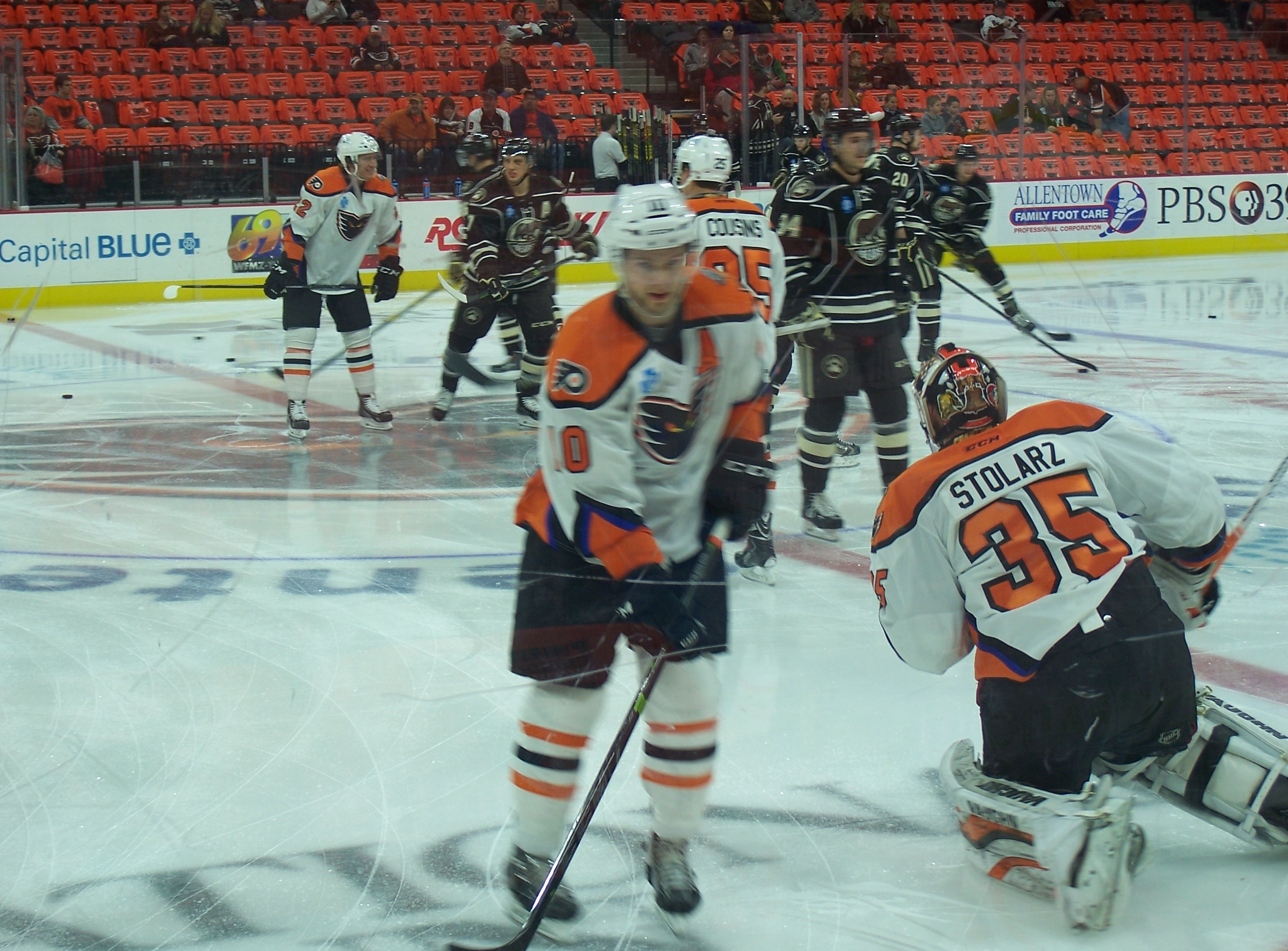 Wins over divisional opponents in recent weeks have helped the Lehigh Valley Phantoms close in on the playoff race early in the season.
The Lehigh Valley Phantoms (13-10-4-1) head into their five-day break for the holidays unbeaten in regulation in their last five games (3-0-2), and with all three of those wins coming against East Division opponents they've tightened things up the standings – just one point behind rival Hershey for second place with a game in hand on the Bears.
"My confidence the last few games has definitely skyrocketed," rookie goaltender Anthony Stolarz said. "I just try to stop as many pucks as I can and try to give the guys a chance to win."
Stolarz is unbeaten in five appearances in December, going 3-0-1 this month including a 32-save shutout of the Bears last Friday night on the heels of veteran Rob Zepp earning his first NHL recall with the Philadelphia Flyers over the weekend. Stolarz has stepped it up after a 1-5 start to his pro career.
"Stolarz has been really good," Phantoms head coach Terry Murray said Friday night. "He's the reason why we won [Friday's] game."
The week off gives players in the American Hockey League (AHL) some time to relax and a chance for some to head home and spend the holidays with their family. For 19-year-old Swedish-born defenseman Robert Hagg, there isn't much of a break at all.
Hagg was selected to join Team Sweden and represent his country in the upcoming World Junior Championships (WJC), which will be played in Canada this year starting Friday, December 26th. Hagg will miss five games with the Phantoms while competing in the international under-20 tournament.
"It's going to be great to play for Sweden in Canada," Hagg said after a Wednesday night's Phantoms game. "I heard it's sold out almost every game. It's going to be pretty big."
After back-to-back silver medals for Sweden in the tournament the last two years, Hagg was adamant that he wasn't playing for 2nd place for a third straight year – his final year of eligibility to participate in the tournament for the top hockey prospects around the world under 20 years of age.
"If I get another silver medal I'm probably going to like quit hockey, or something," Hagg joked after the Phantoms 5-3 win over Binghamton on Wednesday night. "I definitely don't want a silver medal again. I played in two finals and lost both of them," he added.
For Phantoms defenseman Oliver Lauridsen, a native of Gentofte, Denmark, a trip home for the holidays isn't in the cards. He will, however, get a special visit from his younger brother Markus, a member of the AHL's Lake Erie Monsters in the league's Western Conference.
"I've played a lot of hockey with that guy," Oliver said of growing up in Denmark with his brother Markus. "I kind of got introduced to hockey and he just followed suit. We lived down at the rink for I don't know, 10 years, just playing every day. Plenty of stories, you couldn't get us out of there."
The Lauridsen brothers are spending the holiday break together, catching up on how things have gone over the first third of the 2014-15 season. The Phantoms are off until they return to action Friday night in another East Division battle against rival Hershey. The team will return home and host Norfolk on Saturday night at 7:05 p.m. ET in their first home game since the holiday hiatus.