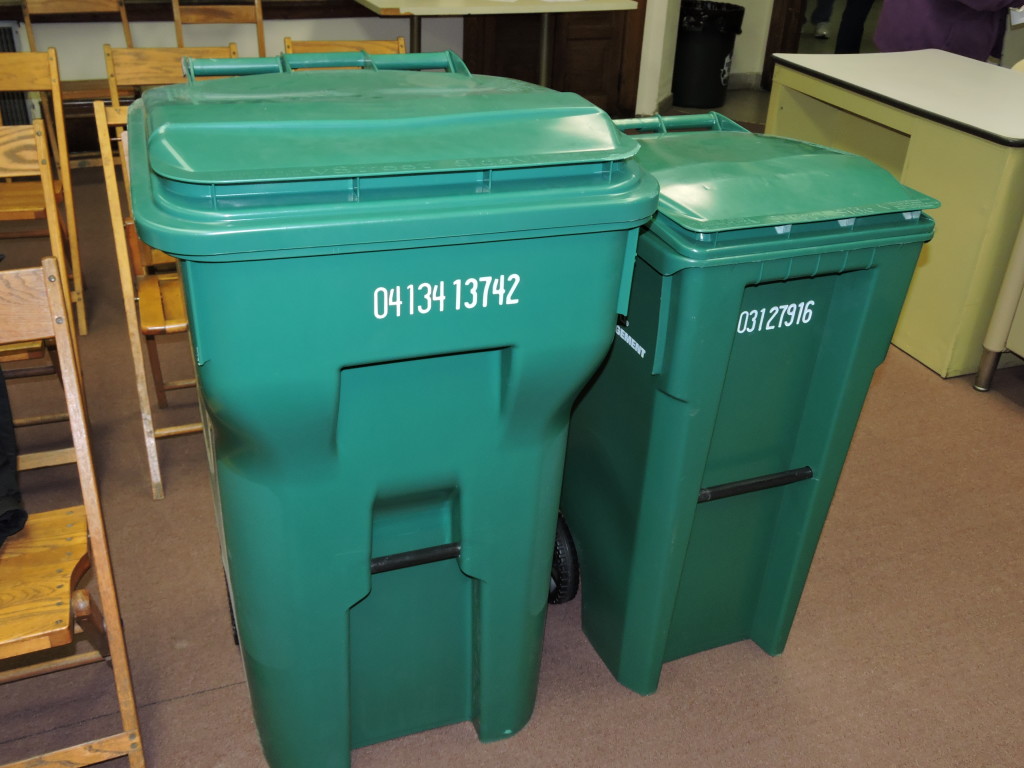 Two sizes of garbage/recycling containers were shown at Bath Borough Council meeting on Monday for consideration by borough residents
Bath Borough Council had a boatload of items to discuss at the first meeting of the new year on Monday night.
One was viewing two sizes of garbage and/or recycling containers that could be purchased if an Act 101 grant is awarded in August. Borough Manager Tom Petrucci said they cost $80 each, but 90% of that cost would come out of the grant.
Some residents don't have that much refuse to dispose of in a week. Others do, so there could be a choice on which they would use for their own purposes.
Other Matters
Bath Fire Social Hall president James Pasquariello presented a check for $500 to Fire Chief Ed Demchak for the Bath Firefighters.
Demchak said that now that we are deep into winter, he asked that residents clear snow away from fire hydrants in front of their homes, and also advised that everyone keep their smoke detectors on a full battery charge.
His December report showed ten fire calls (six in Bath and four in East Allen), using 88 man-hours. In addition: EMS calls, 27 man-hours; drills, 150; school, ten; administration, 240; equipment repairs, 35; meetings, 30; work detail, 50; fire police, 15. The total: 645 man-hours.
There is a PIRMA (PA Intergovernment risk management association) policy for fire department vehicles on liability and physical damage, but solicitor Blake Marles will go over that insurance because he said neither the fire department or borough are adequately covered. The issue was raised after a fire truck reportedly damaged an E. Main St. sidewalk.
A storm water management plan is being worked out, and Petrucci said the public is welcome to participate in input on any storm water issues that they have at Council's next meeting on February 2.   Pasquariello said water comes down on the social hall property. He was told the parking lot will be regarded so water flows into an inlet pipe.
Council voted to authorize Petrucci to borrow $200,000 for road infrastructure repairs.  It is in the 2015 budget. Action was also taken to transfer $166,904 to the PNC capital reserve fund for improvements such as roadwork and equipment needs.
Marles will also review a proposed Borough of Bath Road Preservation ordinance. Councilman Michael Reph pointed out some provisions that he questioned. Overall, Councilwoman Carol Bear-Heckman said the concept is excellent.
A new state Act 164 of 2014 amendment requires a deputy tax collector should the tax collector become incapacitated. Petrucci said a third party agency like Berkheimer Associates could serve that purpose.  No action was taken as yet.
Council approved designating April 25 as the date for the 2015 Earth Day clean-up event. Parks Committee chairperson Councilwoman Jennifer George said she's excited that the Public Works crew of the borough will participate.
She had more to report following a committee meeting. It included: placing picnic tables on the cement pads at Ciff Cowling Park as a spring project started by an Eagle Scout. . . .Installation of playground equipment in the spring, with the Bath Business & Community Partnership donating about $2,500 for mulch to go with it. . . .The committee at their next meeting will discuss the 2015 TreeVitalize planting grant, decide where trees should be planted, and seek Council approval in February.
Council voted to remove the baseball scoreboard at the park since the Legion team doesn't use it. Later in the meeting, Mrs. George noted that the borough owns the Siegfried Log Cabin on W. Main St. and there is an issue with the Gov. Wolf Historical Society with maintenance. The roof has been replaced twice. The cabin is open only once a year during the Christmas house tour. At one time there was thought about moving it to the historical society campus in East Allen Twsp., but the cost would exceed maintenance. Mrs. Heckman said the cabin doesn't qualify for National Historic Commission recognition. Mrs. George said the cabin could be open as a feature event for the Chamber of Commerce.
Petrucci will attend a Lehigh Valley Planning Commission long-range transportation plan meeting on January 26. One of the items under discussion is the proposed Rt. 329 by-pass.
PennDOT held a pre-construction conference recently for re-paving all of Rt. 512. Work will start on May 11. Pipes are presently being replaced in Bath ahead of that project.
The borough may soon know if they will receive a Monroe County gaming grant for a street sweeper.
Petrucci said PennEast has assured that they will provide training to fire departments that are near areas that are expected to have the natural gas pipeline.  As of now, it is planned within 50 ft. of Moore Elementary School. Mayor Fiorella Mirabito said she is pleased with a meeting of PennEast with officials to address concerns.
An ordinance on communication towers will be advertised, as will one on independent audits and independent auditors.
Mayor Mirabito's report showed she had a busy December with meetings, taping a message and interviews. Councilwoman Kathryn Roberts showed an article in a paper this week in which Ms. Mirabito talked about serving in the community. The mayor's plans for 2015 include another Turn Bath Pink Oct. 10-11; community campfire at Firefighters Park on Oct. 24; Christmas tree lighting, Nov. 29, and Luminaria Night Dec. 12.