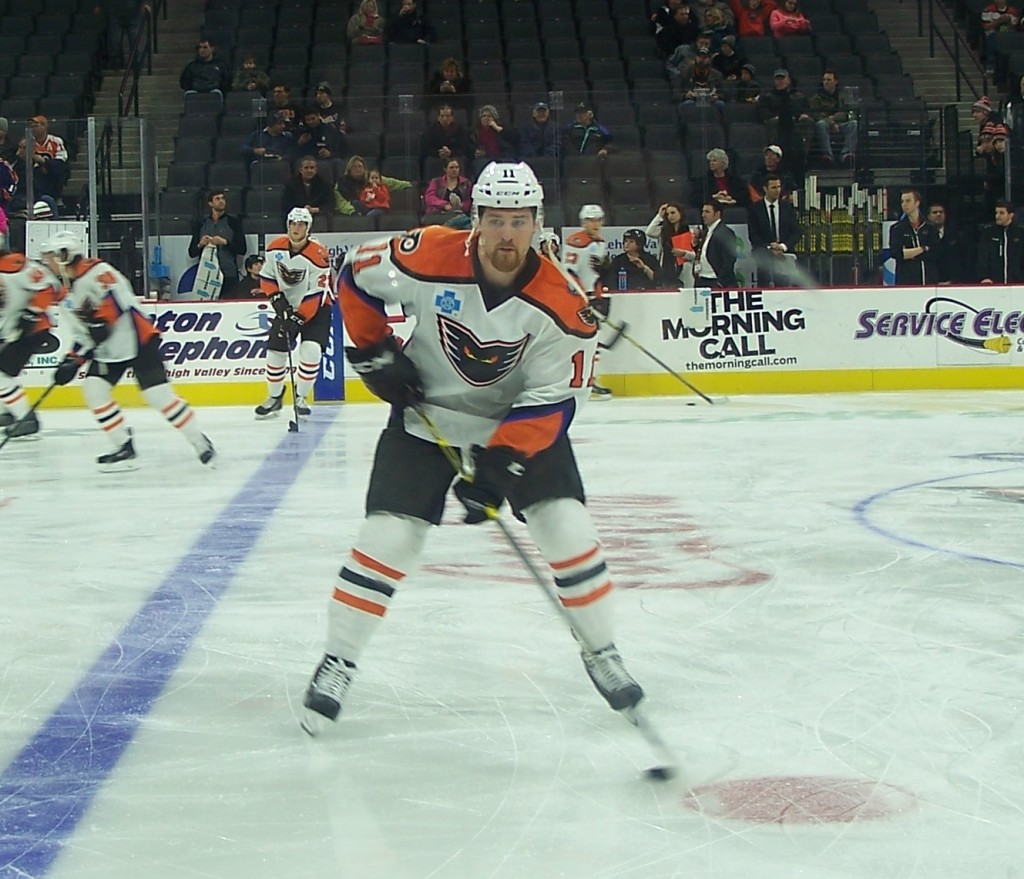 Austin Fyten is a lot more than just an awesome hockey name.
Besides having one of the best names in hockey, Austin Fyten has had his fair share of ups and downs in his hockey career. He's been able to overcome a major injury at the tail end of his junior hockey career and an untimely NHL lockout in his rookie season at the pro level prevented him from playing at the AHL-level on a full-time basis.
In his third year of pro hockey and first with the Philadelphia Flyers organization, Fyten has enjoyed his first full year of hockey at the AHL level with the Lehigh Valley Phantoms this season – the organization that had showed interest in him well before devastation struck in his final year of junior hockey in the Western Hockey League (WHL).
"He had lots of interest. In the seventh round of the [2011] draft, we started get calls on him," Fyten's agent Manny Schmidt of Link Management Intl. said, naming several teams who called about Fyten. "There was a lot of excitement going in. It was a big hit for him and we had to do a lot of work to keep him mentally strong."
One of those teams interested in Fyten's services was the Philadelphia Flyers. They had invited him to their summer development camp and main training camp that fall and he planned on attending both. During an exhibition game before Philadelphia's camps, tragedy struck. Fyten had injured his knee and an MRI a few days later confirmed the worst possible news a hockey player could hear – a torn ACL.
"When I got my MRI results back, it was a very devastating day for me," Fyten said, who added he was looking forward to attending the Flyers' rookie and main camps that year. "It was pretty disappointing. It was a big blow."
The then 20-year-old forward missed the entire 2011-12 season – a season spent rehabbing his knee with daily visits to physical therapists and doctors alike. Fortunately for Fyten, he was able to overcome his ACL injury and appear in six WHL playoff games that spring before turning pro the following year.
The NHL lockout shortened season in 2012-13 – Fyten's first year of pro hockey – relegated him to a full season in the ECHL with the Idaho Steelheads in the Dallas Stars organization. Twice, Fyten was called up to the AHL's Texas Stars on a professional tryout contract (PTO) that season, appearing in 12 AHL games with the Stars and getting a taste of hockey at the second highest level in North America.
"That was a good taste of the American League and it got me set for the next year with Oklahoma City," Fyten said. "Just kind of working my way up and slowly getting my name out there and earning my spot."
Last season, Fyten was under contract with the Oklahoma City Barons – AHL affiliate of the Edmonton Oliers – where he appeared in 12 of the Barons' first 17 games of the season before being loaned back to ECHL Idaho in a season he split between the AHL and ECHL. Upon becoming a free agent at the end of last season, the Flyers again came calling.
"When we got a call from the Flyers, it was a pretty easy decision," Schmidt said. "This was the right fit and his style of play fit best here as well."
With the Phantoms this season, Fyten was a physical, grinding bottom-six forward playing center and killing penalties.
"I think he's expanded his role," Schmidt said of Fyten. "This is the first year in a long time that he's played center. He became more efficient at that as the season went on. He's really found a way to carve out a role here."
Fyten isn't the only member of his family playing hockey this season. In fact, he's one of five kids in the family and all five are hockey players.
"Basically they have an entire lineup," Schmidt said half-jokingly, rattling off all five kids and their positions.
His older brother was a goaltender who played junior hockey before turning things over to the coaching side of the game. His sister, Caitlin was named to the 2013-14's CIS All-Rookie team as a defenseman at the University of Manitoba. One of his younger brothers, Andrew, was recently drafted into the WHL and is a big, hard-nosed kid with a bright future ahead of himself. His youngest brother, Seth, is just 15 years old and also playing hockey and looking to make the jump to junior hockey as well.
An impending free agent at season's end, Fyten and his agent look forward to an opportunity to return the Flyers organization next season. Unfortunately, a recent lower body injury will keep Fyten out of the lineup for the remaining four games of the season.
"I've enjoyed it here. I think it's been a great fit. I had a fun year, even though we haven't made the playoffs," Fyten said. "I've loved it here. I hope I can come back next year."