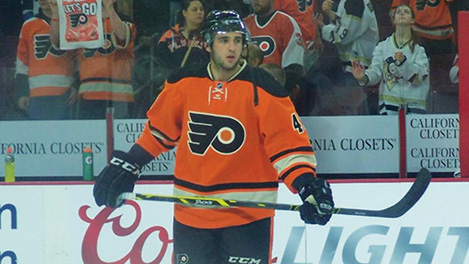 Brandon Manning is playing out the final days of his contract in the NHL with Philadelphia, looking to turn heads and become a full-time NHL player next season.
While the final games of the regular season don't mean anything for the Philadelphia Flyers in terms of points earned in the standings, for guys like forward Nick Cousins and defenseman Brandon Manning – called up to the Flyers from Lehigh Valley (AHL) in recent weeks – the final games mean a lot more than wins and losses.
"Every day is a trial for me," Cousins said after Sunday's 4-1 win over the Pittsburgh Penguins. "Every day I have to try and prove to the coaching staff that I want to be here."
For Cousins, who was called up to the NHL back on March 15th, it's the first stint in the NHL for the second year forward who was in the top-five in scoring in the AHL before being recalled by the Flyers.
"I feel alright," said Cousins when asked about playing in the NHL. "It's a tough league, right? It's the best league in the world. Guys are a lot bigger and faster and you don't have that much time with the puck."
"There's a lot of structure through the neutral zone and there's not much room out there," Cousins mentioned. "I'm adjusting everyday a little bit better. The more time I'm here, the more comfortable I get."
Cousins has been held off the score sheet through his first eight NHL games, though he's been relegated to fourth line duties since his arrival in mid-March.
"Obviously I want to get that first one under my belt," Cousins mentioned when asked about his goal in the final games of the season, adding, "I think I can play at this level. I'm just trying to stay positive right now and take it day by day. It's a privilege to be here and I'm just trying to have fun with it."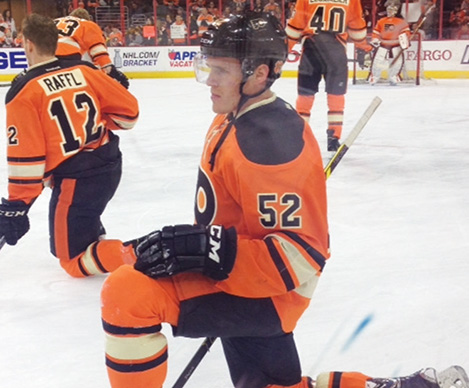 Nick Cousins is enjoying his first NHL stint after a productive year in the AHL with Lehigh Valley.
While Cousins is looking to make a final impression before getting ready for Flyers training camp next fall, Manning – a fourth year pro playing out the final year of his contract – is in a completely different situation in the final games of the season.
"Yeah, no question," Manning said when asked about how important these final games are for him. "Being a free agent and wanting to prove myself that I can play at this level, these seven games will be the most consecutive I have played in my career. To prove to the Flyers and everyone else that I can stay up here, play my game and eat up some minutes."
With several defensemen in the Flyers organization signed through next season and a bunch of highly-touted prospects waiting in the wings, Manning is at a bit of a crossroads in his pro hockey career. He has played well at the AHL level this season, but hasn't had much of a chance to show what he's capable of on NHL ice.
These games with Philadelphia not only give Manning a chance to leave a final impression with the Flyers' management staff but also with the other 29 NHL organizations that could possibly be interested in his services for next season should the Flyers opt not to re-sign him.
"Every shift is an opportunity. I try to keep it one game at a time, period by period. Finish the season strong and then see what happens. Hopefully we can figure something out with the Flyers and we'll see what happens after that."