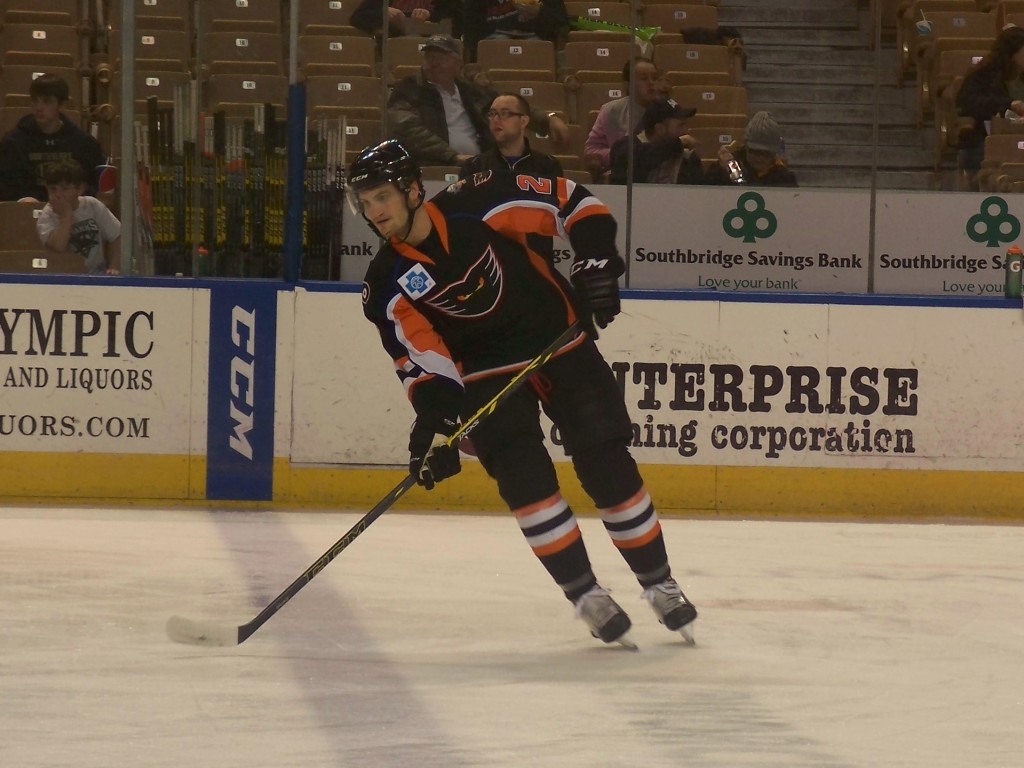 2nd year pro Mark Alt has overcome several injuries this season and was rewarded by making his NHL debut with the Philadelphia Flyers Saturday afternoon.
The 2014-15 American Hockey League (AHL) regular season might be entering it's final month, but that didn't mean it wasn't a weekend of firsts for defensemen Mark Alt and Nick Luukko.
Saturday morning was a hectic day for the Philadelphia Flyers, who saw two of their defensemen catch the flu before an afternoon game against San Jose. The Flyers recalled forward Jason Akeson and defenseman Oliver Lauridsen from Lehigh Valley in addition to Alt, but for the latter the nod to the NHL meant a little bit more.
"They called me around 9 and told me to head to Philly," Alt said of his Saturday morning, noting he wasn't sure if he would be in the lineup or not at the time he was told he was called up. "I made my trip there and once I got there they told me I was playing, so it was a pretty crazy day but it was really exciting and a lot of fun."
It was Alt's first NHL call up and the second year pro made his NHL debut that afternoon in Philadelphia – a rewarding sight for a guy limited to just 34 games this season due to lengthy absences from a pair of injuries.
On October 25th, Alt injured his shoulder after an awkward collision along the boards in Binghamton against the Senators – causing him to miss the next 11 games before coming back and later breaking his hand while blocking a shot in another Phantoms road trip to Binghamton on New Years Eve. The broken hand cost Alt 17 more games of sitting out on the team's injured list.
"It was a tough year, a ton of bumps in the road but [Saturday] really was a big relief," Alt said. "It was a nice break to get my first [NHL] game in. After all the struggles this season, it was a really good day for me."
The call ups on defense to the NHL left an opening at the AHL level for recently added defenseman and West Chester, Pa. native Nick Luukko to make his pro debut Saturday close to home for the Lehigh Valley Phantoms (AHL) in a 4-1 win over rival Wilkes-Barre/Scranton at the PPL Center in downtown Allentown.
"It's awesome," Luukko said after making his pro debut. "Even when the Phantoms were in Philadelphia, I liked going to the games. I grew up there, so it's pretty awesome to make my pro debut close to home. It's a good start, for sure."
Luukko joined the Phantoms on an amateur tryout contract (ATO) earlier last week after finishing a four-year career at the collegiate level at the University of Vermont, and while it's not too often that an ATO player gets to play while with the AHL club extenuating circumstances made it possible. This is life in the AHL, where lineups are sometimes re-vamped and patched together on the day of a game.
With both the NHL and AHL clubs in the Flyers organization out of postseason contention, the final games of the season prove to be a last audition for players who are either impending free agents at the end of the season trying to earn a job next season or for younger players such as Luukko to get their feet wet at the pro level and make a first impression to climb up the depth chart down the road.
The playoffs are realistically out of the picture for the Phantoms with a 13-point deficit on the current 8th seeded Portland Pirates, but that doesn't mean the final month of the season won't bring entertaining hockey to the Lehigh Valley. Alt says the team's mentality is staying focused and continuing to work towards getting the two points each time they step out onto the ice in their final 10 games.
"That was our goal [Sunday vs. Manchester]," Alt said, adding, "To stay focused, stick to the game plan and finish off the season strong with the right mentality. We have enough games left to finish off this season in a positive way."
The Phantoms take to the road this week with three straight road contests starting Wednesday night against Norfolk before taking on Binghamton Friday night and Wilkes-Barre/Scranton on Saturday night.
Follow Tony on Twitter -> @TonyAndrock_TCG this weekend for more live coverage of the Lehigh Valley Phantoms while they are on the road in Binghamton, NY and Wilkes-Barre, PA.