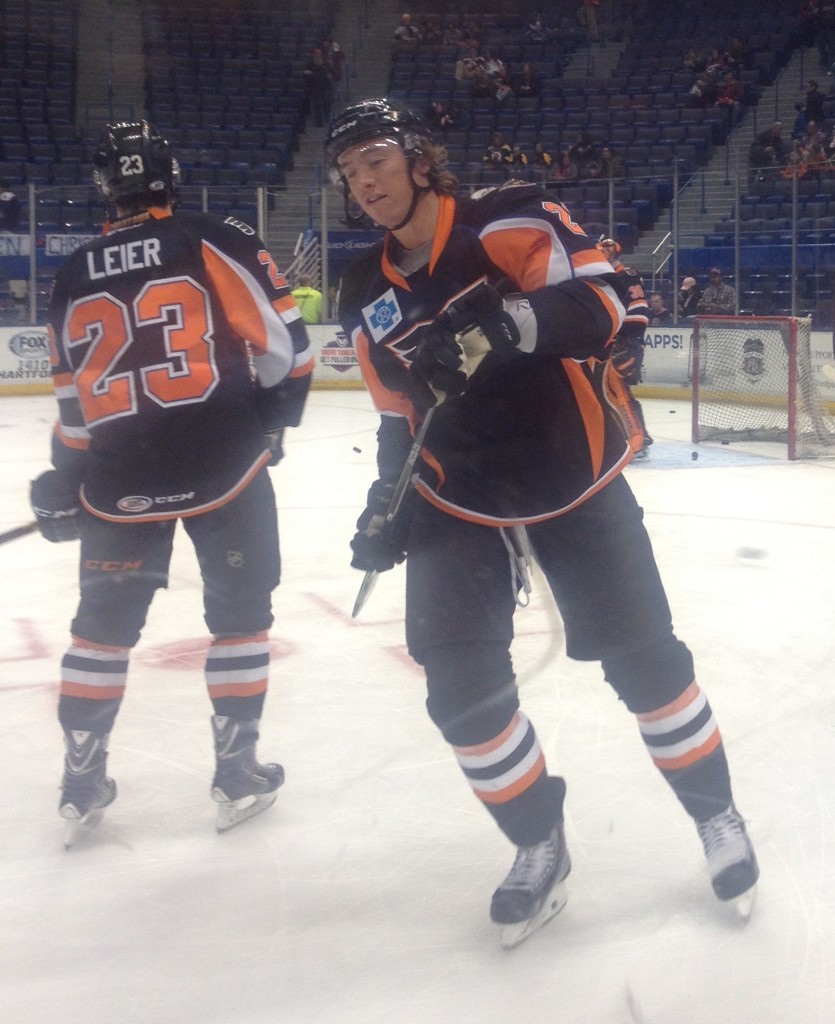 Blair Jones (right) overcame a 10-week, 24-game absence due to injury and returned to the Phantoms' lineup last weekend.
After three straight wins to start their season-high five-game road trip, things were starting to look up for the Lehigh Valley Phantoms. They were just eight points out of a playoff spot with games in hand against most of the teams they were chasing with the final two games of the road trip against Hartford and Worcester – two teams directly ahead of them in the Eastern Conference Standings. It was a chance to make up even more ground and really put themselves in good position in the final four weeks of the regular season.
Instead, losses to both Hartford on Friday night and Worcester on Saturday, combined with a 3-0 shutout loss on Sunday to Wilkes-Barre/Scranton finished a disappointing weekend for the Phantoms that has left them with their backs against the proverbial wall. With 13 games left on their schedule, they have 10 points to make up in the standings in hopes of making the playoffs in their first season as an AHL franchise in Lehigh Valley.
"It doesn't matter where you finish [in the regular season], as long as you get in the playoffs," forward Blair Jones said after Friday's 3-2 loss in Hartford. "We just need to sneak in and you never know what can happen from there."
Last Friday night's game in Hartford was Jones' first game back in the Phantoms' lineup after a 10-week absence due to a groin injury that required surgery to repair – the most time Jones has ever missed due to an injury in his nine seasons of professional hockey.
"Yeah, I would say so. It was a little longer than my liking," Jones said of the injury that kept him out of action for 24 games – just about a third of the season. "It sucked. It's not something you want to experience but some things are out of your control. You just have to rehab, work hard every day and know in the back of your mind that you're gonna get back out there eventually."
Jones tallied a goal in his first game back, but it wasn't enough to earn the Phantoms any points in the standings in a regulation loss at Hartford. Still, things weren't out of control. The Phantoms fell behind 2-0 in the first period and battled back to a one-goal game twice only to run out of time after a furious final scramble in the waning seconds.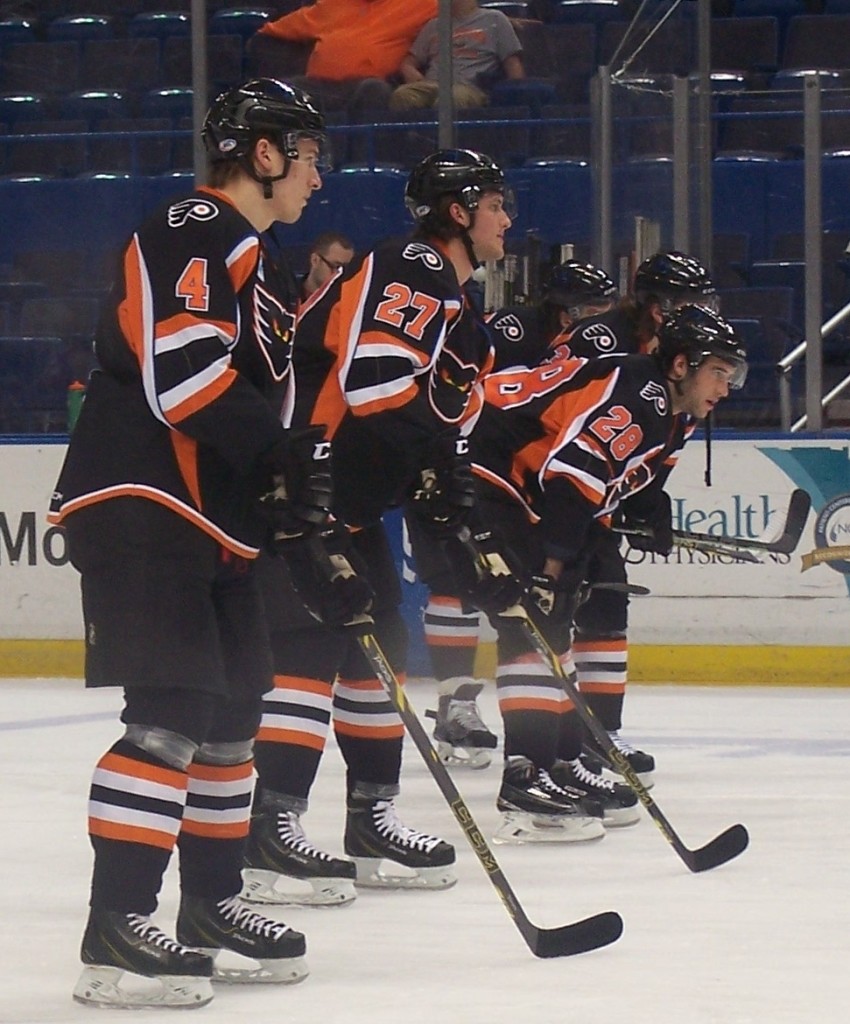 Saturday in Worcester, the Phantoms hit rock bottom in a 6-1 blowout loss to a Sharks team that is also fighting for their playoff lives but in a much better position – just one point out of the 8th and final playoff spot.
Returning home to face rival Wilkes-Barre/Scranton at the tail end of a three-game weekend proved no easy task either, as the Phantoms again fell behind 2-0 after a pair of goals 63 seconds apart in the 2nd period and were never able to get one past Penguins goaltender Matt Murray – who broke the AHL's record for shutouts in a rookie season with 10 in just 34 appearances this season.
The Phantoms face a tough task in climbing the standings with four weeks left in the AHL's 2014-15 regular season, but the schedule doesn't get any easier for Lehigh Valley this week with home games against three of the top four teams in the Eastern Conference, including Wednesday against Syracuse, a rematch with the Penguins on Saturday and a Sunday afternoon face-off with the top seeded Manchester Monarchs.
"Yeah, it's frustrating but you just keep at it," forward Brett Hextall said after the team's third straight loss on Sunday. "That's our attitude. For us, it's just keep at it, keep chipping away and keep grinding. Eventually we'll get them. You'll see here one of these games we will score six goals. When it rains, it pours and it works the other way around too, right?"