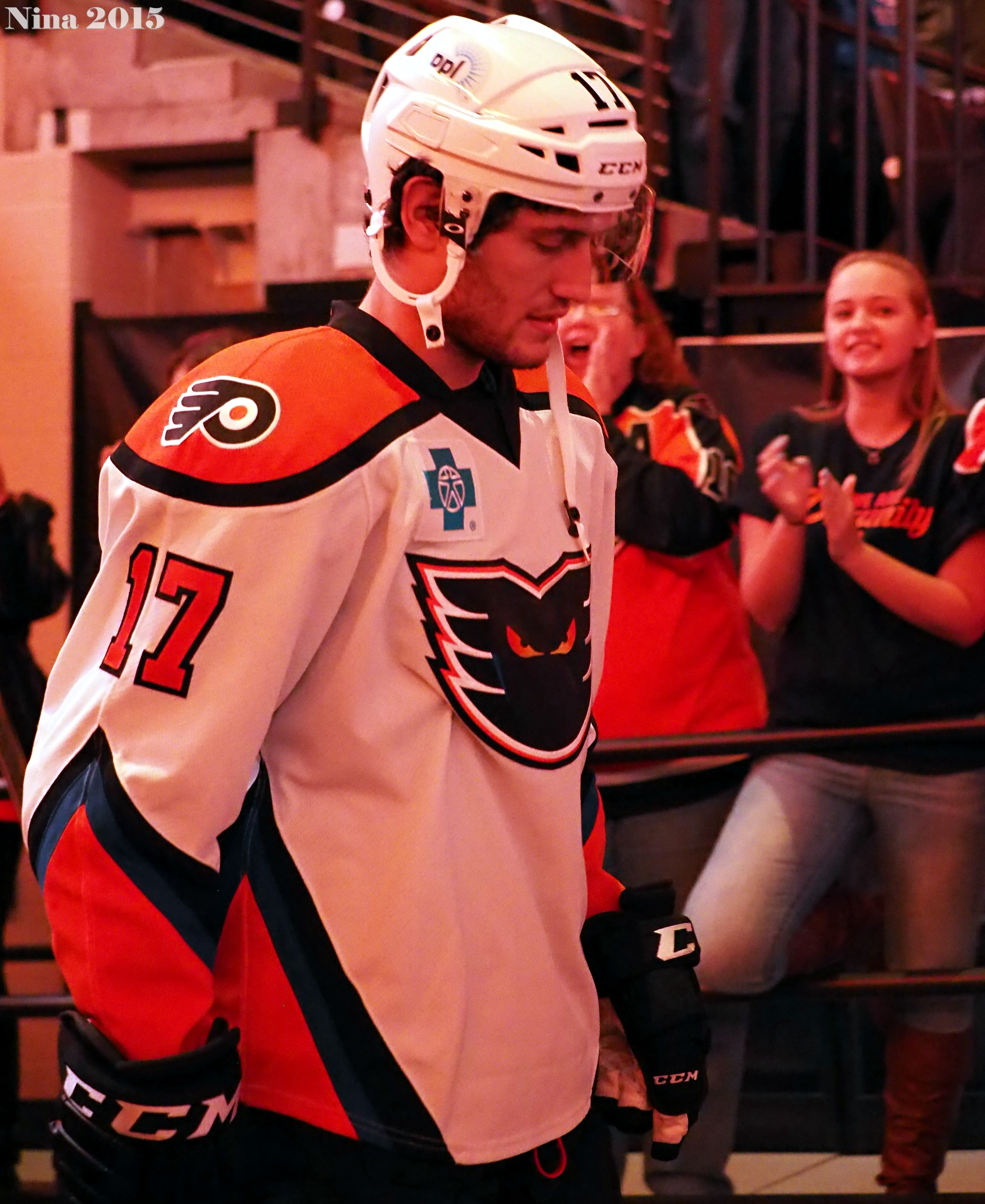 Phantoms forward Kevin Goumas is hoping to play his way into the lineup even after the team gets healthy. – Photo by Nina Weiss
The Lehigh Valley Phantoms (8-9-1-0) are starting to climb up the standings after a successful weekend road trip saw them win two of three games. They finish their season-high four game stretch away from home Wednesday night in Utica, New York before getting Thanksgiving day off in advance of returning home at the PPL Center for games on Friday and Saturday night.
"There's no question we had a disappointing three minutes Saturday night, but the rest of the weekend we ended up finding ways to get the job done so it was huge for us," head coach Scott Gordon said.
After a win Friday night in Providence, RI and a loss Saturday in Hartford, Conn., the Phantoms returned to Providence on Sunday afternoon looking to finish the weekend on a positive note. Twice they opened up leads, of 1-0 and 2-1, but twice the Bruins tied things up. With a tied 2-2 game early in the third, the Phantoms wasted no time getting back to work despite playing their third game in three days – tallying the go-ahead goal just over a minute after the Bruins had tied it back up.
"It shows a lot of character that this team has with the injuries and guys stepping up to fill some roles," forward Kevin Goumas said after scoring the go-ahead goal and turning the tides Sunday. "It's been tough for us this year but we've been able to battle and slowly coming back together as everyone gets healthy."
They went on to tally three third period goals in that 5-2 win Sunday, earning four out of a possible six points on the weekend and moving up to sixth place in the Atlantic Division – just one game out of fourth place and a playoff spot as the 2015-16 season is reaching the end of the first quarter. The Phantoms will play their 19th game of the 76-game schedule Wednesday night.
After re-signing with the Phantoms this summer, Goumas didn't make the team out of AHL training camp due to the depth and good health of the Philadelphia Flyers organization at the start of the season. He was re-assigned to the Phantoms' ECHL affiliate in Reading, where he played two games before injuries arose in Lehigh Valley and his services in the AHL were needed.
"Obviously, you want to play at the highest level," Goumas said, adding, "You just have to come in here and try to play the role that the team needs me."
Goumas had been playing on the fourth line for most of the season, but a combination of injuries and his own strong play have resulted in more ice time. During Saturday and Sunday's games, Goumas found himself centering the third line.
He's had a knack for scoring some important goals as of late. Just about two weeks ago in Binghamton, Goumas scored a big goal with 1.5 seconds left in the 2nd period to help lift the Phantoms out of a losing skid and trending in an upward direction.
The Phantoms have gone 4-1-1 in their last six games to date. Goumas' teammate, forward Petr Straka, has been a big part of the Phantoms' recent success – having scored a goal in each of the last six games. Straka enters this week's games leading the entire AHL with 12 goals on the season.
"Anytime you get a couple goes obviously the confidence is going to go up," Goumas said of his recent strong play. "Take Petr Straka for example. He's absolutely on fire right now, so once one comes they start to come a little easier and you're not trying to fight it as hard as you normally would."
Goumas is hoping his strong play keeps him in the AHL with the Phantoms as the team continues to get healthier.
"So far it's that third/fourth line role," Goumas explained as his best chance to stick with Lehigh Valley this season. "[I'm] just doing the best that I can to keep going out there to try to keep me to staying here."