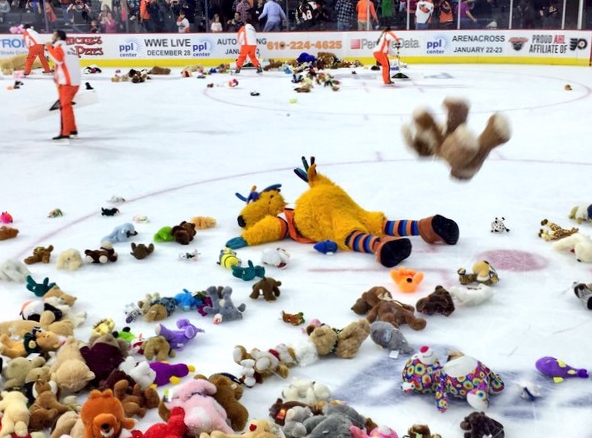 Andrew MacDonald's 1st period goal Saturday night sent tons of teddy bears flying onto the ice in the Phantoms' annual Teddy Bear Toss night.  -photo via Melissa Reese
The Lehigh Valley Phantoms (13-13-1-0) are yet again hovering at the .500 mark record wise, with three games this week before a week long break for the holidays. With two more home games to finish off a five-game home stand – Wednesday versus Wilkes-Barre/Scranton and Friday against Hershey – the Phantoms are hoping to have a winning record after their final game before the break Saturday night in Binghamton.
"The result [last Friday against Wilkes-Barre/Scranton] isn't what we wanted, but the work ethic was there Wednesday and [Friday] and another indicator is the fact that we gave up 20 shots," Phantoms' head coach Scott Gordon explained after last Friday's 4-0 loss to the rival Penguins. "When you can do that in back-to-back games against two good teams, you're doing something right. The end result doesn't look that way, but for me it's a sign of our team heading in the right direction."
Bardreau Back After Another Injury Absence
Rookie forward Cole Bardreau is the epitome of the Lehigh Valley Phantoms injury plague so far this season. Two separate injuries have seen Bardreau miss all but six of the team's 27 games this season.
In the Phantoms' third game of the season back on October 17th in Wilkes-Barre, a freak accident saw Bardreau cut by a skate – a deep gash in his right wrist/forearm area caused him to miss eight games while the wound closed up and fully healed.
He made his return to the lineup on November 8th at home against Binghamton only to get hurt again in his first game back, which saw him miss another 13 games before getting back into the lineup last Friday against the same Wilkes-Barre/Scranton Penguins team that saw him injured the first time this season.
"It was nice to get through a game without getting hurt," Bardreau said half-jokingly, adding, "I'll take that as a positive."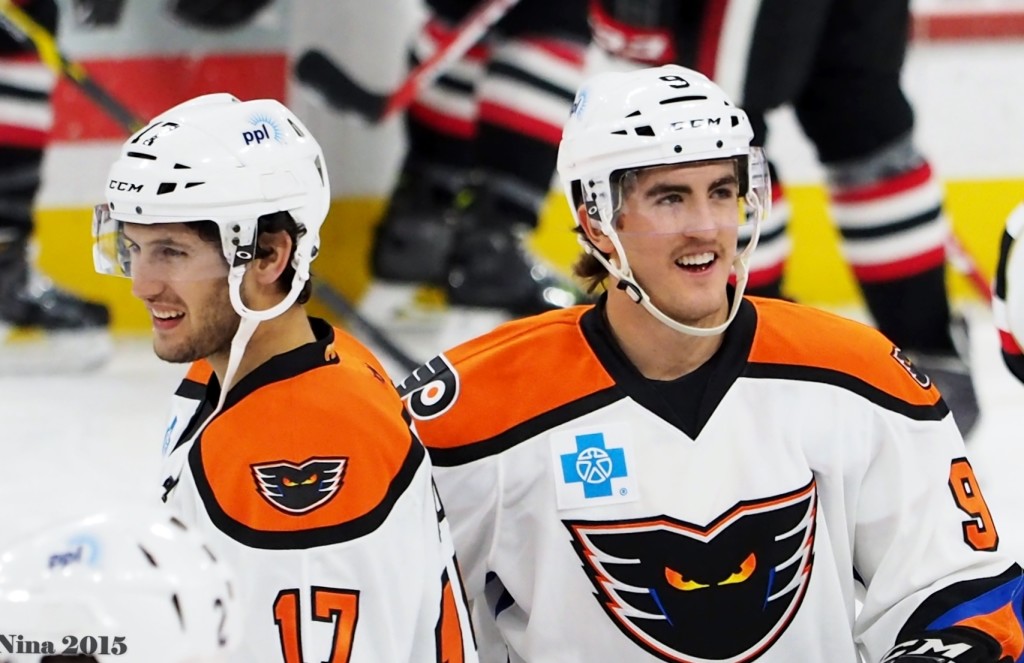 Forward Cole Bardreau (right) is hoping to stay healthy and get back into the swing of things. -photo by Nina Weiss
Bardreau is no stranger to being injured. In fact, two years ago around this time he had a serious injury that almost left him paralyzed. Not long after winning a gold medal in the World Junior Championships alongside now teammate Shayne Gostisbehere with Team USA, Bardreau went headfirst into the boards in a collegiate game with Cornell during his sophomore season against RPI. The hit from behind left him feeling hurt, but he finished the game only to find out two days later he had broken his neck in two different places.
Bardreau has already had his fair share of injuries to overcome. Now that he's healthy and playing hockey again for the Lehigh Valley Phantoms, Bardreau is hoping to keep it that way and get some consistent playing time in during his first full season of pro hockey.
"I feel good," Bardreau said after Friday's game against the Penguins. "I think I'll need a few games to get the conditioning back and shake off the rust, but I'm excited to be back out there."