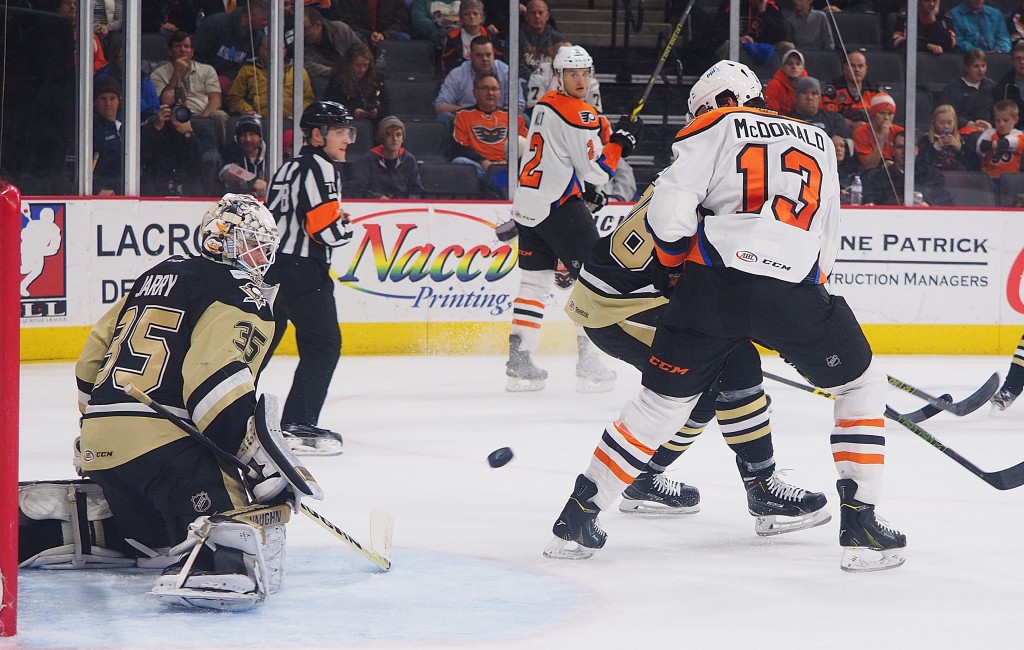 Colin McDonald is leading Lehigh Valley with 10 points (six goals, four assists) in his last four games. -photo by Nina Weiss
The Lehigh Valley Phantoms couldn't have asked for a better result from their busy four-game week, winning all four contests and extending their win streak to a season-high five games before heading into the American Hockey League's (AHL) All-Star break over the weekend.
"I think every team in our division has had a [winning] streak this year, and we haven't had one," Phantoms head coach Scott Gordon said after Saturday night's win in Wilkes-Barre. "The key for us is we need to make sure we keep building on it."
While the five-game winning streak hasn't seen the Phantoms move up from their seventh place position in the Atlantic Division, they have still closed the gap on the final playoff spot – trailing fourth place Providence by just two points heading into this weekend's games, both of which are against teams ahead of them in the division standings.
The difference this past week for the Phantoms has been their ability to generate a secondary scoring attack to complement the top line of Taylor Leier, Nick Cousins and Chris Conner. Team captain Colin McDonald and Cole Bardreau have teamed up to form what was a pretty dynamic duo last week. McDonald tallied a five-point night (three goals, two assists) in Wednesday's 6-3 win over Binghamton and finished the week with 10 points (six goals, four assists).
Bardreau, on the other hand, was just as impressive – tallying five goals and an assist in four games last week including a game winning overtime goal Friday night at home against rival Wilkes-Barre/Scranton.
"I know Cole from the summer. We trained together and skated together, so I know exactly what type of player he is even coming into this season," McDonald explained of his chemistry on the ice with Bardreau. "I like playing with guys like that. I think you guys see we are pretty much the same kind of player, just hard-nosed, gritty, physical. I like to play with guys like that."
The win streak comes at a time when the team's leading goal scorer Petr Straka is out of the lineup due to injury and their top line center Tim Brent is out long term after having surgery last week to repair an injured hand/wrist. The remaining guys in the room are elevating their game, which is a good sign for the team heading into the final 30 games of the regular season.
"I think it gives the guys confidence going down the stretch where we're going to need win games to make the playoffs," veteran forward Chris Conner said. "We want to keep this going as long as we can."
Phantoms Well Represented at 2016 AHL All-Star Classic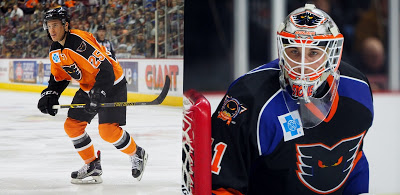 Nick Cousins (left) and Anthony Stolarz (right) represented the Phantoms over the weekend at the 2016 AHL All-Star Classic in Syracuse, NY. – photo by Nina Weiss
For the AHL's 80th season, the two-day All-Star Classic took place in Syracuse, New York on Sunday and Monday night's with the annual Skills Competition and a new-look format for the All-Star game which featured six, nine-minute mini games amongst four teams of All-Stars separated by the four divisions of the league.
The Phantoms were represented by goaltender Anthony Stolarz and forward Nick Cousins, who both helped the Atlantic Division All-Stars into the championship game – a six-minute three-on-three finale against the Central Division All-Stars that saw the Western Conference's division take home the crown as the first winner of the inaugural All-Star Challenge.
Cousins tallied two assists in the four-game tournament, while Stolarz stopped all but two shots he faced in the four games – the least goals allowed of any of the eight goaltenders at the event.
"No I did not," Stolarz answered when asked if he expected to only allow two goals tonight. "There was a lot of chances, but it was still really fun. A lot of back and forth action. I had a blast."
While it was a chance for the players to get away from the hustle and bustle of the regular season schedule, the two nights quickly passed and the mindset will change heading into this weekend as teams get ready for the stretch run.
"Thursday comes around and we have practice, then it's right back at it Friday in Bridgeport," Stolarz said of the quick turnaround. "We won five in a row coming into the break. It stinks that it came at this time, we were on a roll. Hopefully we can continue doing that and make a push."
Cousins, a third year pro with the Phantoms, has yet to see the ice in a playoff situation in his pro career. To say he wants to help push Lehigh Valley into the postseason is an understatement.
"It's going to be big," Cousins said of the final 30 games of the season. "I'm looking forward to every game. "We have to approach each one as if it's a playoff game. Every matchup is going to be huge and we have to keep moving forward here."
Up Next
The Phantoms (22-21-2-1) put their five-game win streak on the line Friday night in Bridgeport, Connecticut against a Sound Tigers team that also entered the All-Star Break on a hot streak. On Saturday night in Hershey, it's another matchup with their intrastate rival Bears at the Giant Center. Both games start at 7:05 p.m.
You can follow exclusive live coverage of the Phantoms while they're on the road by following Tony on Twitter (@TonyAndrock) and read up on recaps of every single game on his daily blog Highland Park Hockey.