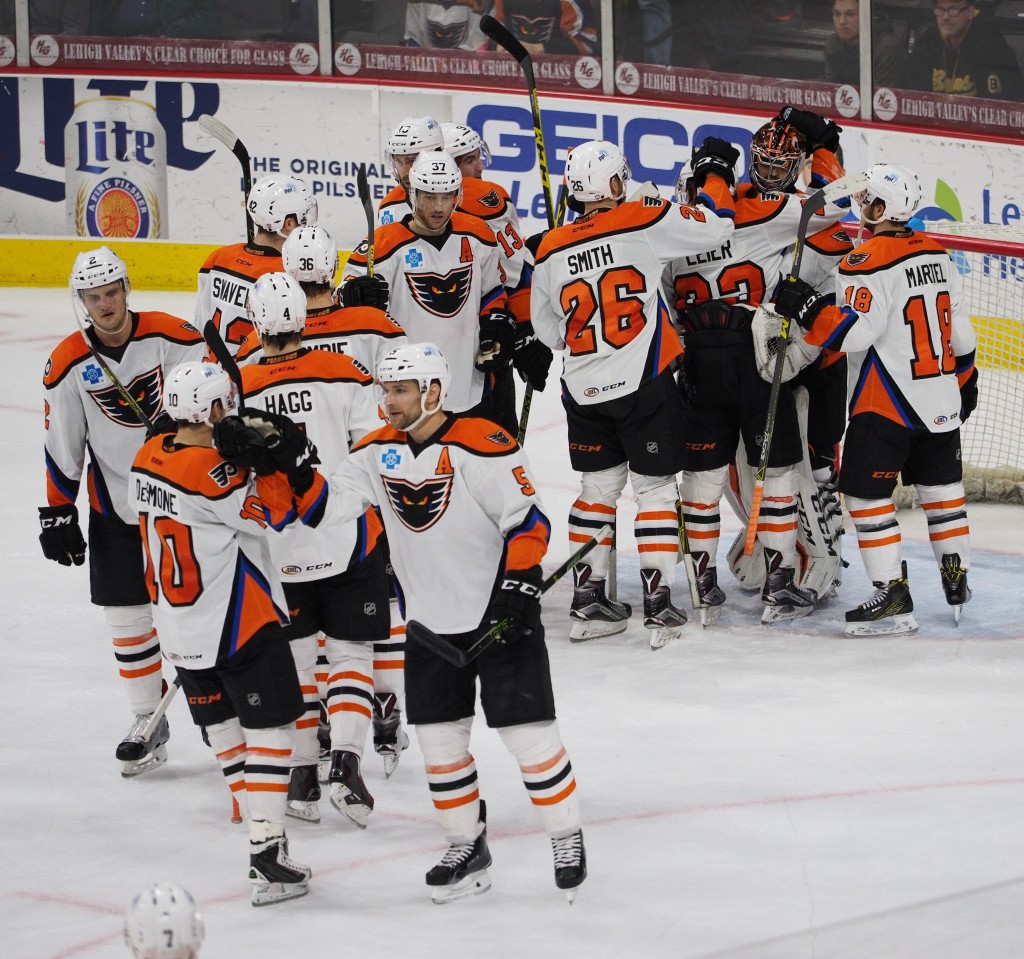 The Phantoms have six games left this season. Photo: Nina Weiss/The Home News
For the seventh straight season, the Philadelphia Flyers' top minor league affiliate will fail to qualify for the American Hockey League's (AHL) Calder Cup Playoffs. Riddled with injuries for much of the season, and an inopportune eight-game win-less skid down the stretch were too much to overcome for the Lehigh Valley Phantoms in their last ditch effort to make a run at postseason play in the 2015-16 season.
The team learned quickly that going through the motions was going to make their final 10 games of the season a miserable experience. An 8-0 blowout loss to Hershey on March 23rd – the franchise's worst home defeat in the team's history – was a wakeup call that they needed to turn things around in a hurry.
"It can go one of two ways. I have been in the situation before where the team is out of the playoffs," forward Colin McDonald said. "It's tough to get up for these games sometimes."
Since then, the Phantoms have won four in a row – including a two-game sweep over the weekend in Newfoundland, Canada against the St. John's IceCaps. While the wins don't mean much in the standings, it's a chance for the players to instill some confidence in them before heading into the offseason in mid-April.
"The biggest thing was our lack of battle and compete, and to me we have to get that back. We have to establish that over the last six games that we play and let that be a carryover into next year," head coach Scott Gordon said, admitting he was at least partly to blame for those deficiencies. "That lack of compete, it doesn't matter what your system is or your skill level. At the end of the day, you have to win one-on-one battles and you have to protect the puck, and we just haven't done a very good job of that all season long. I should have put more of an emphasis on that."
Weekend of Firsts
The two games against the St. John's IceCaps, particularly Saturday's 4-0 win, was a memorable game for several Phantoms players.
Defenseman Reece Willcox and forward Oskar Lindblom both made their AHL debuts in Friday night's game, but both picked up their first career AHL point Saturday. Willcox tallied his first pro goal in the first period and Lindblom picked up an assist on Lehigh Valley's second goal in the opening frame.
Goaltender Martin Ouellette recorded his first career AHL shutout in the win, improving to 4-0-0 in his last four starts with a 1.26 goals-against average and .962 save percentage.
More Prospects On The Way
The next trio of Philadelphia Flyers' prospects are on their way to the Philadelphia Flyers' AHL affiliate. Defenseman Travis Sanheim and forward Radel Fazleev, whose Calgary Hitmen were eliminated in the first round of the WHL playoffs Saturday night, and forward Nicolas Aube-Kubel whose Val d'Or Foreurs were eliminated from the QMJHL playoffs Sunday night.
It's a youth movement for Lehigh Valley, as they are eliminated from the postseason and have just two weeks – six games – left on their regular season schedule. There's no better time than now to get these three prospects their first taste of pro hockey. All three – Sanheim, Fazleev and Aube-Kubel, will be eligible to turn pro and play in the AHL with the Phantoms on a full-time basis in the fall.
Up Next
The Phantoms have a week of practice leading up to a three-game weekend beginning Friday night in Wilkes-Barre against the rival Penguins at 7:05 p.m. ET. Lehigh Valley then begins a home and home series with the Bridgeport Sound Tigers Saturday night at the PPL Center at 7:05 p.m. ET before finishing the weekend in Bridgeport, Connecticut Sunday evening at 5:00 p.m. ET.
You can follow all the latest Lehigh Valley Phantoms breaking news, in-game updates and much more by following Tony on Twitter -> @TonyAndrock and by visiting his daily online coverage at Highland Park Hockey.