Mermaids on Heelys chat with tap-dancing flappers who are sitting alongside medieval French peasants. They do the wave and cheer as a camera pans over them and a producer counts down the seconds until show time. It is just your average evening at the State Theatre's Freddy Awards. The 16th annual high school musical theatre award ceremony was held on Thursday, May 24 at the State Theatre in Easton and broadcast live on WFMZ.
A total of 29 schools from across Lehigh, Northampton, and Warren County, New Jersey participated in this season's awards. From February until May, these schools performed their spring musicals in front of sold-out audiences and a panel of Freddy Awards judges. These judges evaluated the schools' choirs, scenery, actors and actresses, choreography, and more. Nominations for the more than 20 Freddy Awards up for grabs were announced on May 11. The annual ceremony held at the State Theatre is where the winners are revealed, but it is so much more. It is a celebration of all the students' hard work. It is a celebration of musical theater. And, in a time of divisiveness, it is a celebration of unity, friendship, and kindness.
"The respect, kindness, and love that is in this theatre…I wish it could be everywhere," Freddy Awards host and State Theatre president and CEO Shelley Brown said before the ceremony went live.
The awards began with over 100 students, representing every school, performing an opening medley of songs from Broadway hits like Hamilton and Dear Evan Hansen. Their fellow cast mates, their theater directors, and their families cheered them on so loudly, their voices were sometimes drowned out by the excitement, but their smiles were visible from every seat in the house.
Five schools were nominated for Outstanding Overall Production of a Musical and each had their chance to perform a musical number from their show. Bangor Area High School was nominated for its production of 42nd Street. The cast performed the show's tap-dancing filled title number. The flawless choreography and the cast's stunning quick change had the audience on its feet.
Southern Lehigh High School's Disney's Little Mermaid was also nominated. Dressed as mermaids, crabs, stingrays, starfish, and squids, the cast performed "Under the Sea." To give the effect of gliding under the water, they all floated across the stage in Heelys, much to the audience's delight.
Emmaus High School's cast of West Side Story performed "The Dance at the Gym/Promenade/Mambo" sequence. The show's intense choreography, which garnered the school a Freddy Award for Outstanding Choreography, was directed entirely by Emmaus student Luke Csordas, who won a Freddy himself for Outstanding Performance by a Featured Dancer.
Dieruff High School's cast of Side Show slowed it down a bit by performing the powerful ballad "Who Will Love Me as I Am." Dieruff, which in the past has performed productions of Chicago, The Producers, and In the Heights, is known for bringing something new to the Freddy Awards every single year, and this year was no exception. As they were with past productions, they are the first school to perform Side Show, the musical based on the lives on conjoined twins Violet and Daisy Hilton.
Finally, Parkland High School performed "Esmerelda" from The Hunchback of Notre Dame. Parkland's production garnered the most nominations this year, with a total of 15. Before performing toward the end of the evening, the school had already won Outstanding Performance by an Orchestra, Outstanding Use of Scenery, Outstanding Small Ensemble Performance, and Outstanding Chorus.
In addition to the nominated schools, the nominated lead actors and actresses also performed. Meghan Altemose from Saucon Valley High School was awarded Outstanding Performance by an Actress in a Leading Role for her portrayal of Marian Paroo in The Music Man. Reese Diaz from Parkland High School was awarded Outstanding Performance by an Actor in a Leading Role for his portrayal of Quasimodo in The Hunchback of Notre Dame.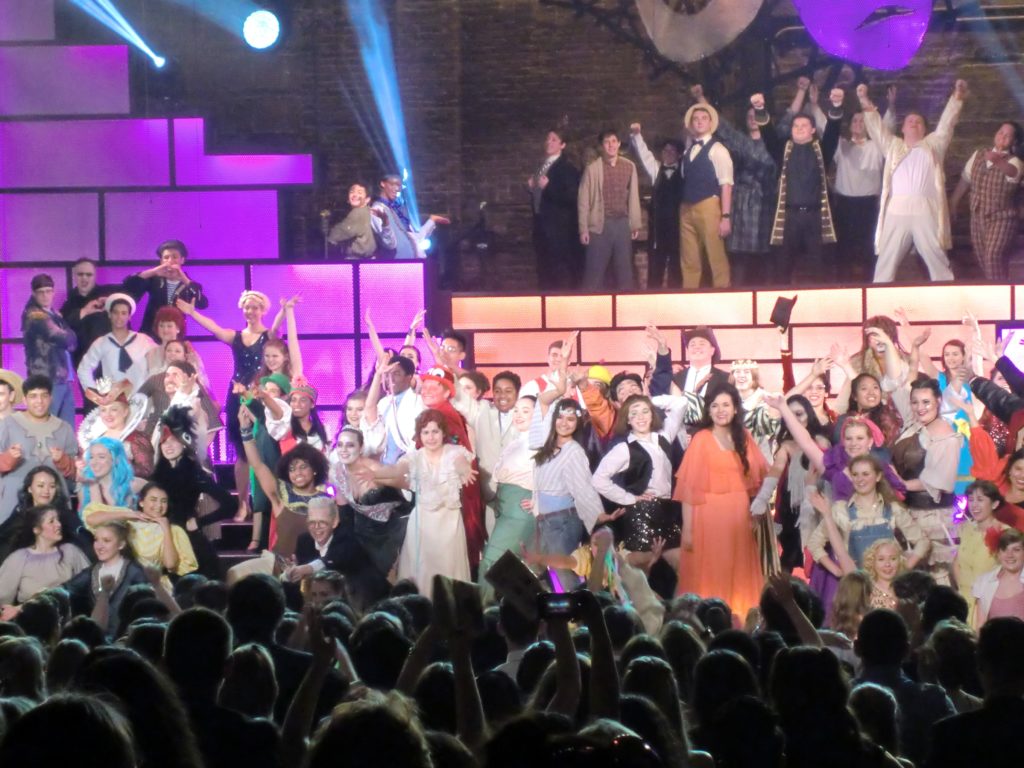 The biggest awards of the evening, Outstanding Overall Production by a Smaller School and Outstanding Overall Production of a Musical, were presented last. Overall Production by a Smaller School resulted in a shocking tie between Hackettstown High School's Godspell and Northern Lehigh High School's Sweeney Todd. It marked the latter school's first win in the category. Outstanding Overall Production of a Musical was awarded to Parkland High School, which ended up winning a total of eight awards throughout the evening.
However, no matter which school or student won an award, everyone was there to celebrate one thing that trumped all else: the arts.
"The arts matter, the arts change lives," said Freedom High School theater director Jennifer Wescoe, who is retiring from the school's theater department this year. She received a special Freddy Award for her more than 18 years supporting high school theater. "We work just as hard as the sports teams. Be inspired. Be encouraged."
2018 Freddy Winners
Outstanding Performance by an Orchestra: Parkland High School – The Hunchback of Notre Dame
Outstanding Use of Scenery: Parkland High School – The Hunchback of Notre Dame
Outstanding Use of Costumes: Bangor Area High School – 42nd Street
Outstanding Performance by a Male Ensemble Member: Pierce McGowan as Adolfo Pirelli – Northern Lehigh High School – Sweeney Todd
Outstanding Performance by a Female Ensemble Member: Lisandra Espiritusanto Marte as Nehebka – William Allen High School – Aida
Outstanding Use of Lighting: Emmaus High School – West Side Story
Outstanding Small Ensemble Performance: Reese Diaz & Alex Atiyeh – "Sanctuary" – Parkland High School – The Hunchback of Notre Dame
Outstanding Choreography: Emmaus High School – West Side Story
Outstanding Performance by an Actress in a Supporting Role: Shannon Callaghan as Queen Aggravain – Freedom High School – Once Upon a Mattress
Outstanding Performance by an Actor in a Supporting Role: Christian Clausnitzer as Sebastian – Southern Lehigh High School – Disney's The Little Mermaid
Outstanding Performance by a Featured Dancer: Luke Csordas as Jet Dancer – Emmaus High School – West Side Story
Outstanding Chorus: Parkland High School – The Hunchback of Notre Dame
Vic Kumma Award for Outstanding Solo Vocal Performance: Meghan Altemose – "Goodnight, My Someone" – Saucon Valley High School – The Music Man
Outstanding Featured Performance by an Actor: Logan Farley as Man in Chair – Belvidere High School – The Drowsy Chaperone
Outstanding Featured Performance by an Actress: Lindsey Sommons as Miss Gulch/West Witch – Liberty High School – The Wizard of Oz
Outstanding Production Number: Parkland High School – "The Bells of Notre Dame" – The Hunchback of Notre Dame
 Outstanding Stage Crew (TIE): Parkland High School – The Hunchback of Notre Dame Southern Lehigh High School – 42nd Street
Outstanding Performance by an Actress in a Leading Role: Meghan Altemose as Marian Paroo – Saucon Valley High School – The Music Man
Outstanding Performance by an Actor in a Leading Role: Reese Diaz as Quasimodo – Parkland High School – The Hunchback of Notre Dame
Outstanding Overall Production by a Smaller School (TIE): Hackettstown High School – Godspell, Northern Lehigh High School – Sweeney Todd
Outstanding Overall Production of a Musical: Parkland High School – The Hunchback of Notre Dame
Special Freddy Awards/Scholarship Awards
Student Achievement Award: Rachel Zwerver, North Warren Regional High School
West Virginia University Scholarships:
Collette Curry, Southern Lehigh High School (Musical Theatre Performance)
Kailey Kloiber, Parkland High School (Theatre Design and Technology)
Seneca Phillips McGraw, Moravian Academy (Theatre Design and Technology)
Just Born Educational Impact Award: Easton Area High School