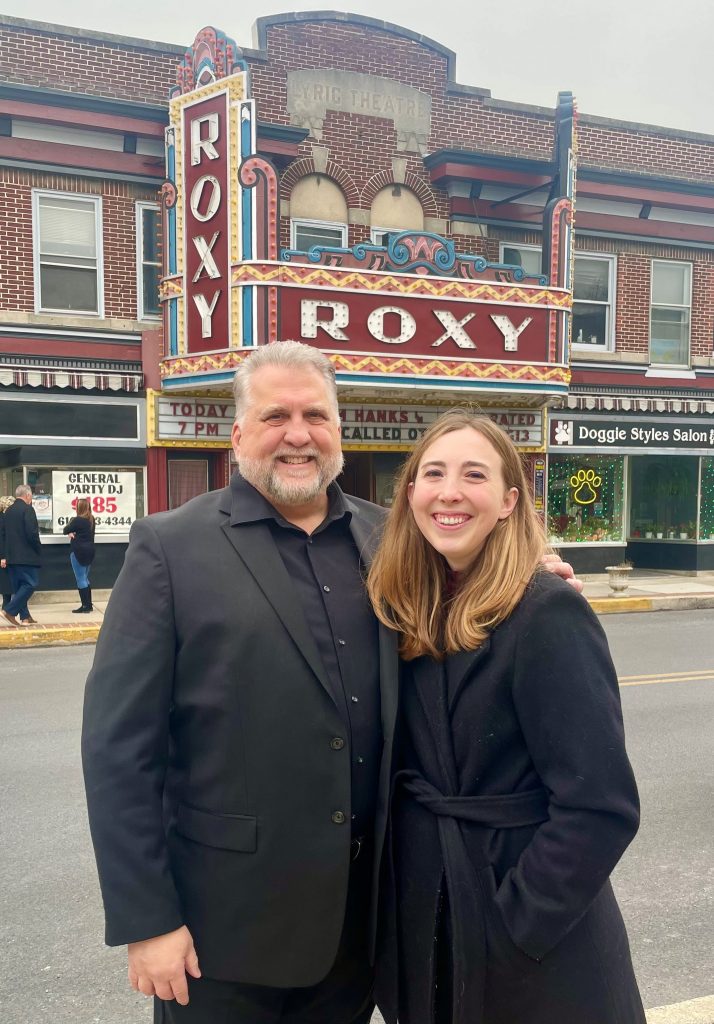 On Friday, March 3, actor and director Daniel Roebuck announced the release date of major motion picture "Lucky Louie" alongside his daughter and co-director Grace Roebuck and the non-profit A Channel of Peace (ACHOP) production team.
Roebuck is a Lehigh Valley native and grew up in Bethlehem, Pa. before moving to California to pursue his acting career. You may know him from the many roles he's played throughout the years, with a resume that includes features in the television shows and movies such as "Matlock," "Nash Bridges," "The Late Shift," "Lost," "Glee," and several Rob Zombie films—the latest being the 2022 reboot film of "The Munsters," where Roebuck plays The Count.
Roebuck is fond of his Lehigh Valley roots and has even filmed three films in the area, which include "Getting Grace" (2016), "Lucky Louie" (2020), and "The Hail Mary" (2021).
"One of my favorite things about making movies here in the Lehigh Valley is showing people how beautiful the Lehigh Valley is," said Roebuck.
To help introduce "Lucky Louie," Roebuck brought his daughter Grace on stage.
"I've been in Hollywood for 40 years, never have I ever seen any instance where a father and a daughter write and direct a film together," Roebuck beamed.
Roebuck went on to explain that he and Grace "tolerated" Covid for a few weeks, and then one day decided that they should write a movie.
"He decided, and then he convinced me, but it did not take long to convince me," Grace bantered.
Faith-based film "Lucky Louie" is about a retired police officer, Wilbert Moser (played by actor Basil Hoffman), who has been unable to solve a 50-year-old bank robbery. He teams up with members of his Bible study group, all of which are ex-convicts that he arrested and rehabilitated (played by actors Daniel Roebuck, Willard E. Pugh, Duane Whitaker, and Patrick Voss Davis). With the help of forensic psychology student Alex D'Ambrosio (played by actress Madelyn Dundon), the owner of the diner they frequent, Barney (played by actor Tim E. Goodwin), and the Lehigh Valley community, they solve this decades-old crime together.
When asked about how it was working with her dad, Grace shared that it was easier than her or her dad thought it would be because of their close bond.
"We thought it would be trickier when making decisions or choosing a direction, but when he wanted to go a certain angle on a joke or on a shot, I understood where he was coming from and vice versa, especially because we wrote it together. Those things made it easier because we kind of read each other's minds. It is nice being so close with someone and to be completely honest about what we're filming and saying 'this choice is important to me for these reasons' and not feeling like I have to hold back," Grace detailed.
Roebuck and ACHOP announced they are looking for corporate sponsors, presenting sponsors, event sponsors, and acting sponsors. Acting sponsors will even get to have dinner with the actor they sponsor at one of several local Main Street restaurants. Sponsors and ticket purchasers will help benefit ACHOP and the Every Ribbon Counts charity.
Proceeds will also help fund the dad and daughter duo make their next movie about older retired veterans, which Roebuck expressed is a topic near to their hearts.
During the conference, Roebuck showed the audience a sneak peek of the upcoming film "The Hail Mary," which is currently in post-production.
"The Hail Mary" is a faith-based comedy about a nun named Sister Kathy who finds an angry loner in need of redemption and leads him to his atonement by conning him into creating a football team for her all-boys Catholic school.
The film features scenes with the Freedom High School and Liberty School bands together, scenes showing the nuns and football players at Dorney Park, scenes around Northampton at the Northampton Diner, the Mary Immaculate Seminary, and Alliance Volunteer Fire Company, as well as music from local writers and composers, and talent from local actors and actresses. Roebuck is hopeful that the movie will be ready to show later this year.
"Lucky Louie" is set to release on Saturday, April 22 at the Roxy Theatre in Northampton for a 1 and 6 p.m. showing. Tickets are on sale at LuckyLouiePremiere.eventbrite.com for $25 and also include a red carpet meet and greet with the cast, as well as a "Lucky Louie" goody bag. The local premiere will be a week before the film is released nationally, which gives residents a chance to see the film early and to meet the cast and crew. Tickets are limited so grab yours now before they're gone.