Emma A. Bartron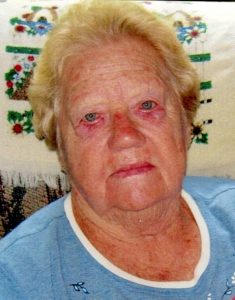 Emma A. Bartron, 93, formerly of Moore Township, passed away peacefully on Tuesday, May 9, 2023, at Sacred Heart Assisted Living in Northampton. She was the beloved wife of the late Harvey C. Bartron. Born in Point Phillips, Emma was a daughter of the late Russell P. and Jennie (Bryfogle) Barrall. A member of the International Ladies' Garment Workers' Union, she was employed at the former Pioneer Manufacturing Co. in East Lawn, Nazareth, where she was a sewing machine operator for more than 50 years before retiring. Emma was also a life member of Point Phillips Rod & Gun Club. She enjoyed playing bingo and always looked forward to trying her luck at the casino.                 
Survivors: Emma is survived by her sister, Betty Bellas of Point Phillips; along with nieces and nephews. In addition to her husband, Harvey, she was predeceased by two brothers, Howard and Paul Barrall; and a sister, Pauline E. Kocher.    
Services: A funeral service was held on Monday, May 15, 2023, at 11 a.m. in the George G. Bensing Funeral Home, LLC, 2165 Community Drive, Route 946, in the Village of Moorestown – Bath, PA 18014. Friends and relatives were invited to call on Monday morning from 10 to 11 a.m. at the funeral home. Interment followed in Fairview Cemetery, Moorestown. 
Susan F. Villiatora
Susan F. Villiatora, 67, of Honolulu, HI, formerly of Bath, passed away on Friday, March 31, 2023 at her residence. Born on Nov. 7, 1955, in Columbus, GA, she was the daughter of Frances V. (Reilly) Butler Hickert of Richardson, TX, and the late Harry K. Butler, Jr. She was the wife of Juss Villiatora. Susan worked as an administrative assistant for the last 10 years.  
Survivors: In addition to her husband Juss and mother Frances, she is survived by two daughters, Jennifer Hammons and her husband Daniel, Sarah Valdez and her husband Haven; a son, Cy Nobriga; sister, MaryLou Thomas of Nazareth; brother, Harry K. Butler, III, of Richardson, TX; and eight grandchildren.
Services were held in Hawaii with Susan's family. Burial will be held privately with her family in Sacred Heart Cemetery, Bath, Pa. Local arrangements have been entrusted to the Bartholomew Funeral Home, Bath.