The Comfy Cozy Apothecary officially opened its doors on Saturday, June 17 during their grand opening. Customers lined up down the sidewalk to experience and shop, with the first 20 purchases receiving a surprise gift.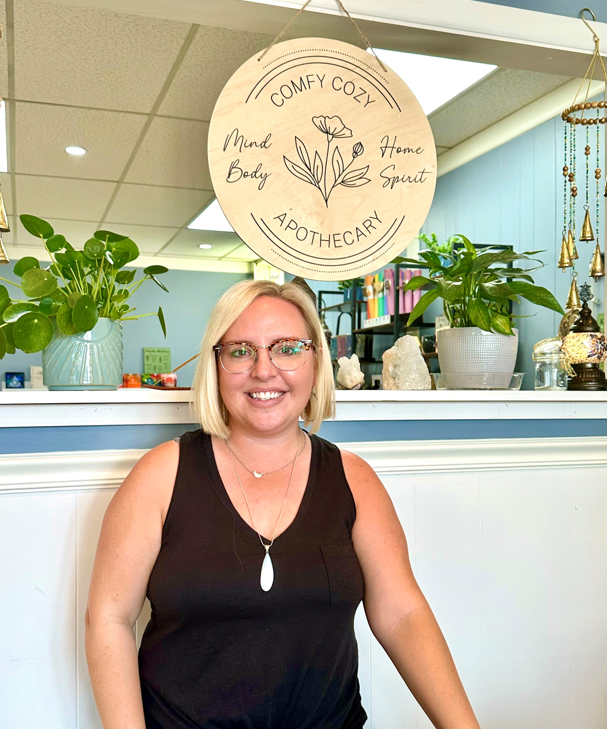 Owner Jennie Brown is a wife, mother and published author with over 16 books and novellas, including the Poppy Mayberry series and Never Have I Ever series. She writes magical middle grade, adult and young adult sweet romance titles, and cozy mysteries under several pen names, and also has a social media presence.
Before opening her shop, Brown was a high school English teacher for 14 years and had an Etsy shop where she sold feel-good items that she created herself.
Although her Etsy shop was very successful, Brown always had dreams of a brick-and-mortar shop that would also serve as a place away from home where she could write without distractions. So, when she found the space where her shop now sits on Facebook Marketplace, she knew that it was meant to be.
"I tried to create a comfy, cozy place that people would want to spend time in beyond just shopping," Brown expressed.
In fact, Brown has been curating items over the last year for what she would want in her shop, making sure the brands and items were reputable, all natural, and things that aren't commonly found in the area or at big name stores.
She takes pride in being the only Natural Life seller in the area and that many of the items she sells come from small, women-owned businesses.
"It was so fun to shop for my shop, while also being cognizant of price points," Brown adds.
Although she has a few pricier items in her shop like large crystal towers, the majority of the items she sells won't break the bank.
With comfy cozy items such as candles, crystals, home décor, books, journals, teas, essential oils, incense, tarot and oracle, yoga supplies, jewelry, bath soaks, soaps, gardening items, magical goods, and meditation, there is something for everyone.
"I was very pleased and honored that so many people were excited to come visit the shop. Overall, it was an amazing, magical opening, and I could not imagine it going any better than it did," beamed Brown.
This Sunday on June 25, Comfy Cozy Apothecary will host a Summer Solstice Fairy Hair event where solstice and fairy-related crystals and gemstones will be 15% off and all purchases will receive a complimentary fairy or feather hair piece from 1 to 5 p.m.
Brown also plans to hold other events in the future that would go into the evening hours such as a gemstone bracelet/necklace making class, a sound healing, a make-your-own bath soak workshop, and a magical journaling workshop.
"I really want customers to be able to come into a space where they can find gifts and goods that nourish their mind, body, home, and spirit with a touch of magic, and that they leave feeling calm and cozy in nature," Brown shared.
Comfy Cozy Apothecary is located at 40 S. Main St., Nazareth and opening/summer hours will be Wednesday, Thursday and Friday from 12:30 to 5:30 p.m., Saturday from 9 a.m. to 6 p.m., and Sunday from 12:30 to 5 p.m.
Be sure to follow the Comfy Cozy Apothecary Facebook page for updates and more information on Nazareth's newest novelty shop.