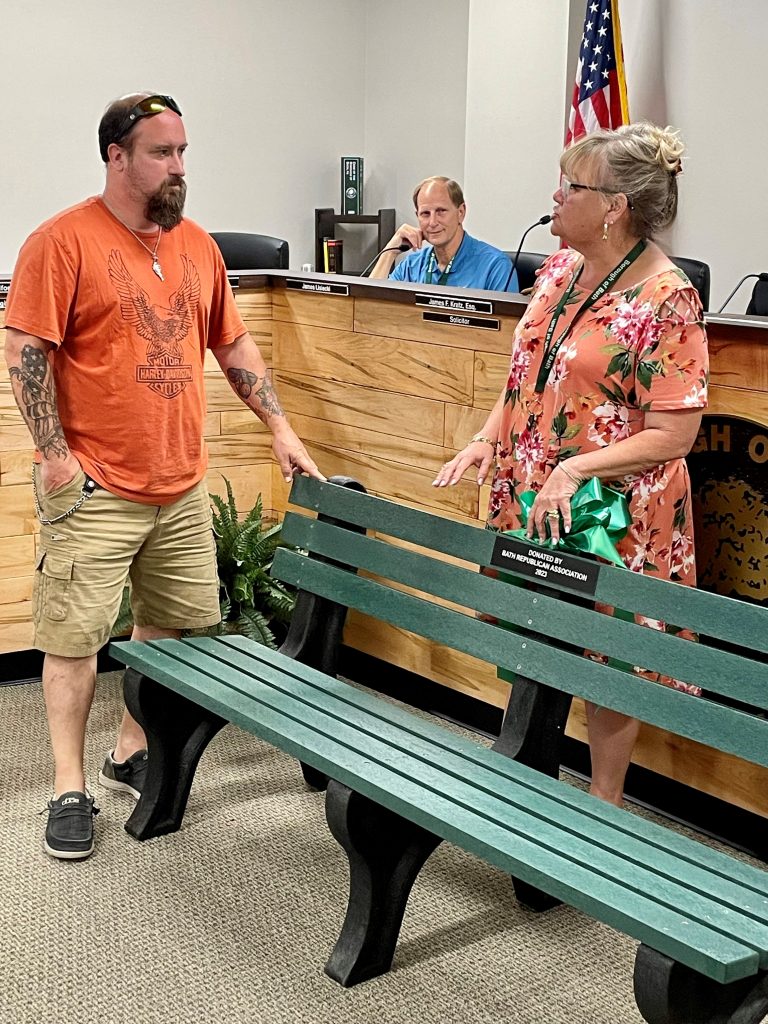 The Bath Borough Council met Monday, July 10 to discuss various upcoming borough events and agenda items.
At the beginning of the meeting, Mayor Fiorella Mirabito recognized the Bath Republican Association for their generous park bench donations for the Paw Park area. 
"I extend a sincere and heartfelt thank you to the members of the Republican Association of Bath for their continued generosity and dedication to the Borough of Bath, its residents and business community. They have once again been incredibly generous in donating funds to the borough for the purchase of two park benches, which have been memorialized for the playground at Paw Park," said Mayor Mirabito.
During courtesy of the floor, the Bath Fire Department announced that they will be having a basket social fundraiser to benefit the fire department on Saturday, October 7 and Sunday, October 8.
During council reports, Councilman James Lisiecki announced that the borough's Public Works Department will be holding a Parks and Public Works Day on Friday, July 21 from 11 a.m. to 2 p.m. at the public works garage in honor of Public Works Appreciation Day. Residents are welcome to stop in and meet the public works crew and members of the borough administration.
Next, Councilwoman Phyllis Andrews and Mayor Mirabito provided an update on the schedule for Old Home Weekend, which will be Thursday, August 10 through Sunday August 13. The free outdoor movie on Thursday will be "The Sandlot" at 7:30/8 p.m. at Ciff Cowling Field. Additionally, businesses throughout the borough will be open late with specials/demos and water treatment plant tours will be available. On Friday, comedian Scott Henninger will perform at Ciff Cowling Field from 6 to 7 p.m. and live music from The Bryant Brothers Band will be from 7 to 9 p.m. On Saturday, the annual softball tournament will begin at 12:30 p.m. at Ciff Cowling Field and live music from The Wonton Soups will be from 5 to 8 p.m. Sunday will be the rain date for both the softball tournament and movie night.
Councilwoman Andrews and Councilman Douglas Hamadyk reported that the electronic recycling event was a success and another one is being planned for October.
Council Vice President Frank Hesch announced that the Public Works Committee will now be known as the MS4 Committee moving forward. Hesch explained that this new structure will allow council and the public time to engage with Borough Manager Bradford Flynn about ongoing public works projects and discussion.
In other business, Councilman Hamadyk and Vice President Hesch brought up the topic of weeds. Both mentioned complaints and conversations that have been occurring throughout the borough regarding confusion about areas where residents are unsure if the weeds are the responsibility of property owners or the borough. 
Manager Flynn reported that an ordinance was previously passed which specified weeds in the street were the responsibility of the property owner. Council requested that this issue be reexamined and agreed to send the topic to the PFA Committee to see if a change needs to take place.
Following, the Public Safety Committee, chaired by Councilman Emanuel Mirabito, asked that ticketing for state inspections be changed to focus on warnings first.
Next, council voted to approve a handicap parking spot at 142 Washington St. and the temporary suspension of open containers during the duration of Old Home Weekend.
Council also voted to authorize Manager Flynn to apply for a CFA multimodal grant.
Last, council voted to oppose HB684, an amendment to Title 44 regarding charging municipalities for the use of Pa. State Police services.
The next Bath Borough Council meeting will be held on Monday, August 7 at 6 p.m. in the borough's office building, located at 121 S. Walnut St.