On Saturday, September 9, the Horner's Cemetery Historical Society celebrated the 295th anniversary of the Craig Scotch-Irish Settlement at Horner's Cemetery.
Just off Route 329 in East Allen Township sits a small church called God's Missionary Church. As it stands, the current church, which was built in 1813 by settlers of the Craig Scotch-Irish Settlement and their descendants, still holds religious services. Previously, the site was home to two preceding Presbyterian churches made out of logs erected in 1731 and 1772 respectively.
In 1728, when settlers arrived, they chose to settle in this area due to the wealth of natural resources that the land possessed, thus becoming the first permanent village in Northampton County. Then, in 1731, when the first church was built by founder Colonel Thomas Craig in the heart of the settlement, it became the first church in Northampton County.
Just past the church, the oldest Northampton County cemetery sits in a small field encompassed by a stone wall and a singular wrought iron gate. Aside from a few relatively new signs along Route 329, you may have never even known it was there.
Therein lies Horner's Cemetery where the first known burial is believed to have taken place in 1745. Within its four stone walls lies many famous founders and figures of the area, including three generals, seven esquires, four doctors, three ministers, and at least 24 veterans from four wars.
The Horner's Cemetery Historical Society was founded in 2012 by Peggy Moser after she stumbled upon the abandoned cemetery's disarray in 2008 and made it her mission to bring the cemetery back to life. She explains that it took her four long years of tireless work to complete the project, which relied mostly on volunteers, donations and community service workers.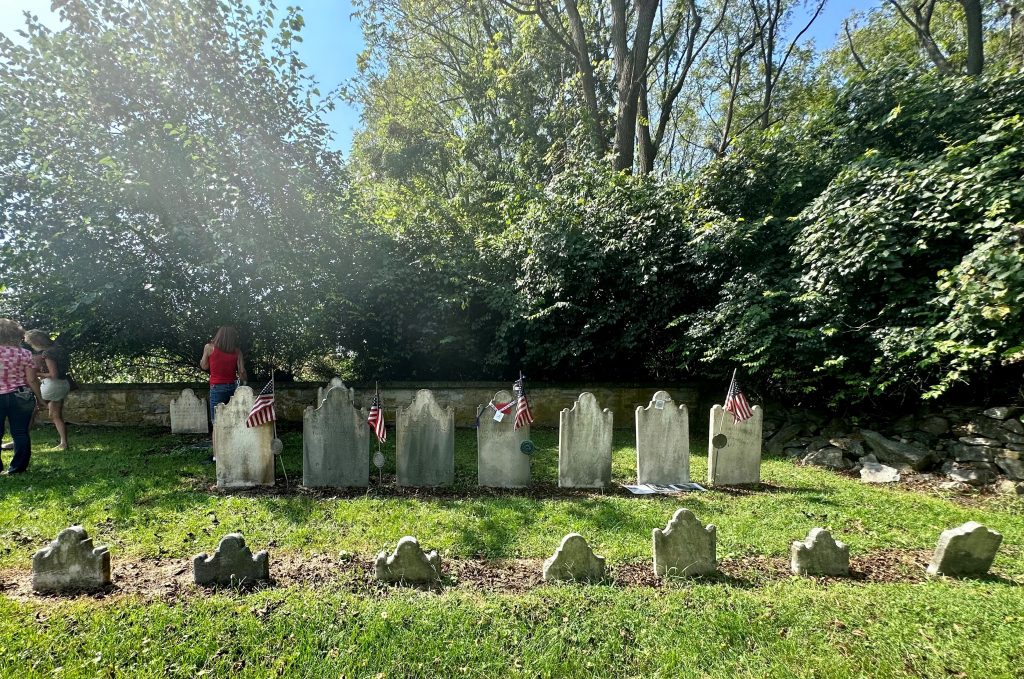 What started as a project quickly became so much more to Moser who has dutifully served the historical society as president throughout the years. She has poured countless hours into researching the cemetery's rich history that is fraught with prominent figures such as General Robert Brown, who was a personal friend of George Washington's.
During the celebration, representatives from Northampton County Executive Lamont McClure's office and Pa. State Rep. Zach Mako's office provided proclamations that recognized and congratulated founder/President Peggy Moser and co-founder/donor Grayson McNair of the Horner's Cemetery Historical Society for the cemetery's 295th anniversary, commending them for their physical and financial contributions.
Moser then led attendees on a comprehensive guided tour of the cemetery, stopping at many graves to tell the stories of the many men, women and children buried there from 1745 to 1946, when the last person was interred.
Although there are at least 250 individuals buried at Horner's Cemetery, there are only 125 gravestones, and some of which only have initials, which makes it hard to discern who many of the individuals buried there may be aside from the use of public records dating back to the mid 1700s to mid 1900s, which may allow for speculation. 
As it stands, the oldest grave in the cemetery is actually unknown because the far back right corner simply contains several large rocks that are believed to indicate gravesites, but not much is known about the people that may be buried in that area apart from the belief that the cemetery holds the bodies of two Native Americans that were good friends of Jane Horner's.
Moser is a wealth of information and lights up as she gets to share the stories of the individuals buried in the cemetery, many of whom without Moser, may have never been thought of again.
Arguably the most prominent person buried in Horner's Cemetery is Jane Horner, who was born May 1 or 3, 1713 in Berry County, Ireland. Jane married James Horner before they moved to the settlement in 1734. Tragically, Jane died Oct. 8, 1763 at age 50 and was the first woman killed by Native Americans in the county.
During the French and Indian War, Jane Horner was killed during an Indian raid on Oct. 8, 1763 as she walked along a pathway from her home to the Stenton Hotel that morning to fetch hot coals after her fire extinguished out during the night. 
According to "History of Lehigh County, Pa.," Jane unknowingly came across an Indian war party exacting revenge on locals after they were humiliated, fired upon, and stolen from months earlier by and by order of "Indian hater" Lieutenant Jonathan Dodge. Dodge later bragged about the acts and therefore became the primary target of the massacre. He ended up escaping fate when a Native American allegedly raised a pistol to Lt. Dodge's chest and he knocked the gun away as it fired past his shoulder, allowing him to "[get] the Indian out of the house and shut the door," thus barricading himself inside the Stenton Hotel and surviving the attack while others were severely wounded and/or perished. 
During this encounter, Jane may have mistaken their presence for the friendly exchanges that the early settlers normally had with Lenape Native Americans that were indigenous to the area as they traded and purchased goods. 
As Jane traveled the pathway, she was tomahawked to death to ensure her silence as the Native Americans continued their plan to attack and massacre any man, woman or child from the settlement whose paths they crossed. This fateful encounter and what followed through the untimely death of 20 individuals has since come to be known as The Stenton Massacre.
Jane interred her final resting place in what is now known as Horner's Cemetery, indeed named after her, in the 11th row.
Additionally, Jane was rumored to have been interred without a coffin, and rather, was rolled up in a carpet and placed in the grave due to how badly her body was mutilated. However, differing stories tell the story of how Jane's husband, James, found her body and carried her to the church where he spent the night in the pews lying next to his late wife, and as stories continue to be passed on, they begin to alter with each subsequent retelling, which is why a third story claims James spent the night waiting in the pews with his wife as they built her coffin, yet we may never know which story is the truest of the tales.
So, whether you're a history buff, local resident, descendant of those interred, or just dying to get in, Horner's Cemetery and its tours are an enlightening experience and missing out would be a grave mistake. 
The Horner's Cemetery Historical Society meets four times a year and is always accepting volunteers and donations to help with upkeep. For more information, guided tours, and to get involved, email addresses are listed on the Horner's Cemetery website, www.hornerscemetery.org/horners. 
For those interested in a tour of the cemetery, self-guided tours are allowed from dawn to dusk every day except Sunday mornings. Additionally, guided tours are available by appointment and student and scout groups tour at no cost.