Annie Marie "Hans" Schweitzer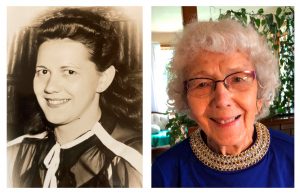 On Nov. 2, 2023, Annie Marie "Hans" Schweitzer died peacefully at her home in Moore Township. At 101 years old, she lived a long and productive life filled with adventure, community service, travel and family love.
Hans, as she was affectionately known, was born in Moore Township to John and Victoria (Skalniak) Dlugos. She was predeceased by her four brothers, John, Frank Sr., Joseph Sr., and Michael Dlugos, as well as her three sisters, Mary Pearsall, Catherine Schweitzer and Helen Dixon.
Hans loved helping her community and church. She was a member of the women's guild, made pierogies for many church functions, and served on the altar guild of Sacred Heart of Jesus Catholic Church in Bath. On her 100th birthday, Hans was awarded the Apostolic Blessing from the Pope, Holy Father Francis. She was awarded volunteer of the year for outstanding and dedicated service by the Meals on Wheels organization, having delivered client meals for over 37 years.  A chartered member of the Moore Township Lions/Lioness Club, she received numerous awards for her 38 years of service and was fondly known for always making nut rolls for the annual holiday bake sale.
Hans learned hard work on the family farm and, at the age of 14, she went to work at a cigar factory in Bethlehem. In 1943, Hans went to work for the Bethlehem Steel Co. and worked for the war effort. She retired from Magnetic Windings Co. in Easton, where she wrapped wires for transistors. After retiring in 1980, Hans traveled to all corners of the world, exploring foreign cultures. She always returned to her home, where her heart and husband, Mathias "Matt" was. Matt was a neighbor she grew up with and married in 1948. Taking care of their home, animals, garden and flowers was a mutual love for both during their 65 years together.
Hans and Matt traveled and spent time at their cabin in the Thousand Islands, New York, taking family and neighborhood youth to enjoy their summer magic. Hans' many nieces and nephews, and family members, all have their special memories of how Hans played a part in their lives sharing her love and adventures. Hans will be deeply missed by her family and the Bath community.
Services: Her Mass of Christian Burial will be celebrated on Wednesday, Nov. 15, 2023 at 10:30 a.m. in Sacred Heart of Jesus Catholic Church, 210 E. Northampton St., Bath, PA 18014. Friends and relatives are invited to call on Tuesday evening from 6 to 8 p.m. in the George G. Bensing Funeral Home, LLC, 2165 Community Dr., Route 946, in the Village of Moorestown – Bath, PA 18014. Burial will take place in Sacred Heart Parish Cemetery, Bath.
Contributions: In lieu of flowers, memorial contributions may be offered to Meals on Wheels of The Greater Lehigh Valley, 1302 N. Sherman St., Allentown, PA 18109 and/or Sacred Heart of Jesus Catholic Church.