William F. "Willie" Pickett, Sr.
William F. "Willie" Pickett, Sr., 92, formerly of Bath, passed away peacefully at Bristol House Memory Care, Warrington, Pa., on Wednesday, Nov. 8, 2023. Born Oct. 8, 1931, in Fountain Hill, he was a son of the late Walter and Margaret (Maurer) Pickett. He was married to Janet (Abraham) Pickett for 63 years until her passing in 2018. Willie proudly served in the U.S. Army during the Korean conflict. He started working at Bethlehem Steel as a heavy machine operator and continued his career at Carbon Air of Palmerton as a mechanic. He was a member of Northampton Assembly of God. 
Survivors: Daughters, Kathleen Collins and husband, Brian, and Cynthia Anderson and husband, Michael; son, William F. Pickett, Jr. and wife, Cynthia; six grandchildren and six great-grandchildren; and brother, Donald Shook. He was predeceased by son-in-law, Anthony Mariani; grandson, Anthony Mariani II; great-grandson, Anthony Pickett; two brothers and three sisters. 
Services: A Funeral Service was held on Tuesday, November 14 at 10 a.m. in Reichel Funeral Home, 326 E. 21st St., Northampton. Family and friends could call Tuesday morning from 9 to 10 a.m. in the funeral home. Interment with military honors followed in Cedar Hill Memorial Park, Allentown. 
Online condolences may be offered at www.reichelfuneralhome.com. In lieu of flowers, memorial contributions may be presented to Wreaths Across America in loving memory of Willie.
Alice Marie Rubino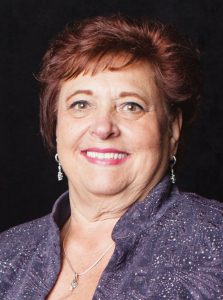 Alice Marie Rubino, 76, of Bath, Pa., passed away peacefully on Wednesday, Nov. 8, 2023, at St. Luke's Hospice House surrounded by her immediate family. She was the loving wife of 57 years to Luigi Rubino. Alice was born on Octo. 20, 1947, in Colver, Pa., she was the daughter of the late Steven and Margaret (Olexa) Stanley. Alice graduated from Pottstown Senior High in 1965. She worked as an administrator for Anesthesia Associates from 1996-2008 and from 2009-2014 for Pinnacle Mid-Atlantic Anesthesia- both of Easton Hospital. She was an active member of the Nazareth Congregation of Jehovah's Witnesses for many years. Alice was a determined woman who knew what she wanted. She was a helpful friend to many and loved life. With her vibrant, optimistic personality she could instantly light up a room. Her passions included giving and doing for others, traveling and making jewelry. Alongside her husband, she loved entertaining and cooking for family, friends and strangers.
She is survived by: Husband, Luigi Rubino of Bath; son, Seth Rubino and wife Tammy, of Northampton; daughter, Leah (Rubino) Engler and husband Adrian, of Scottsdale, Ariz.; grandchildren, Tristan, Trey and Trevor; also, by sister, Linda (Stanley) Palaferro and husband Dean.
A public memorial talk will be held at the Kingdom Hall of Jehovah's Witnesses 2372 Yost Rd., Bath, PA at 11 a.m. Saturday, November 18. Private interment will precede this at Green Mount Cemetery in Bath, Pa. The Joseph F. Reichel Funeral Home Inc., of Nazareth is honored to have Alice and her family under our care and direction. Online condolences may be offered at www.jfreichelfuneralhome.com directly under her obituary.