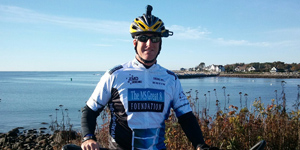 Scott Ellis of Danielsville has been gearing up for the ride of his life, a 600+ mile ride from Main to New York City for quite some time.  The Danielsville man joined 19 other riders this past Sunday in Portland Maine and the group embarked on an eight-day journey to raise awareness for Multiple Sclerosis.
The MS Great 8 Foundation Ride is in its third year and includes the largest group of riders so far.  The riders, from all over the United States will travel through eight states over the eight day period, ending their journey in New York City on October 14th.  Along the way they are making stops at places like The Leonard Florence Center in New Hampshire, an MS rehabilitation facility that helps people regain their independence. Each of the riders has a story to tell, a story of why they choose to participate in the ride.  Scott Ellis rides in memory of his father Chuck who lost his battle to MS in January of 2011.
Charles Ellis was a resident of Moore Township for over forty years. He and his wife Dolores had two sons, Scott and his older brother Steve. Chuck was just 40 years old when he was diagnosed with MS in the late 80's, a time when not much was known about MS or treatments for it.  Chuck's health began to fade after hazy eyesight led to his diagnosis.  At that time, Scott was young but knew that the disease was having a crippling affect both physically and mentally on his dad. "He would have to call someone for help," Scott said about helping his dad by driving him to work, "that killed him the most."
The progressive disease took so much away from Chuck physically that the family needed some help.  They sought out help from the National Multiple Sclerosis Society, Delaware Valley Chapter.  The organization was able to provide in home hospice care, support with treatments as they became available, necessary mobility items and above all education on MS and how it was affecting Chuck.  "Without the society we would have been blind" Scott said.  He, along with his family, is forever grateful for the support they received while Chuck was battling through MS.
Scott started giving back to the society by participating in MS Walks, which helped raise money and awareness.  He learned about rides and other ways to help and found the Bike MS: PA Dutch Ride. After training for that first ride, Scott, with the help a loaner bike from Curt at Curt's Cycles in Nazareth, participated in his first bike ride for MS – a two day, 150 mile ride through the PA Dutch countryside. He raised nearly $4,000 and gained a love for street racing. "It was such an accomplishment, I was hooked" Scott said of the feeling he had when completing that race.
It has been ten years since that first race and his first dollar was raised.  Scott has raised over $70,000 for the National MS Society, sometimes with his wife Janelle and their son Tucker by his side.  He set his goal for the MS Great 8 ride at $10,000 and hopes that people will give what they can to help him fight.
In a sponsorship request letter, Scott said his main reason for riding is so that others do not have to go through what his father went through; "The National Multiple Sclerosis Society will use funds collected from Bike MS to not only support research for a cure tomorrow, but also to provide programs which address the needs of people living with MS today. My family has benefited greatly from these programs.  Because we can fight this disease by simply riding a bike, because we have chosen to help thousands of people through a contribution to Bike MS, we are now getting closer to the hour when no one will have to hear the words, "You have MS", " he said.
The group is expected to complete their journey the morning of October 14 in Times Square, New York City.  Anyone wishing to donated to the MS Great 8 and help Scott reach his goal can do so by visiting www.msgreat8.org and clicking on the "make a donation now" link.  You can also follow Scott along his journey and read his live blog as he makes his way around the New England States.