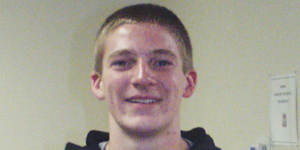 By BILL HALBFOERSTER
On Monday at the Northampton Area School Board meeting, Student Council representative Ben Longacre showed slides of his trip to Japan. Earlier this year Longacre was part of the American Youth Leadership Program that took a large number of youths and five adults to Japan. It was entitled JAWS or the Japan-American Watershed Stewardship project.
Longacre's slides  first showed Washington, D.C., where the group had orientation at the Catholic University of America, and then tours of many points of interest in the nation's capitol before they flew to Tokyo, Japan. Many scenes were shown of Japan, as well as the environmental studies the youths did.
Longacre said it was the best four weeks of his life and he hopes to return to Japan as he pursues his career.
 Board Matters
One of the items on Monday night's agenda was to pass a resolution authorizing the administration and the solicitor to prepare and file all appeals necessary to classify the property at 1417 Laubach Ave. as exempt from real estate taxes.
It is the site of the proposed new middle school, and Solicitor Steven Miller said, "The county makes the call." Usually, public properties are exempt. Board President David Gogel recalled that when the school district bought the former Haff Hospital  for its administration building, they had to pay property taxes for a while until negotiations were done with the county to change that policy. Solicitor Miller and the NASD administration will do that all over again in this instance.
• These policies were adopted, effective Oct. 9, 2012: Sudden cardiac arrest, food allergy management, use of medications, controlled substances/paraphernalia, classroom animal maintenance/safety, and child/student abuse.
• Resignations were accepted from Roxann Martuscelli as cafeteria monitor at the high school; Phillip Haney, as marching band assistant at the high school; and Janet Ulshafer, gifted instructional assistant, for the purpose of super-annuated retirement.
• Approved was the hiring of Barbara Watkins as a district office secretary for the 2012-13 school year; Kerri Grube and Brittney DeAngelis as extracurricular staff, for yearbook advisor and stage and lighting advisor in that order; and Ms. Anita Mateyak, advisor of the FBLA Club, to accompany two FBLA students to attend the Pa. FBLA Leadership Workshop on Nov. 4-5.
• Also approved was the 2013 graduation ceremony to again take place in Lehigh University's Stabler Arena, and naming of Gogel as an alternate to serve on the Bethlehem Area Vocational Technical School operating committee.
• Jeanette Gilliand announced that the safety committee will sponsor a program on sudden cardiac arrest on Oct. 17.