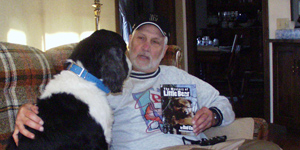 By BILL HALBFOERSTER
The adventures of a Lehigh Township family that followed their finding of a lost puppy dog are contained in a book written by a local naturalist, outdoors writer, and a former teacher.
Titled "The Mystery of Little Bear," the story in a 127-page paperback novel was written by Bud Cole, who resides along Friars View Drive, Northampton. It relates the adventures that he and his family had with "Buddy" for the nine and a half years that they had him after he was found wandering in a wooded area near their home. Cole called him that name because he picked it up himself as a youngster at the age of 11.
The dog of an unknown breed was found on a cold February night back in 1996, when the temperature was a frigid eight degrees.
At first, he put signs outside that read "Lost Dog," but the family became so attached to the little puppy that he took the signs down. Going by the name of Sterner in the novel, he relates how he took the puppy to Blue Ridge Kennel and it was determined that the canine was only 4 or 5 weeks old when he was found.
Cole says he was a "sweetheart" of a dog, and may have been part wolf and part chow.
At the time, Cole was teaching in the George Wolf Elementary School in Bath. He asked then Principal Bill Falstich if he could bring him to the school. With that permission given, "Buddy" was tucked into a trapper's pack basket and brought to the class for the enjoyment of all who saw the cuddly creature with fuzzy red hair and tiny ears. In the book, he's lost at school, but the children were more worried about the skunk that was outside.
The story line only covers a period of nine months, but in actuality he lived to be 10 years old before cancer took its toll and he had to be put down. "Buddy" had grown to weigh 90 lbs.
Besides the adventures that the family enjoyed, Cole adds a bit of cheer that children can relate to in his book, telling about the joy that they have when finding gifts under a tree on Christmas morning. He also has included many local people, who readers may find that they know personally.
The cover illustration for Cole's book was done by Deborah Miller of Danielsville.
Cole is a free-lance writer who has written many articles for newspapers and magazines, and is a member of the Pennsylvania Outdoor Writers Association. He also lectures and gives school programs.
While "Buddy" is no longer with the Cole family, an English Springer Spaniel named "Blue" is. They also have a little gray cat that they enjoy. The feline is special, too, and on a recent summer tubing trip down the Lehigh River he went along for the ride tucked inside a sweater Bud's  wife, Bev, wore.
Cost of the book is $12.95. It was published by Infinity Publishing. If mailed, add postage.
Cole's address is 4006 Friars View Drive, Northampton, PA 18067. Phone 610-767-4043 or e-mail him at bbbcole@enter.net