By DANIELLE S. TEPPER
Special to The Home News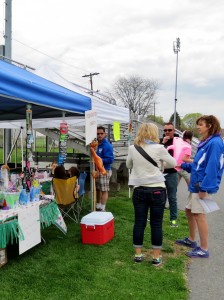 Relay For Life is so much more than a walk; it's a movement which gathers more than four million people in over 20 countries each year to band together and stand against the disease which has touched and taken innumerable lives.
"It's the largest nonprofit fundraiser in the world," according to Catharine Lee. "It's completely volunteer-driven. We have a year-round committee that works on putting it together."
Lee is an Income Development Representative for the American Cancer Society and co-chair of Nazareth's own Relay which began Saturday, May 3 and ran for 24 hours for the first time.
At 11 a.m. at the high school's Andrew S. Leh Stadium, the opening ceremony kicked off with comments from PA State Rep Marsha Hahn and Superintendent Dr. Dennis Riker, the National Anthem, and a fitting rendition of Sara Bareilles' iconic song "Brave" (sung by Liz Kerner) as survivors proudly took the first lap.
"At least 42 survivors registered," said Lee's co-chair, Rebecca Silfies.
"But every single team here is walking for someone," added Lee.
2014 is the seventh year for the Nazareth relay, but only the second year as its own entity. In prior years, it acted as a "feeder" to the Slate Belt event.
Assisting Lee and Silfies as honorary chair was Bushkill Elementary student and five-year leukemia survivor, Averi Stitzer. Stitzer, now 7, was diagnosed in 2008 at two years old. (www.braveri.org)
"They [the Stitzers] Relayed with us last year and this year, they got a little bit more involved," said Lee. "Who could not love Averi? So, we asked her and she was so excited about Relay last year, because it's her day and that's what she tells everybody. We thought it was a good fit."
(The day before the event, Stitzer's mother Wendy paid a visit to the Relay for Life of Nazareth Facebook page to say, "Averi didn't sleep all night! She's so excited!!")
Throughout the day, a full plate of activities was served up by each team tent, not to mention the extras such as a conga line, pajama party, flashlight egg hunt, and themed laps around the track. 9 p.m. marked the luminaria ceremony and tribute video with remembrance lap. 24 hours is a lot of time to map out, something Silfies attributes to not being able to know what to expect.
The Relay concluded Sunday at 11 a.m. with their closing ceremony. 19 teams and 285 participants raised well over $42,700 according to the Nazareth Relay website, all of which goes directly to the American Cancer Society for research and programs.
To learn more about the American Cancer Society, visit www.cancer.org. Information regarding Relays around the world can be found at www.relayforlife.org.