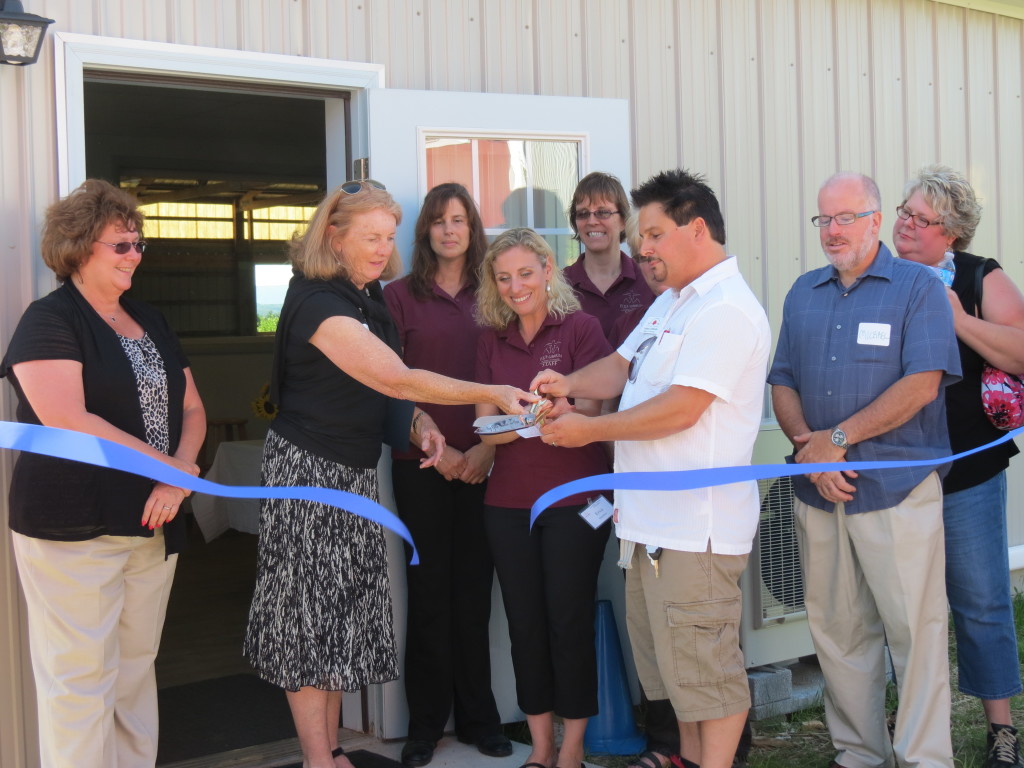 Nazareth Chamber members, along with Pa. State Representative Marcia Hahn, cut the ribbon welcoming Equi-librium to Bushkill Township. Below, Reed, 3, of Bethlehem during a lesson. His mother said she sent him and his brother Henry, 5, to Equi-librium for the first time this summer after hearing such good things about the programs. Photos by Danielle Tepper. 
By DANIELLE S. TEPPER
Special to the Home News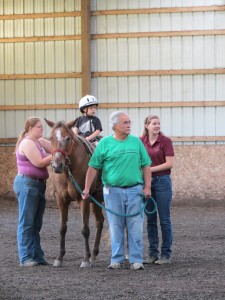 For over 32 years, those with physical and mental disabilities of all ages have been able to come to a place where they are assisted by both caring people and gentle creatures. The mission of Equi-Librium is "to empower individuals with special needs to reach their highest potential through horse-related activities."
Formerly Monroe County Riding for the Handicapped, then Easter Seal RISE, it officially became Equi-librium in 2001 at its Snydersville location. Equi-librium purchased 18 acres in Bushkill Township (Nazareth) in September of 2014.
Thursday, July 17, Equi-librium invited members of the Nazareth Chamber of Commerce to a demonstration and ceremonial ribbon cutting.
"It was a hard winter with the snow and ice, so we couldn't really build or fix it up until the spring," said Yvonne Darlington, Equi-librium's volunteer coordinator and instructor. The beautiful summer afternoon was perfect for showing off the land's two barns, indoor and outdoor arenas, natural pond, and pastures.
Darlington explained why their 10 horses are so instrumental in helping people with special needs. "For physical disabilities, the motion of the horse really mimcs how people walk; it helps with strength, balance, and mobility." She continued, "For people with mental needs, it's great for learning. Horses are the greatest motivator; whatever we ask the kids to do—put your hands out, pay attention, count to ten—they want to do it, because they're doing it with a horse and not just in a classroom."
For the summer season, Darlington said they have approximately 77 riders and drivers enrolled, with nearly 150 volunteers. Each rider needs anywhere from zero to three volunteers. Classes are around 45 minutes each.
During the ribbon cutting, CEO Erica Hesselson thanked the crowd and said that they are "just delighted to be here in Nazareth."
To find out if Equi-librium could be right for you or a loved one, visit their website at www.equi-librium.org.