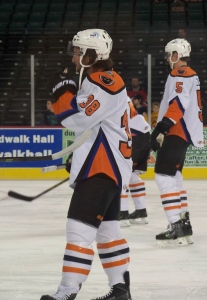 After just one point in his first four games with the team, Akeson (right) regained his AHL scoring prowess Sunday in a 5-3 win over Bridgeport.
Hockey fans in the Lehigh Valley are beginning to see why forward Jason Akeson was in the top ten in the American Hockey League (AHL) in scoring last season.
After making the Philadelphia Flyers' NHL roster at training camp earlier this fall and going pointless in 12 games, Akeson was reassigned to the Phantoms two weeks ago before a Friday night game in Atlantic City against the Albany Devils. The message from the Flyers brass was clear, at least in the way Akeson put it.
"Head down here and play some minutes," Akeson said. "I wasn't getting an opportunity to play up there."
While he wasn't a game changer in his first weekend with the Phantoms, Akeson was the difference in last Sunday's weekend-concluding 5-3 win over Bridgeport. The 24-year-old forward tallied a game-high four points (two goals, two assists)—with three of those on the power play—to pace the Phantoms to their only win of the weekend.
"I want to show I can play the game still," Akeson said. "It's not like anything has changed, just getting minutes, putting my time in and being ready."
After going 0-for-9 on the power play in Saturday night's shootout loss against the Bridgeport Sound Tigers, the Phantom's power play erupted in the second game of a home-and-home series with the Sound Tigers on Sunday in Connecticut—going 3-for-6 for the game, largely in part to the play of Akeson and his teammates on the man advantage.
"I think the guys are moving the puck well," forward Nick Cousins said of the recent power play success. "We got Jonesy [Blair Jones] now who runs the half-wall, he's a pretty good player along the wall. Mandog [Brandon Manning] back there [on the point] walks the line pretty good. It's fun to watch skilled guys that can shoot the puck and make plays. Things are clicking right now."
After taking just three of a possible six points in the standings last week, the Phantoms (10-9-2-1) will look for more production from their power play with another three-game weekend looming this upcoming weekend.
The Phantoms are in New York on Friday night as they take on East Division foe Binghamton. They then return home for a rematch against the rival Wilkes-Barre/Scranton Penguins, who are coming off a 5-1 blowout of the Phantoms in their last meeting last Friday. The Phantoms finish the three-game weekend with their second and final trip to Boardwalk Hall in Atlantic City for a Sunday matinee against the Albany Devils.
Follow Tony's live coverage of Lehigh Valley Phantoms' games on Twitter @TonyAndrock_TCG.