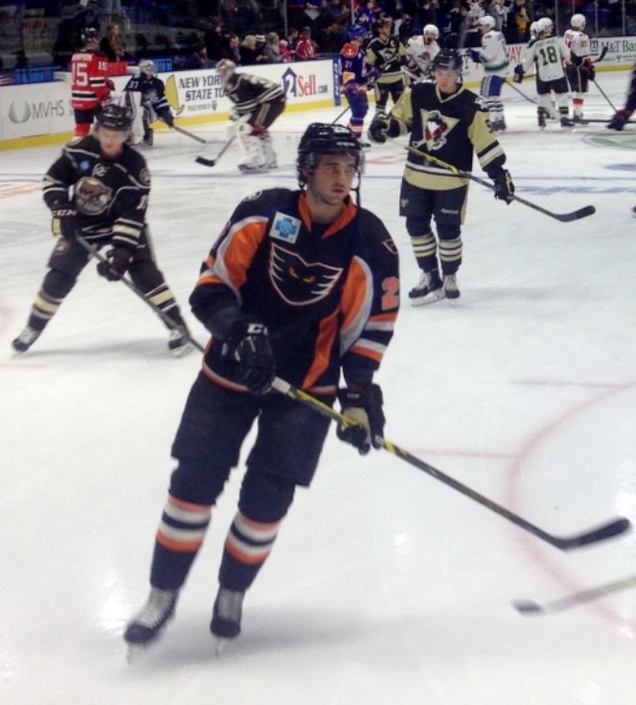 Brandon Manning warming up Sunday night before the Skills Competition at the 2015 AHL All-Star Classic in Utica.
While his teammates with the Lehigh Valley Phantoms were putting away their gear and getting ready for the AHL's All-Star break after last Saturday's win over the St. John's IceCaps, defenseman Brandon Manning was packing his up and hitting the road. Again. Manning was selected as an Eastern Conference All-Star and took part in both the Skills Competition Sunday night and the game itself on Monday.
It's certainly been a busy last week for the fourth year pro, who has logged plenty of miles traveling in the last seven days.
Earlier that week, Manning was called up to the Philadelphia Flyers – his second stint with the NHL club this season – and was in the lineup as the Flyers defeated the Pittsburgh Penguins in overtime on Tuesday night. He then re-joined the Phantoms for and played a game Wednesday night at home, before traveling with the team Thursday to Syracuse for a game against the Crunch Friday night. After a snowy ride back to Allentown overnight Friday, Manning and the Phantoms hosted the IceCaps Saturday night.
Manning arrived in Utica for the Skills Competition Sunday afternoon for the night's event and participated in the Hardest Shot Competition, reaching a high of 98.0 mph on one of his three attempts. Manning also scored a goal in the breakaway relay event that concluded a 15-11 win for the East All-Stars.
"It'd be nice to break 100," Manning said before the Skills Competition on what he was hoping for in the Hardest Shot Competition.
Although he came up a bit short of what he was hoping for, Manning said he was still happy with a 98-mph slap shot, adding, "I've never clocked myself before."
Manning finished the All-Star game with one assist for the Eastern Conference in a 14-12 loss to the Western Conference All-Stars. While Manning enjoyed his time in Utica at the 2015 AHL All-Star Classic over the weekend and was looking forward to the extra two days off before he returns to Lehigh Valley, the Phantoms veteran defenseman knows what to expect the rest of the way – starting Thursday night at home against the Albany Devils.
"It's the toughest part of the season," Manning said of heading down the stretch when AHL play resumes. "You start off with a three-in-three and there are no more breaks to look forward to. It's straight off until playoff time and then hopefully into the playoffs. For us to be in contention at this point is a start for us, but we definitely want to move up and get into the playoffs."