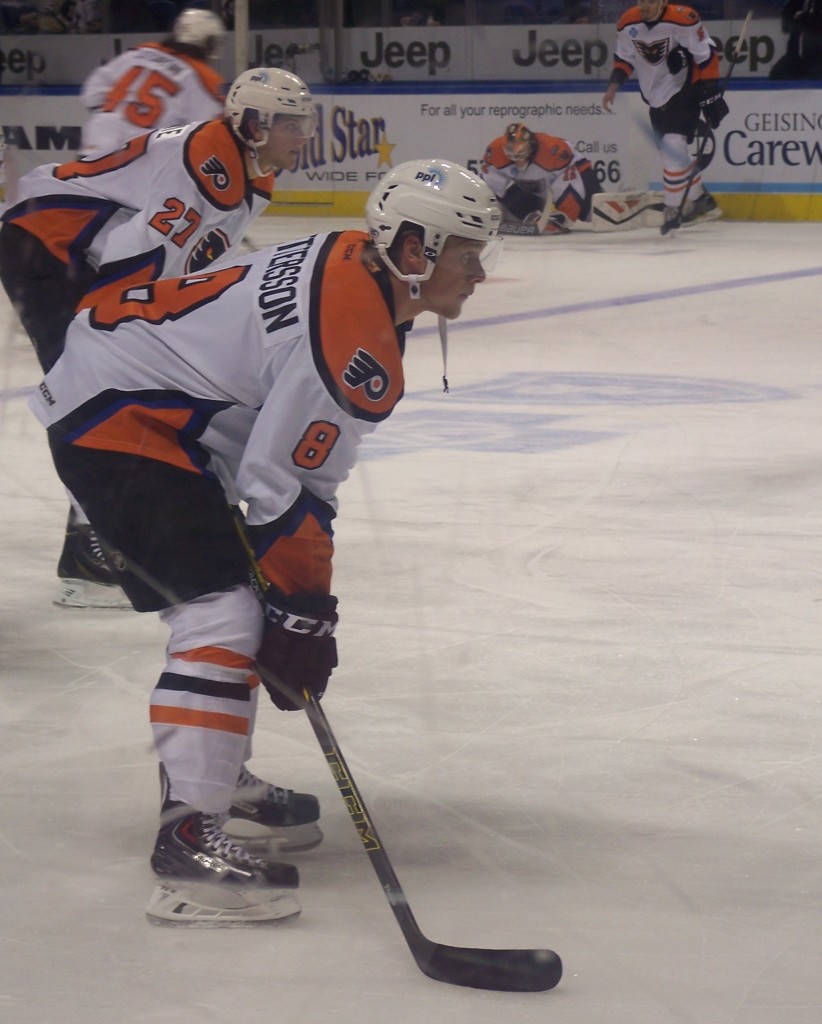 Phantoms' rookie defenseman Jesper Pettersson has seen himself in and out of the lineup this season.
With their backs against the wall – down 2-0 to the Wilkes-Barre/Scranton Penguins halfway through the first period Saturday night – the Lehigh Valley Phantoms huddled together on the bench during a media timeout. They had already lost five of their last six games coming into Saturday's game and looked down and out after allowing a Tom Kuhnhackl power play goal 10:23 into the contest.
What was said on the bench during the short break remains unknown, but whatever was said worked. Andrew Gordon finished off an odd-man rush less than two minutes later to get the Phantoms on the board and things took off from there. The Phantoms ended up rattling off six unanswered goals in a big 6-2 victory that could have possibly saved their season. Only time will tell.
"Going into the third period, we said this could be the biggest period of the year," rookie forward Taylor Leier said after the game. "The boys really stuck together to get a win. It was a good feeling."
Saturday's win over the Penguins was just what the Phantoms needed after back-to-back blowout losses at home to and Hershey on Thursday and Friday night. It was the kind of win that could turn around a season for a Phantoms team that was looking at a nine point deficit in the division to the second place Penguins if they didn't pull things together.
Even more encouraging than the two points was where the goals were coming from Saturday night. Defenseman Adam Comrie tallied his first goal of the season to tie Saturday's game 2-2 and the goal that turned out to be the game-winner was rookie defenseman Jesper Pettersson's first career AHL goal.
"I couldn't believe it," Pettersson said of his 2nd period goal against the Penguins Saturday. "It actually went in."
Several of his teammates mentioned that Pettersson's goal really gave the bench a lift and got them rolling.
"The boys were loving it," Leier said of Pettersson's first pro goal, adding, "Between periods [Pettersson] was saying that he hadn't scored in like two years. Even when he scored, you could tell how happy he was. We were happy for him."
The goal for Pettersson comes shortly after a seven-game absence from the lineup as a healthy scratch, not because of injury or poor play but due to the fact that a team dresses six defensemen for a game and the Phantoms are currently carrying seven healthy blue liners. More times than not in January, Pettersson was the odd man out.
"It's my first year," Pettersson said when asked about his transition to North America after playing in his homeland of Sweden growing up. "We have seven [defensemen] so you're moving around. If I'm on the sideline, it's keep working hard at practices and things like that. If I play, take the chance and do what I can."
Even though Pettersson was drafted as a defenseman and has played on the blue line up until the All-Star break two weekends ago, injuries and call ups at the forward position has forced the Phantoms into dressing a lineup of 11 forwards and seven defenseman – a chance for Pettersson to play.
It's only fitting then that Pettersson's first goal in North America came playing the right wing, following up on a defensive zone turnover with 2nd year forward Nick Cousins.
"I passed to Cousins and he passed it back," Pettersson said. "I saw my chance, shot the puck and it went in. I was so happy."
The Phantoms took the 3-2 lead Saturday on Pettersson's 2nd period goal and went on to tally three more goals in the third to break things open for the 6-2 win.
It should also come as no surprise that Cousins was involved offensively for the Phantoms. After all, he started the Phantoms rally by creating the odd-man rush that Gordon finished off to get the Phantoms on the scoreboard.
Cousins also set up Pettersson for his eventual game-winning goal and after Leier made it 4-2, Cousins tallied his 14th goal of the season to make sure his team was going to stay in front. In fact, Cousins led the entire American Hockey League (AHL) in scoring for the month of January with 17 points (seven goals, 10 assists) in 13 games played last month. His play garnered league-wide attention as Cousins was named the CCM/AHL Player of the Month for January.
The Phantoms return home Wednesday for a matchup with the Worcester Sharks at 7:05 p.m. ET, before finishing the week with two road games in Binghamton on Saturday night (7:05 ET) and Hershey Sunday evening (5:00 ET).