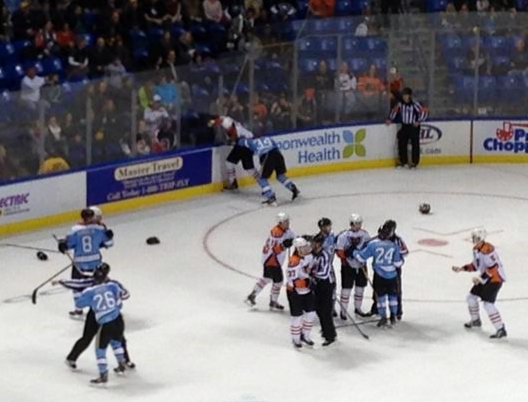 There will be no love lost between the Phantoms & Penguins when they next meet next Saturday night on Valentine's Day. Photo credit: Ivan Pettit
The Pittsburgh Penguins and Philadelphia Flyers have been bitter rivals in the NHL for quite some time and while their AHL affiliates in Wilkes-Barre/Scranton and Lehigh Valley, respectively, play each other 12 times this season, things didn't quite have that extra hatred until last Saturday night in Wilkes-Barre in a 6-2 win for the Phantoms.
With the Phantoms ahead of the Penguins 6-2 with 10:06 left in the 3rd period, things took a turn for the ugly side.
Reid McNeill plastered Andrew Gordon with a questionable hit at the Phantoms team bench and was challenged to a fight by Oliver Lauridsen, which McNeill accepted. Before the two willing combatants could brawl, however, referees stepped in and prevented it – issuing both players ten minute misconducts in addition to McNeill's original minor penalty for boarding.
With 4:15 left in regulation, tempers flared again after a whistle in the Penguins defensive zone. This time it was Penguins defenseman Alex Boak and Phantoms forward Austin Fyten (yes, pronounced 'fightin') getting ejected with matching ten-minute misconduct penalties.
Things appeared to have settled down for a minute, but an interesting late line change by the Penguins with 3:15 left in the game paved the way for a brawl.
"I wanted to stay away from putting the heavyweights out," Phantoms head coach Terry Murray said behind his decision to put three of his smallest forwards – 5'10 Kevin Goumas, 5'11 Taylor Leier & 5'11 Jason Akeson – on the ice for that shift with about 3:15 left.
Being the road team, the Phantoms have to put out their line first before the home team – the Penguins – gets the last line change. Who do the Pens send over the boards but their fourth line of known- enforcer Pierre-Luc Leblond and known agitator Bobby Farnham, 2nd and 4th respectively in the AHL in penalty minutes.
Before the puck was even dropped, Farnham was trying to goad Leier into a fight. Leblond, meanwhile, was going after Akeson – top-ten in the AHL in scoring last season.
"I could hear Delisle, Lauridsen, Stortini & Mathers freaking out when that was happening," Leier said.
It didn't take long for the Phantoms to get a line change during play and a subsequent brawl ensued.
"Everyone knows our lineup. We have more than enough guys who can take care of us on our bench, so it makes it pretty easy for some of the smaller guys," Leier said. "They protect us really well and do a really good job.
"I know I'm protected," Leier added, saying he will stand up for himself if he has to.
Phantoms head coach Terry Murray saw things a completely different way.
"It's disappointing to see."
"Less than five minutes in the game and you got two of our skilled young guys, smaller guys, getting attacked like that," Murray said, adding, "The game's over. You have to just suck it up and move on and get ready for your next game sometimes."
Saturday was the 6th meeting between the Phantoms and Penguins in the Phantoms' 44th game. They play the Pens 6 more times in their last 32 games this season, including a span of five times in their last 14 games.
Interestingly enough, the next meeting between the two teams is next Saturday night in Wilkes-Barre on Valentines Day.
Phantoms/Penguins 2014-15 Season Series (Series is tied – LV is 3-2-1-0, WBS is 3-2-0-1)
10/11: Lehigh Valley – 5 at Wilkes-Barre/Scranton – 2
88 PIM
10/29: Wilkes-Barre/Scranton – 2 at Lehigh Valley – 1 (OT)
40 PIM
11/14: Lehigh Valley – 1 at Wilkes-Barre/Scranton – 3
50 PIM
12/5: Lehigh Valley – 1 at Wilkes-Barre/Scranton – 5
67 PIM
12/13: Wilkes-Barre/Scranton – 1 at Lehigh Valley – 2 (SO)
22 PIM
1/31: Lehigh Valley – 6 at Wilkes-Barre/Scranton – 2
160 PIM
The Lehigh Valley Phantoms are back in action Friday night in Binghamton in a 7:05 p.m. face-off against the BSens. Follow full coverage of the game on Twitter -> @TonyAndrock_TCG.