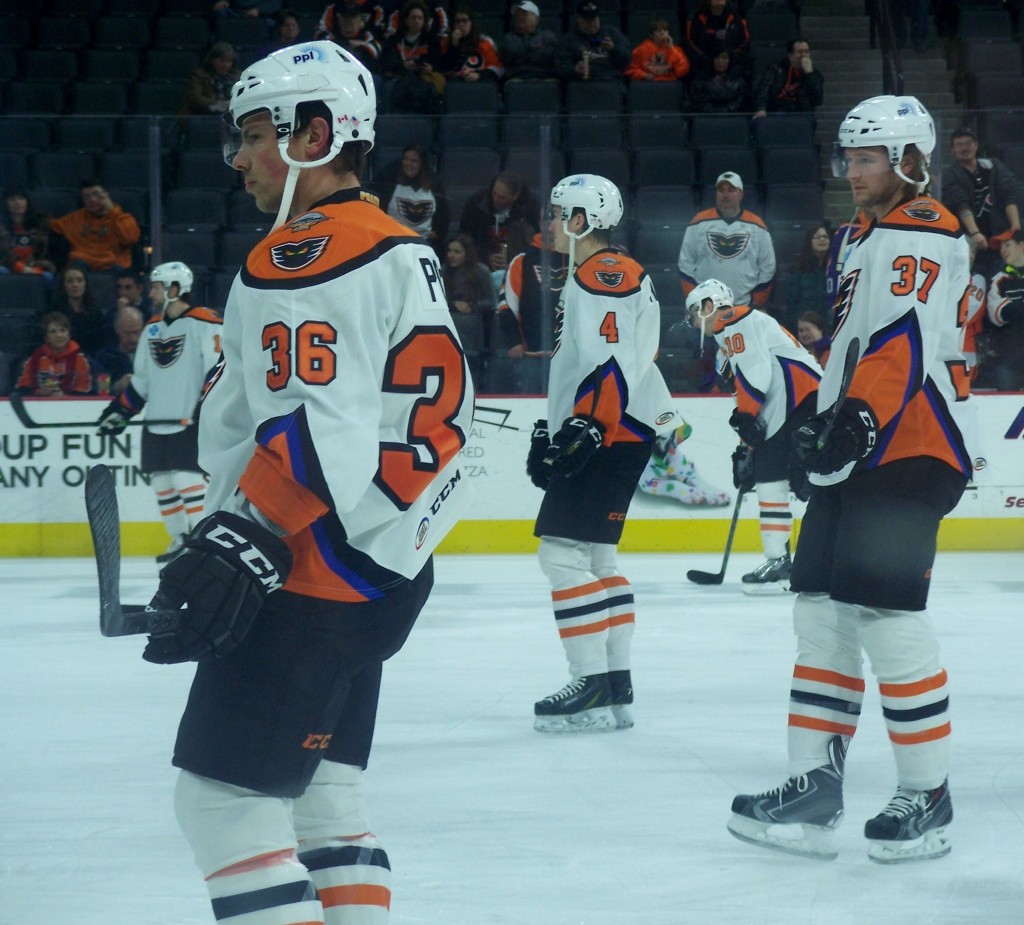 The Phantoms are hoping to make a final push to sneak into the postseason.
The Lehigh Valley Phantoms have their work cut out for themselves with 21 games remaining on their 2014-15 regular season schedule – currently nine points out of the eighth and final playoff spot – but as a team have been playing much better overall heading down the final seven weeks of the season.
"This is a really important time of the year," forward Brett Hextall said after the team's recent home loss to Providence last week, adding, "We are getting to that point where we don't have time to waste, we don't have games to waste, we don't have periods to waste. We've lost too many at home here lately and we need to turn that around if we want to make the playoffs."
Home ice has not been kind to the Phantoms in 2015, as Lehigh Valley is just 3-7-2 in their last 12 home games after going 10-2-2-1 in their first 15 home contests at the PPL Center.
After an overtime loss to Hartford on February 21st made it seven straight home losses for the Phantoms, Lehigh Valley gave fans the team's first home win in nearly a month last Saturday in an overtime victory over Binghamton. Fourth year defenseman Brandon Manning played the role of hero, blasting home his second game-winning overtime goal of the season to lift the Phantoms to two points.
"[Petr Straka] made a great play, pulled up and he saw their guys over back-check. I saw a spot low blocker and I was lucky to find it," Manning said of his game-winning goal on Saturday.
The difference for the Phantoms lately, who have been playing better despite going 1-2-2 in their last five games, has been the play of their third and fourth lines – contributing offensively and creating offense off the fore-check. In last Saturday's overtime win, it was Kevin Goumas opening the scoring for Lehigh Valley and Hextall – a third line checking winger – netting the game-tying goal in the third period that later forced the overtime and Manning's heroics.
"We're one of the lines that have stuck together for a long time now," Hextall said of himself and current line mates Austin Fyten and Jay Rosehill. "We talked about how many chances we get and can't seem to find a way. I keep saying one of these days the bounces are going to go our way so as a line it felt really good to contribute, not just in the checking role, but to score a big goal."
The Phantoms rode the momentum of their first home win in a long time the following night in Hershey against the AHL's hottest team – a Bears team now 19-2-1-1 since the calendars turned to 2015 – out shooting  the league's top team 37-16 and out playing them for the most part despite a 2-0 final score the other way.
"This is our playoffs right now," Manning said of the team's current situation in the playoff race. "If we don't start winning games and picking up two points every night, we're not going to make it. Guys have to realize that."
The Phantoms finish their recent stretch of five out of six at home with two home games this weekend against the Bridgeport Sound Tigers and the Portland Pirates before hitting the road for a 5-game 10-day road trip through the middle part of the month.