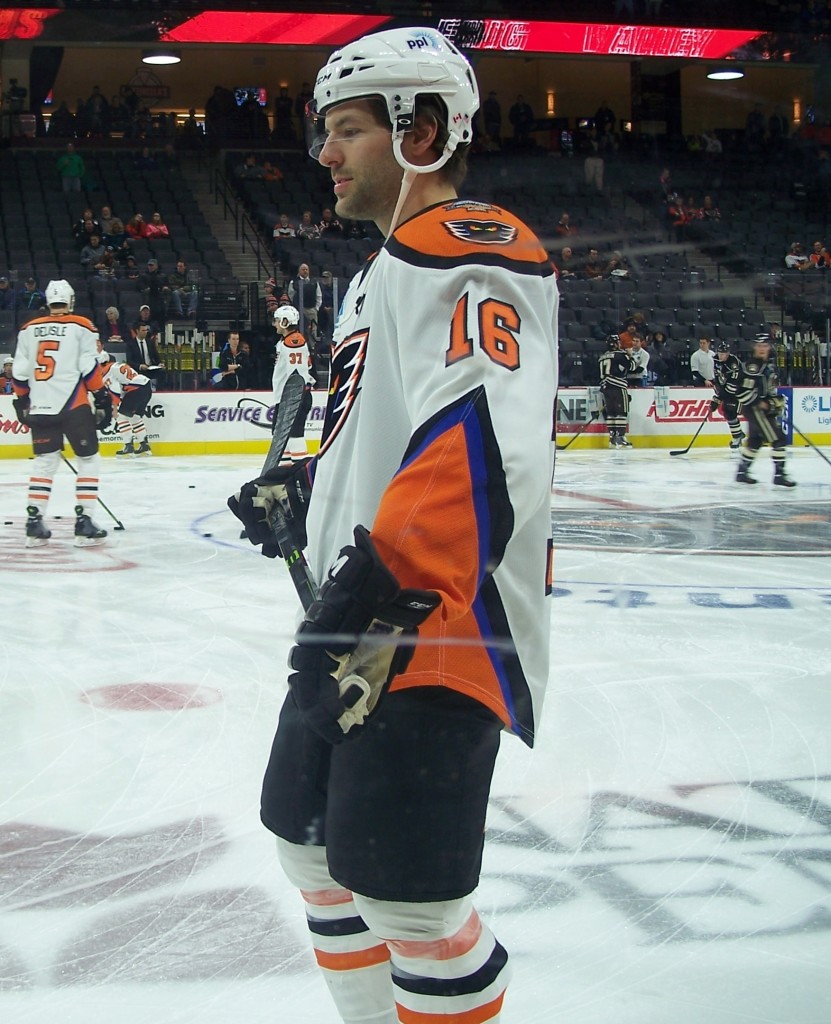 While Brett Hextall was in Iowa relaxing with his wife during the offseason, his former college hockey coach at the University of North Dakota was hired by his father Ron Hextall, the general manager of the Philadelphia Flyers, as the Flyers' next head coach for the 2015-16 season.
"It's kind of funny just because he's so unknown to people in the East at this point," Brett said of his former college coach Dave Hakstol, who was hired as the Flyers' next head coach earlier last month. "They think he's a no-name guy, but to the college hockey world he was the number one guy. In the hockey world he's certainly not unknown."
Hakstol left the University of North Dakota (UND) after 11 years as the team's head coach. In those 11 seasons, Hakstol took UND to the NCAA tournament all 11 times – including 7 trips to the Frozen Four.
He has been portrayed as an abrasive coach that's hard on his players and demands a lot, but according to Brett – who played under Hakstol at UND for three years prior to turning pro – he doesn't come into the locker room trying to be a tough guy.
"It's funny what I'm reading [about Hakstol]," Brett said, adding, "He's definitely an intense guy, but I think some people in the media are kind of taking that the wrong way."
"He's definitely intense. He's demanding, but he's fair too," Brett continued. "He's demanding, but he's focused. And that's his personality. He doesn't try to intimidate his players to get the most out of them, he works with them and that's why his players respect him so much. You see guys around the league all the great things his former players are saying about him."
Hakstol has coached hockey players at UND that have gone on to do big things at the NHL-level. Most notably, Jonathan Toews has led the Chicago Blackhawks to the Stanley Cup Finals against the Tampa Bay Lightning this spring. Another former player of Hakstol's, Matt Greene, is a two-time Stanley Cup Champion as a member of the Los Angeles Kings.
Brett Hextall himself had plenty of great things to say about his former college coach as well.
"His focus kind of rubs off on you," Brett said of Hakstol. "I always think teams start to take the personality of their coach and I think our teams at North Dakota always did. That's why they're so successful – his focus, determination and work ethic kind of rubs off on the rest of the team. He leads by example. He doesn't just bark orders he sets the example himself."
Who Hakstol's assistant coaches will be for a guy coming out of the college ranks straight to the NHL – a rare move in the history of the league – the younger Hextall isn't surprised in the least that his current head coach with the Lehigh Valley Phantoms is at the top of that list.
"There probably aren't many guys in the game with as much experience as he has," Hextall said of Terry Murray, his coach with the Lehigh Valley Phantoms. "He's been around the game forever"
Murray, who turns 65 in July, has done things in professional hockey that Hakstol hasn't – both playing and coaching at the NHL level. Murray was the head coach of the Flyers for three seasons in the 1990's and even took the team to the Stanley Cup Finals in 1997 before being fired after being swept out of the finals by the Detroit Red Wings. He's also held head coaching jobs with the Washington Capitals, Florida Panthers and Los Angeles Kings – where Brett's father Ron was an assistant general manager before he joined Philadelphia as an assistant GM and later became the Flyers' GM in May of 2014.
"You have one conversation with him and it's pretty easy to see all the knowledge and experience that he has," Brett said of Murray. "When you have a guy that has seen as much as he has, his opinion is always going to be valuable because odds are he's seen a lot of different situations. Let's face it, experience is really valuable."
As for Brett, who is a pending free agent this summer after completing a one-year American Hockey League contract with the Phantoms this past season, his days relaxing at home with his wife are coming to an end shortly.
"I think I'd have a pretty tough time playing anywhere else at this point," Brett said when asked about a possible return to the Phantoms next season. "Kind of go through the summer process I guess. Take a bit of time off now and get back to work here in a few weeks."