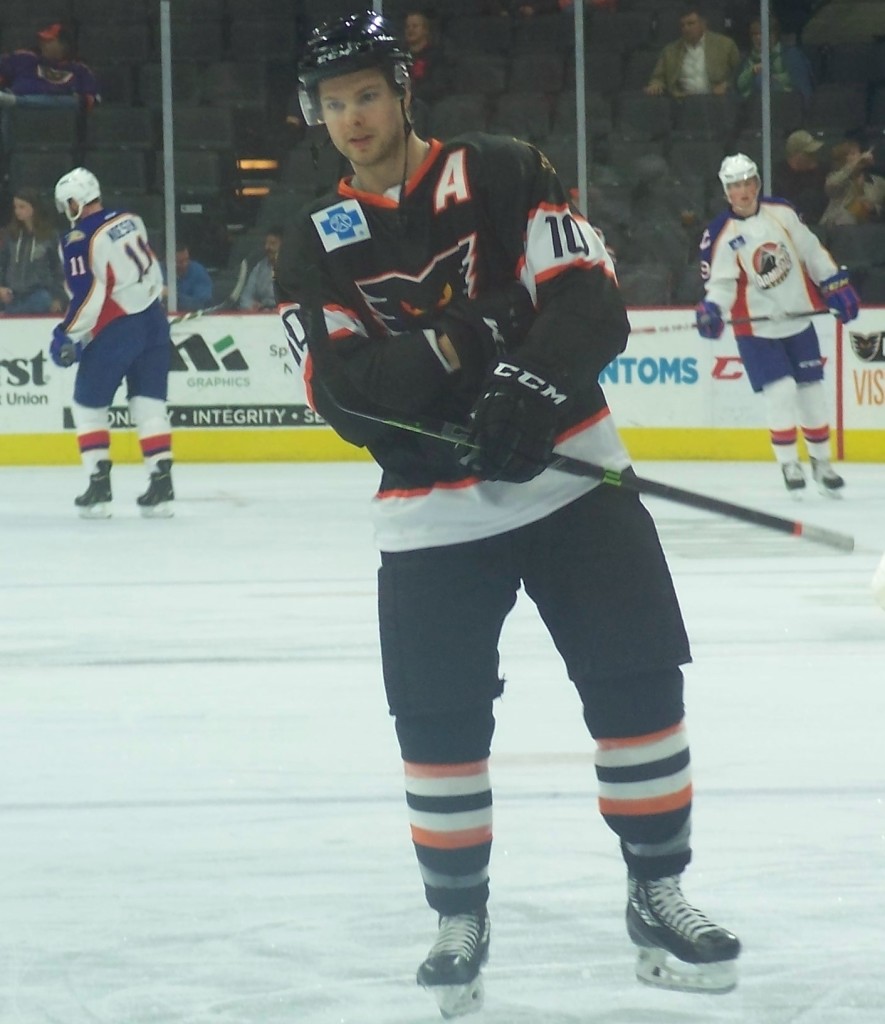 After nine years of professional hockey predominantly spent in the American Hockey League (AHL), Andrew Gordon's playing career takes a turn for hockey overseas.
Subhead Quotable: "I've always been told by the older guys, don't go over until you're ready. If you go over too early, then you'll look back and say I wish I would have waited and tried to make that NHL team – one more organization. Honestly, I just woke up one day and thought – I'm ready. I want something new."
Andrew Gordon has played professional hockey for nine years and while making it in the NHL is every hockey player's dream, it's one that will have to wait at least another year for the former Lehigh Valley Phantoms forward as Gordon has decided to play professional hockey overseas in Sweden's most competitive league – the SHL – for the 2015-16 season.
"Going overseas has always been something in the back of my mind. I have really been into the European game for a long time, it was just a matter of when I decided to go over," Gordon added.
It's a decision that some of the veteran players in the American Hockey League (AHL) must think about every summer. For Gordon, he quickly got a feeling during the Philadelphia Flyers training camp in the fall that the time to pursue opportunities overseas might be coming closer to a reality.
"I was one of the first guys released," Gordon said of the Flyers' training camp. "I had a feeling from that point forward that I wasn't really in Philly's plans. I was more to be a veteran American League guy."
Selected by the Washington Capitals in the final round of the 2004 NHL Entry Draft, Gordon finished his collegiate career at St. Cloud State, where he put up back-to-back 20-goal seasons in his final two years there before joining the Capitals AHL affiliate Hershey Bears in 2007.
After four years with the Capitals organization saw Gordon appear in just 12 NHL games, he bounced between the AHL and the NHL with both the Anaheim and Vancouver organizations before taking the Winnipeg Jets AHL affiliate St. John's IceCaps to the Calder Cup Finals in the 2013-14 season. After spending the entire 2014-15 season in the AHL with the Lehigh Valley Phantoms, Gordon decided it was time for a change.
"By the end of the season once I hadn't been recalled, it makes it two seasons in a row where I haven't been recalled back to the NHL," Gordon mentioned, adding," At age 29, I'm not some up and coming young prospect. I feel my window to play in the NHL is shrinking if not closed already."
Gordon signed a one-year contract with Linkopings HC in Sweden where next season he will embark on a new journey in his professional hockey career.
"I'm looking for a new experience. A sort of breath of fresh air if you will," Gordon said having played predominantly in the AHL the last eight years. "The opportunity to go into a different country to play a different style of hockey, sort of get out of my comfort zone, is what I was looking for."
"I equate it to most people in the real world," Gordon continued. "Sometimes you just need a career move to change things up to avoid being stuck in the mundane routine. I've been going on the same road trips, staying in the same hotels. I was just ready for a change."
While Gordon said it wasn't the season he or his Phantoms teammates were hoping for, he had nothing but great things to say about the fans, the city, the rink and the team.
"I appreciate the commitment [the fans] had," Gordon said. "To have that commitment, have that fan base, is a major draw for us as players. People want to play in buildings like that. People want to play for a team that has that kind of fan support."
Gordon's final message to Lehigh Valley Phantoms fans was clear and although he was critical of his team at times during the season, the message was quite optimistic.
"Keep going back. I guarantee that will be a real hot bed for veteran players and the team is going to be good for a long time," Gordon said, adding, "It's going to be a very desirable place for people to play in the upcoming seasons. We didn't have the season we wanted this year, but those fans – stick with it, you're going to get some great teams out of that town for sure."