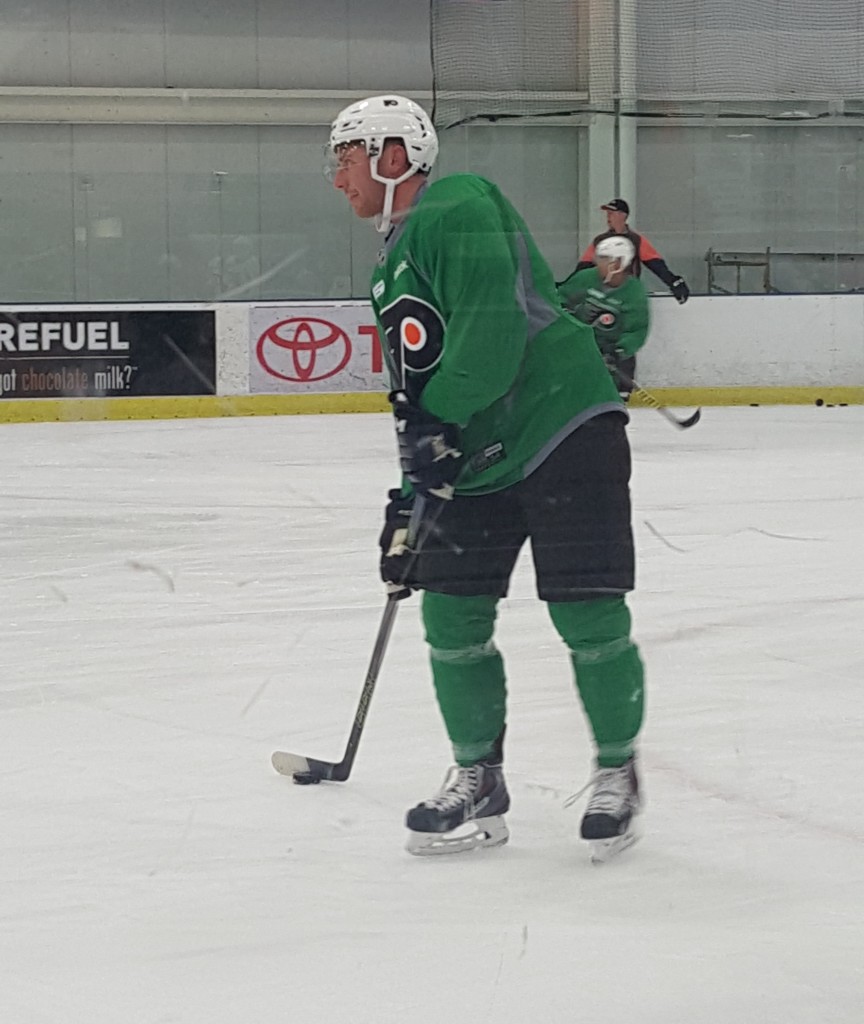 Michael Parks (green jersey) is looking forward to his first season of pro hockey this fall in the Philadelphia Flyers organization.
After four years at the University of North Dakota, forward Michael Parks is taking the next step in his hockey career this fall. He has signed a standard American Hockey League (AHL) contract with the Lehigh Valley Phantoms and despite missing the Philadelphia Flyers' annual Development Camp in July – having been signed to a contract after that camp – Parks is in currently Voorhees, New Jersey at Flyers rookie camp working out with the organization's prospects.
"It's an exciting time," Parks said after Tuesday's rookie camp practice, admitting he was a little nervous at his first NHL camp. "I didn't know what to expect coming in. I'm just going to work as hard as I can, try to learn as much as I can and make a good impression."
While Parks is in an unfamiliar setting in a new organization with new teammates, there is a familiar face on the ice at practice with him in new Flyers head coach Dave Hakstol – who coached Parks at the University of North Dakota (UND) before taking on the head coaching duties in the NHL with Philadelphia.
"It's kind of funny, kind of weird or whatever you want to call it," Parks said of being re-united with Hakstol this week. "It's just kind of funny that I'm moving to a new organization and it just so happens that he goes to the same one. It's cool to be on the ice today and see a familiar face. Seeing him out there running the practice, I was familiar with a few things we were doing. It helped a little bit."
Hakstol isn't the only familiar face from North Dakota that Parks has been re-united with either. Lehigh Valley Phantoms equipment manager Andy Rannells joined the Phantoms staff last season after spending the previous four years as the equipment manager of the UND men's ice hockey team.
"[Rannells] was at North Dakota my first three years," Parks said, adding, "I've spoken to him some because he was [in Lehigh Valley] last year. He's told me a little bit about it. Other than that, I know it's a new rink. The facilities are top notch," Parks said he's been told from Rannells.
As for what Parks brings to the table, he's hoping he can fit into the Phantoms' AHL roster in whatever way possible.
"I like to be a consistent, reliable two-way forward," Parks said of his own game. "Responsible in my own end, play in all three zones and contribute everywhere on the ice. I want to be able to help the team in any way I can. Play a 200 foot game, in all three zones and play whatever role fits."
The Philadelphia Flyers open training camp on Friday, before beginning their preseason schedule on Monday, September 21st, in a split squad game with the New York Islanders with games at both the Barclays Center in Brooklyn, New York and at the PPL Center in downtown Allentown.
When the time comes for Parks to be inserted into the lineup for preseason action, he's looking to adjust to the pro game and make a good first impression.
"Coming from the college game, it's a going to be a big change," Parks mentioned about turning pro this fall. "The schedule stands out. It's a lot different – the amount of games you play. I'm really excited and looking forward to the new challenges and everything that's in front of me."