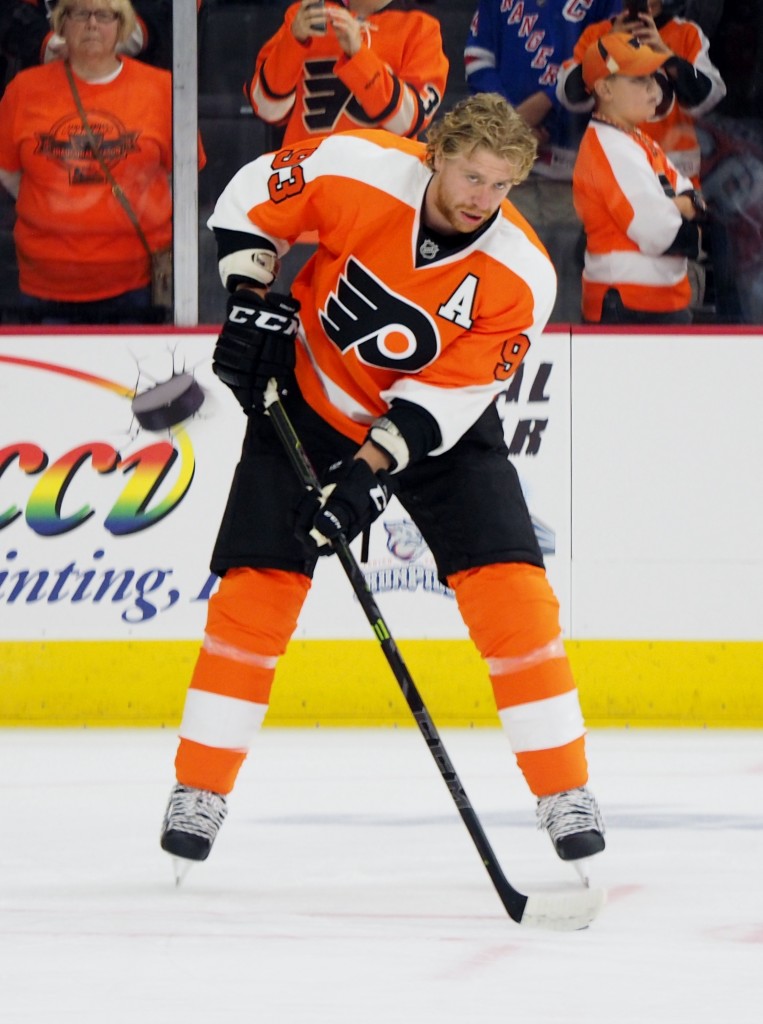 Jakub Voracek tallied two assists and appeared to pick up right where he left off last season.     -Photo credit to Nina Weiss
The Philadelphia Flyers began the season with a preseason contest against the New York Islanders at the PPL Center – home of the AHL's Lehigh Valley Phantoms. In the first ever NHL game in downtown Allentown, the Flyers prevailed with a 5-3 win in front of a home crowd of 7,464 hockey fans excited that hockey is back in action.
The PPL Center is one of just four AHL venues to host an NHL preseason game this year, but Flyers forward Jakub Voracek was quick to compare the Phantoms' home arena.
"It's an NHL rink," Voracek said after the Flyers' 5-3 win Monday night. "When you look at the locker room, the weight room, the medical room and everything it's a great setup for players in the AHL. I think they can be pretty happy that they can play here. It's been a great experience."
While it was only a preseason contest, the game featured some of the Flyers best players in forwards Claude Giroux, Michael Raffl and Voracek in addition to the organization's top prospects in 2015-1st round draft picks defenseman Ivan Provorov and forward Travis Konecny, the latter of which scored his first NHL goal Monday night in the preseason opener.
Most of the expected Phantoms players participated in a preseason game against the Islanders at their home rink in Brooklyn, NY – the Barclays Center – but rookie forward Cole Bardreau, who appeared in 15 games for the Phantoms last season down the stretch after finishing his senior season at Cornell University, was on the Flyers 4th line alongside Konecny and Phantoms tough guy Jay Rosehill. The trio combined for a goal and some solid play, with both Bardreau and Rosehill adding assists on Konecny's goal early in the second period.
"I thought it went pretty well," Bardreau said of his first ever NHL contest. "Obviously, my linemates were going well with us too. I thought we had good chemistry and did the little things right. We weren't going out there to put up a bunch of goals and stuff like that, even though we got one. I thought we played pretty well together."
Bardreau is preparing for his first full season of professional hockey this fall and hopes to get in some more NHL preseason action with the Flyers before he is re-assigned to the Phantoms and begins their AHL preseason schedule, which begins with a road contest against the Wilkes-Barre/Scranton Penguins on Wednesday, September 30th.